Domestic Violence Misunderstood in Workplace, Courts, Says Runge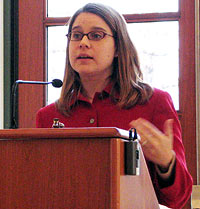 While working for a downtown Boston law firm after college, Robin Runge found her calling. Her firm worked with Greater Boston Legal Services on a pro bono project to help domestic violence victims obtain restraining orders against their abusive spouses or partners. Runge said many of the women they assisted were African Americans, who told their stories to unsympathetic white male judges. The judges would recommend cooking classes for the women, or suggest that they not walk in front of the TV to avoid provoking their spouses.
"It was really through those experiences that I became enraged" at what domestic violence victims experienced in court, Runge recounted to a Law School audience Feb. 23. She saw racism, sexism, and poverty-based discrimination against survivors of domestic violence who were attempting to access the justice system, and she began to question what she wanted to do for a living. She was even more sympathetic to her clients because a partner in her firm was sexually harassing her, and she was scared to speak up. "I was petrified that I was going to lose my job," said Runge, now director of the ABA Commission on Domestic Violence. "I blamed myself. I thought it was because of what I said, the way I talked, what I wore."
Victims of domestic violence "are all of us. They are not just a category of individual."
Volunteering in Boston and in Washington, D.C. at battered women's shelters and on domestic violence hotlines, Runge repeatedly heard from women who were fired for having a black eye, for taking a day off work to appear in court to get a restraining order, or because her batterer harassed her at work. She wondered whether it was legal to fire women under such circumstances. "The response I got [from employment attorneys] was, 'they [victims of domestic violence] don't work,'" she said. "There was a gap  there was a disconnect." These lawyers carried an image in mind of domestic violence victims as women who did not work, would never work, or didn't want to work. In fact, nothing could be further from the truth: work is vital to domestic violence victims, Runge explained, especially when they are attempting to leave their abusers.
While protective orders can make women safe, "this all falls down without an independent income source."
Runge's domestic violence clinic professor in law school encouraged her dream of having an employment law practice designed to help victims of domestic violence. Upon graduation from law school, Runge received an Equal Justice Works Fellowship to create the Domestic Violence and Employment Project at the Employment Law Center of the Legal Aid Society of San Francisco, at the time the only legal aid organization that focused exclusively on comprehensive employment law services for the poor.
During her fellowship, Runge analyzed federal and state laws regarding employment "through the eyes of victims of domestic violence." She found that they were not conceived with domestic violence victims in mind, so she "was getting very creative" in finding remedies for clients under existing employment laws and contemplating new legislation that was more responsive. She also focused on privacy issues because California has protections contained in its state constitution and state laws prohibiting employers from taking negative actions against employees based on their personal lives away from work. For example, in several of Runge's cases an employer told an employee to go home and to not return to work until she had a restraining order against her batterer.
Her clients' number-one problem was getting fired for taking a day off work to get a restraining order or alternately choosing to bypass a restraining order for fear that they would be fired for missing work to go to court. California law prohibited employers from firing crime victims for taking leave to testify in criminal court in response to a subpoena, but there was no such protection for domestic violence victims to take leave to obtain a civil protection order in civil court. Runge testified before California's legislature for changes to the law, asserting that "we need to treat [domestic violence] like a crime. It is a crime."
Her effort paid off. In 1999 and 2000, California passed laws creating employment protections for domestic violence victims. Four other states have passed similar legislation, and legislation providing such protections to domestic violence victims has been pending in Congress since 1996. In 1998, California also passed a law to ensure domestic violence victims had access to unemployment insurance if forced to leave their jobs, an initiative 25 states and the District of Columbia have also enacted.
In Runge's current job as director of the ABA Commission on Domestic Violence, she reaches out to a variety of lawyers to get involved in domestic violence issues. Even domestic violence victims need tax lawyers, she pointed out. Runge stressed that every lawyer should screen clients to find out if they are victims of domestic violence. "Find out why she's asking for the things she's asking for," she said. If a client is appalled or embarrassed that her lawyer is asking these questions, the attorney can just explain that the questions are a part of her intake process for all new clients.
Runge's job also includes fundraising, publishing resources for attorneys and law schools to use to address and incorporate domestic violence, and supporting policies for better training of police, lawyers, and judges on domestic violence matters. The Commission also hosts a listserv for lawyers representing victims of domestic violence to exchange ideas and support one another.
Runge said a few themes are playing out prominently in domestic violence cases now. In Nicholson v. Williams, the New York State Court of Appeals ruled that New York City's Administration for Children's Services could not remove a child from the care of a battered woman and charge her with neglect solely because she was a victim of domestic abuse or because the child witnessed abuse. New York City has since paid out millions in settlements to individual mothers and children.
Battered women's child custody rights are a "huge, huge legal issue that we are struggling with across the country," Runge said. She added that issues surrounding domestic violence and its effects on children are receiving increased attention by courts, which is a positive step, but this attention may lead to negative decisions regarding the battered mother, including awarding custody to the batterer.
Incorporating expert witnesses in domestic violence cases — although often very effective — is difficult for practitioners in part because there are few experts on the dynamics of domestic violence and they are expensive to hire. In most jurisdictions domestic violence training is voluntary for judges. Lawyers use expert witnesses for many reasons, including to explain to judges how exposure to domestic violence affects children, and why the mother would be a better custodian, Runge said.
Domestic violence cases also don't have much case law to support decisions because few cases are appealed. For lawyers who want to volunteer but who are reluctant to work with battered women in person, Runge encourages them to work on an appellate brief. "We've got to create case law," she said. "We need to hold judges accountable and provide them with guidance upon which to base their decisions."
Runge said more and more police are integrating domestic violence into training programs, but issues regarding enforcement of protection orders remain. She pointed to a case that will appear before the U.S. Supreme Court in March, Town of Castle Rock v. Gonzales, in which a battered woman, Jessica Gonzales, who had a protective order against the father of her children, alerted police that her kids were missing. She told them she suspected the father kidnapped them, and later called them after learning that he did in fact have them at an amusement park. The police failed to respond to her numerous calls requesting their action, breaching a Colorado statute that requires law enforcement to respond when a protective order is violated. Hours later, the father arrived at a police station and began shooting until he was killed. They found the children dead in the cab of his truck. Gonzales is suing the police department for violating her due process rights.
Documented and undocumented immigrants face unique barriers to accessing the legal system, including the very real threat of deportation for a batterer or victim who is arrested in the context of a domestic dispute, Runge noted. Similarly, the controversial role of the criminal justice system in many poor, African-American communities may influence a battered woman's decision to contact the police for assistance.
Runge explained that the first state to enact protective orders was Pennsylvania, where advocates used a survey to collect information from victims about their needs to incorporate into the legislation. The survey showed at the time that women wanted to be safe from their abusers, to have them evicted from their homes, and to have economic remedies. Today, all states have protection order statutes.
Founded in 1819, the University of Virginia School of Law is the second-oldest continuously operating law school in the nation. Consistently ranked among the top law schools, Virginia is a world-renowned training ground for distinguished lawyers and public servants, instilling in them a commitment to leadership, integrity and community service.