Forde-Mazrui Discusses Legal Response to Hate Speech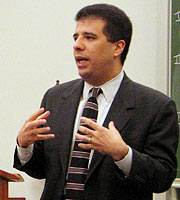 Professor Kim Forde-Mazrui opened the doors of his Race and Law seminar to the public in an effort to bring greater understanding of recent incidents of racially motivated hate speech at the University and suggest possible legal responses, at a March 2 event sponsored by the Center for the Study of Race and Law and the Black Law Students Association.
"Issues of hate speech and hate crime require at least two kinds of responses: One is social education and one is legal education," Forde-Mazrui said. "Only if we take seriously the competing interests in favor and against regulating hate speech are we going to be able to navigate the legal concourse."
Forde-Mazrui noted that a fifth of minority college students report they have been verbally or physically harassed, quoting a figure from the National Institute Against Prejudice and Violence. He described several cases of such harassment at colleges nationwide, but returned to the University of Virginia, where in February 2003 undergraduate Student Council presidential candidate Daisy Lundy was allegedly attacked and verbally assaulted by a man who told her, "No one wants a nigger to be president."
More recently a string of incidents have been reported on main Grounds, where some African-American students were painting Beta Bridge when whites drove by and told them their place was in the cotton fields. In another incident someone scrawled "slave auction" over a flyer advertising a date function for the Organization of African Students.
In response, Student Council President Noah Sullivan has proposed a University Judiciary Committee ballot referendum that asks, "Do you want the UJC to create specific and severe punishment guidelines for judicial offenses primarily motivated by hatred based on race, ethnicity, gender, sexual orientation, religion, or disability?" But even if the referendum is passed, such guidelines could be dismissed by courts.
"To my knowledge, every university that has had a hate speech code has had it struck down," Forde-Mazrui explained, including the University of Michigan, the University of Wisconsin, and Stanford. While Michigan's and Wisconsin's codes were struck down because of the First Amendment, Stanford was not beholden to federal constitutional law regarding free speech because the school is private. The Stanford code instead was struck down under a California statute protecting free speech. "The First Amendment provides real constraints on what can be done."
Forde-Mazrui's class discussed three Supreme Court cases that bear on the issue: R.A.V. v. City of St. Paul (1992), Wisconsin v. Mitchell (1993), and Virginia v. Black (2003).
The class noted several exceptions that allow for limitations on free speech, including fighting words (words or actions intended to threaten or promote violence), commercial speech (you can't lie about your product), defamation or libel, and obscenity, such as child pornography.
There are many reasons to uphold free speech; limiting speech could have a chilling effect on dissent, for example. "Many people wanted to clam people up, like Malcolm X and others, for criticizing government," Forde-Mazrui explained. The government, if allowed, might censor those most critical of its legitimacy.
The R.A.V. ruling said the content of a message can't be singled out for restriction, but the motivation behind the words-whether the words were intended to harm-is key to deciding whether speech could be limited. Mitchell tested the standing of laws that mandate additional punishment for hate crimes, as a defendant convicted of assaulting a white man because of his race alleged that his First Amendment rights were violated by the additional punishment.
On Wisconsin's side, "there's this tradition of motive playing a role in sentencing," Forde-Mazrui noted. The justices ruled in Mitchell that enhancing punishments for hate crimes was legal, focusing on the fact that the victim was selected because of his race.
"It's a kind of terrorism," Forde-Mazrui said. "Part of what terrorism is about is sending fear to other people."
In Virginia v. Black, a Virginia statute making it a felony to burn a cross was struck down by the Court. The statute mandated that the jury was entitled to find beyond a reasonable doubt that intent to intimidate occurred simply because a cross burned. "Without requiring affirmative proof of intention to intimidate, the statute violates the First Amendment," Forde-Mazrui explained. The Virginia statute "allows for weak proof of intimidation" and comes close to saying "simply burning a cross is illegal." Justice Clarence Thomas's opinion, however, suggested that simply burning a cross was itself proof of intimidation.
Forde-Mazrui said Congress would probably not try to enact federal hate-speech legislation because courts have already struck down the federal Violence Against Women Act and in Lopez (1995), limited Congress's purview of regulating commerce, a power delegated by the Constitution that had been used broadly in the past. However, states are only limited by the First Amendment. So is there a legal way to prohibit hate speech at the state level? Could U.Va. enact a hate-speech code?
Forde-Mazrui suggested that such legislation might be possible if the law includes intent to intimidate, selection of the victim based on criteria (race, sexual orientation, gender, etc.), and that the speech be fighting words.
The courts would view derogatory words as overbroad, he said, but "fighting words are something we can identify…It would get kind of in-your-face statements."
Forde-Mazrui said the threat to intimidate may not even be a necessary component. Mitchell says you can punish bias-motivated violence and "use the [defendant's] words both at the time [of the crime] and in prior speech or association as evidence of [his] motive.
"Fighting words, the manner, is treated essentially like conduct-as a non-speech activity-so you could prohibit all fighting words," he added. "Then based on Mitchell you could selectively prohibit only fighting words that are motivated by selection criteria, [such as the race, sex, religion, or sexual orientation of the victim]."
Founded in 1819, the University of Virginia School of Law is the second-oldest continuously operating law school in the nation. Consistently ranked among the top law schools, Virginia is a world-renowned training ground for distinguished lawyers and public servants, instilling in them a commitment to leadership, integrity and community service.