Harris to Clerk at International Court of Justice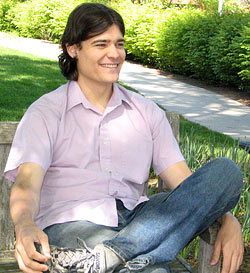 Third — year law student Jamey Harris is one of 10 candidates from select universities in Europe and America to be chosen to clerk for the International Court of Justice next year in The Hague, Netherlands. This is the first year Virginia has been invited to nominate to the highly competitive process.
"When I saw the notice I thought, wow, I have to apply for this," said Harris, who was planning a career in environmental law. "Now I'm reassessing my career path." Make that international environmental law.
The ICJ has 15 judges, each from a different country, and 10 clerks. Half the clerks serve two judges and half are assigned to individual judges. A clerk's duties mainly involve legal research and drafting documents. Harris said his proficiency in French, which, with English, is one the court's two official languages, may have helped. A 1999 U.Va. physics graduate, Harris spent a semester studying in Avignon in France under French professors. "I wouldn't call myself fluent. I'll have to learn a lot of French legal vocabulary."
Last year the Court chose clerks from New York University, Yale and Columbia Universities, The Max Plank Institute (in Heidelberg, Germany), and the Universities of Michigan, Geneva, and Strasbourg. Clerks serve for nine months.
The Law School will give Harris $20,000 to help pay his travel and living expenses in Holland.
Harris has studied international law extensively and as a summer research assistant for Dean John Jeffries he drafted memoranda on the role of international law in federal courts for a casebook Dean Jeffries was writing. His application, which required a writing sample, included a paper he had written on self-executing treaties. In his second summer, Harris worked for the City Attorney's Office in Portland, Oregon, mainly on land use and environmental issues. Before coming to law school he was founding software engineer for Intersect Software in Sterling, Virginia.
He served on the Lile Moot Court Board, and competed in the ABA national Appellate Advocacy Competition and the National Environmental Law Moot Court Competition.
"I've been public service the whole way," he said, adding that some energy has been devoted to playing frisbee hockey on the lawn in front of Clay Hall. He is hoping his new opportunity will ultimately help him work on legal issues related to the Kyoto Treaty and global environmental sustainability.
Founded in 1819, the University of Virginia School of Law is the second-oldest continuously operating law school in the nation. Consistently ranked among the top law schools, Virginia is a world-renowned training ground for distinguished lawyers and public servants, instilling in them a commitment to leadership, integrity and community service.