Klarman Traces Heroism of Pre-Brown Civil Rights Lawyers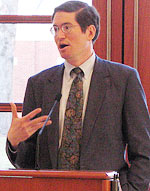 As the civil rights era recedes into history, younger Americans in particular fail to appreciate the courage of black leaders who challenged segregated society, law professor Michael Klarman, author of From Jim Crow to Civil Rights, The Supreme Court and the Struggle for Racial Equality, told the audience at a Feb. 2 talk sponsored by the Black Law Students Association to kick off the Law School's observation of Black History Month. A better appreciation of history would increase public support for affirmative action policies and other attempts to remedy the legacies of racial oppression, he said.
Klarman focused on social conditions before the Supreme Court's landmark school desegregation decision, Brown v. Board of Education, in 1954.
Such famous black lawyers as Charles Hamilton Huston and Oliver Hill, who boldly challenged Jim Crow society in the courts, faced the threat of physical violence and, more insidiously, the racism of judges and the legal system, Klarman said.
"Whites were deeply committed to the status quo and prepared to use violence," he said. During the 1930s, there were still 20 blacks being lynched in America every year, he noted.
Klarman cited the examples of Etoy Fletcher, who was severely beaten and threatened with death for trying to register to vote in Mississippi in 1946; D.V. Carter, an NAACP organizer in Montgomery County, Georgia, who was severely beaten for promoting voter registration-one man who took his advice, Isaac Nixon, was murdered for it; and Harry Moore, founder of Florida's Progressive Voter's League, who was killed with his wife when their house was bombed on Christmas Day in 1951. Thurgood Marshall was nearly lynched in Tennessee in 1946 when he was defending clients arrested in a race riot, Klarman said.
White officials used other tactics to discourage blacks from approaching the courts, too. Arthur Madison, a black lawyer who sued to compel black voter registration in Montgomery County, Ala., was arrested, convicted and disbarred for "not having permission to represent his client." His clients had been coerced into withdrawing their consent, Klarman said, and no white lawyers would represent Madison.
Professional rules prohibit lawyers from soliciting clients or financing litigation, Klarman explained. "But the NAACP often had to do this to get blacks to act on their rights. They would ask for volunteers at meetings and they had to generate an insurance fund because volunteers invariably lost their jobs."
The racism of judges further corrupted the legal system. The judges of the U.S. Court of Appeals for the Fifth Circuit turned their backs on black lawyers who were arguing a voting rights case and Justice James C. McReynolds (the only alumnus of the Law School to sit on the Supreme Court) turned his back on Charles Hamilton Huston as he argued the 1938 case Missouri ex rel Gaines v. Canada, which involved Missouri's policy of paying black students to go to out-of-state schools for professional training. Klarman called McReynolds "the worst person to ever sit on the Supreme Court."
Huston and Marshall saw a big part of their job as convincing Southern blacks they could change the social system. Huston referred to himself as an "evangelist and stump speaker" who was intent on "rallying the troops." They were particularly glad to be able to get opportunities in courtrooms. "Whites were not used to blacks behaving as equals, but that could happen in courtrooms," Klarman pointed out.
Marshall was especially pleased to be able to question white police officers on the stand. "We figured they would resent being questioned by a Negro and would get angry and that would help us," Klarman quoted Marshall saying. "It worked perfect. They all became angry at a Negro pushing them into tight corners and making their lies so obvious. Boy, did I like and that, and the Negroes in the courtroom liked it… You can't imagine what that means to people down there who have been pushed around for years."
Referring to a case he handled in Hugo, Oklahoma, Marshall said he was "trying to promote hope to the local community" and be a role model of a black man having acquired the capacities to stand up to a whites in a court.
But for all the pride and hope that raised in blacks, it did not change circumstances or win cases in the face of the system's own racism. Klarman pointed to the heroic figure of Oliver Hill, a black Virginia lawyer who found that being legally right was not sufficient in the face of prejudice. He defended the Martinsville Seven on charges of rape in a famous 1949 case that was fairly conducted "for its day and place," Klarman said. The defendants had capable lawyers, appointed months before the trial date, the judge and prosecutor were fair, and the courtroom audience did not have a mob mentality, he said. The facts showed the accused were guilty, and they were sentenced to death by an all-white jury. Hill challenged the sentence on the grounds that all the 45 men executed for rape in Virginia from 1905 to 1950 were black, that no whites were executed for that crime, and that it is unconstitutional to apply the death penalty in a racially discriminatory fashion. That claim eventually won in the Supreme Court in 1977, but when Hill tried to make the point on behalf of the Martinsville Seven, the Court denied review of the case.
"The system was so biased that you could make a compelling legal argument and still not win. The Supreme Court was still not willing to confront obvious racial injustice in the legal system. That was the biggest obstacle [in the years before Brown.]"
Founded in 1819, the University of Virginia School of Law is the second-oldest continuously operating law school in the nation. Consistently ranked among the top law schools, Virginia is a world-renowned training ground for distinguished lawyers and public servants, instilling in them a commitment to leadership, integrity and community service.