Martin Calls for Procedures to Handle Offshore Detainees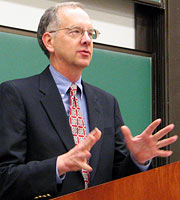 The government should establish a framework for dealing with enemy combatants that would allow courts to review military fact-finding tribunals, said law professor David Martin at a lunch talk sponsored by the Center for the Study of Race and Law and the J.B. Moore Society of International Law April 4.
Such a structure should work against the idea "that we would pick up someone and just hold them indefinitely based on a kind of an executive say-so. All the way back to the Magna Carta, that's one of the main concerns we have."
Hundreds or thousands of men captured in the war on terrorism have been held for many of the same reasons as prisoners of war are held-to prevent them from fighting in future hostilities. Yet "the administration has been very forceful in saying that none of these people, including potentially Taliban fighters, are prisoners of war, they're not covered by the Geneva Conventions as a categorical matter.
"Is this kind of detention lawful?…If so, on what kind of factual basis?" Martin asked.
The Supreme Court decided in Rasul v. Bush last year that federal courts do have jurisdiction to hear habeas corpus petitions filed by Guantanamo prisoners that call for the government to present evidence to substantiate their detention. But the Court said nothing about standards or procedures the government might use, Martin explained.
"Also unclear from Rasul is whether the holding applies to detainees at military facilities besides Guantanamo," he added.
"I would like to see habeas jurisdiction apply at least in some circumstances to detainees at other facilities, but I don't think that's going to happen unless the overall set of standards and procedures that govern these kinds of claims are seen to be really compatible with the needs of the military in the kinds of struggles that we are now facing and are going to continue to face in an age of terrorism," he said. "I'd like to see it extended in part because otherwise it's fairly easy to see that the military would have a direct way to avoid any kinds of protections or constraints that might be adopted as a result of these habeas reviews. They could simply hold detainees at other military facilities at other locations.
"I'd also like to see it apply because I'm increasingly concerned about what's being done in the name of our country with regards to detainees," he said. Evidence shows there's a systematic set of practices to use extremely coercive techniques and "probably torture," he said. Martin said courts traditionally protect core individual liberties, and while it's problematic to apply U.S. court rulings abroad, "we're at a point in our national development where I think that's quite appropriate."
Yet "if the courts are going to get involved, it must be done in such a way that's workable and accommodates military necessity."
The Supreme Court found reason to distinguish Rasul from its precedent, Johnson v. Eisentrager (1950), involving German detainees convicted by a military commission in Germany for continuing to wage war against the Allies. In Eisentrager, Justice Jackson was reluctant to apply habeas corpus review to offshore prisoners because of the difficulty of transporting prisoners and witnesses. Jackson also feared diminishing the commander's prestige in the eyes of enemies or neutrals, or of distracting him from the mission abroad. Yet Jackson also put the case into the context of the "evolving understanding of the laws of war," Martin said, suggesting that standards may have evolved since 50 years ago.
Some of the practical concerns have lessened since 1950, Martin said. Now, we don't have to worry about transportation, and we could even use video conferencing to interview prisoners or witnesses if necessary.
"Habeas practice has certainly developed so that it is much more flexible and practical," Martin said. "Courts are much more likely to resolve the case without live witnesses…They tend to try to have proceedings beforehand to decide if there's enough substance [to the claim] where they might need that."
The Supreme Court invited the government to consider an administrative review process in Yaser Hamdi's case. Hamdi, a U.S. citizen captured in Afghanistan, challenged his status as an enemy combatant; while the Court said its opinion does not preclude that citizens could be detained as enemy combatants, "there had to be a pretty strong measure of due process-procedural protections way beyond what Hamdi had been allowed.
"The opinion in Hamdi encourages the development of properly authorized and constituted military tribunals to consider factual claims for those detainees not properly subject to detention," Martin said. "They had to be neutral decision-makers," according to the Court, and detainees had to have access to counsel.
The government has more or less followed the outline set forth in Hamdi in how it treats Guantanamo detainees who are not U.S. citizens. The Combatant Status Review Tribunals hold hearings to decide whether prisoners are properly detained, and have in a few cases found that detentions were unjustified. Guantanamo prisoners are now all assigned a personal representative-a military officer who is not necessarily a lawyer and who will not keep information of a client's ongoing relationship to a terrorist organization confidential. "It's a form of representation, but it's a long way from individual counsel," Martin said. Court rulings since then suggest outside counsel may eventually be required, or at the least, counsel who would assure confidentiality.
"I think it is essential to make this kind of a system work with a focus on military-operated, military-staffed tribunals. The key is for the military to provide the forum that would be the primary fact-finder," he said.
The U.S. habeas courts could provide general administrative review that would sustain tribunal decisions as long we there is "some evidence" to support an extended detention, a lower standard than under criminal proceedings.
Even under such a system, it's unclear what procedures detainees are entitled to, or what the government has to show to prove that a detention is necessary. But "deferential factual review doesn't preclude close scrutiny of procedures," Martin said. By giving courts deferential factual review, the military will adjust to meet the standards courts judge to be adequate.
Some human rights advocates have argued that even if the government creates a framework that addresses these issues, factual bias by the military could leave room for mistakes without a closer standard of review by U.S. courts.
Yet making the courtrooms the primary fact-finding forum would provoke the same concerns Justice Jackson raised in regards to military authority and focus on the field.
"The mere fact that there is court review… creates a form of checking-and-balancing process that's very important," Martin said. Court review provides the military with incentives to create better internal procedures.
"To honor military necessity, most of the time the courts have to really leave it to the military," he said.
Founded in 1819, the University of Virginia School of Law is the second-oldest continuously operating law school in the nation. Consistently ranked among the top law schools, Virginia is a world-renowned training ground for distinguished lawyers and public servants, instilling in them a commitment to leadership, integrity and community service.