Le, O'Malley Win 2005 Moot Court Competition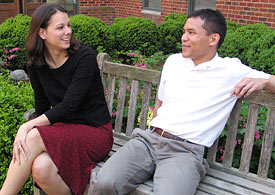 Third-year law students Kristi O'Malley and Sam Quang Le won the 2005 William Minor Lile Moot Court Competition April 9, persuading a panel of three federal judges that the Environmental Protection Agency was right to sue a tannery to recover the cost of monitoring its clean-up of illegally dumped chemicals, even though the state had already settled with the company.
Runners-up Thomas Nolan III and Christopher Roche, also third-years, argued on behalf of the company in a case that turned on statutory interpretation.
Judging this year's final round were Chief Judge Michael Boudin of the U.S. Court of Appeals for the First Circuit, Judge Jeffrey S. Sutton of the U.S. Court of Appeals for the Sixth Circuit, and Senior District Judge James C. Turk of the U.S. District Court for the Western District of Virginia. They named O'Malley the final round's Best Oralist.
O'Malley credited Nolan and Roche with being strong opponents. "They were good competition and I was really happy when we won."
"We argued that the statute allowed broad enforcement powers," she said. "The agency's interpretation was that they were entitled to deference. We really felt like we had become government lawyers by the end."
"Kristi was very calm," added Le. "It didn't seem like she was being asked questions. The judges would try and throw her off, but she was so well prepared."
"A lot of students spent a lot of time helping me prepare," she explained. "I had thought about a lot of questions."
The pair teamed up after the first round, in which all competitors argue individually. "We decide our styles meshed well. Kristi is really calm and steady," said Le. "From what people say, I think I'm the opposite."
"He's enthusiastic," O'Malley injected.
"I'll start pounding the podium," Le agreed.
"There are two questions in every case and our styles and interests made it easy to sort out who would do which," O'Malley added.
"The government was the good guy in the case and as Dean Jeffries said, it was a case that allowed a lot of room for lawyering," Le said.
O'Malley, who worked for the Department of Justice for two years before applying to law school, is joining the Washington, D.C., office of Latham & Watkins, hoping to become a litigator. Le will join Wiley Rein & Fielding in D.C. to do regulatory work.
"I really enjoy public speaking," O'Malley said.
"I really liked the legal research and writing aspect," said Le, who was sports editor for the Cavalier Daily as an undergraduate at U.Va. "We're much better writers for having gone through this."
"You learn that brief writing is about being persuasive," O'Malley summed up.
Founded in 1819, the University of Virginia School of Law is the second-oldest continuously operating law school in the nation. Consistently ranked among the top law schools, Virginia is a world-renowned training ground for distinguished lawyers and public servants, instilling in them a commitment to leadership, integrity and community service.