Orr to Clerk for Supreme Court Justice Souter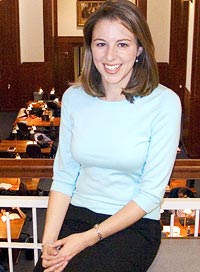 When Allison Orr '04 runs her daily three miles with Fourth Circuit Court of Appeals Judge J. Harvie Wilkinson III '72 and her fellow law clerks at the University track during lunch, she takes the inside lane. But Wilkinson himself may have the inside track on choosing clerks. Orr recently secured a clerkship with Supreme Court Justice David Souter, joining colleagues Michael Passaportis '04, who will clerk for Chief Justice William Rehnquist, and Yale Law School graduate Evan Young, who will serve under Justice Antonin Scalia. Wilkinson's trifecta also means the Law School has graduated two Supreme Court clerks two years in a row.
"I think it's going to be an unbelievable challenge," Orr said in an interview March 23. "I'm looking forward to learning more every day than I probably could even imagine. I've heard it's an amazing experience that's exhilarating and exhausting and something that you'll always remember as a highlight of your life. I just can't believe I'm going to get to experience it."
Orr interviewed with Souter, one of the last judges to choose clerks, in early February. They talked about substantial legal questions, but her running duties — a Wilkinson tradition — also sparked a conversation on the film "Chariots of Fire," which she had just seen over the holidays.
"I was nervous, but I've heard he has a way of making everyone feel very at ease when you meet him, and that was certainly the case with me," Orr said, adding that Souter told her, "'I'm not just interviewing you, you're interviewing me.'
"I laughed and said, 'Well, that's not a hard sell.'"
Orr, a Charlottesville native and William & Mary graduate, earned the Law School's Margaret G. Hyde Award, awarded by faculty to an outstanding graduating student, and the Z Society Shannon Award, given to the student with the highest overall academic record. She was Notes Development Editor for the Virginia Law Review and volunteered for the Rape Crisis Advocacy Project. Orr's singing voice also captivated audiences at the Libel Show for each year she was here, and she served as the Libel Show's social coordinator in 2003 and the vocal coordinator the following year. She worked as a research assistant for professor Anne Coughlin during her first-year summer and spent her second at Covington & Burling in Washington, D.C.
Orr praised her experience clerking for Wilkinson. "It's been a great year. I love my co-clerks, they've become dear friends, and my judge is exceptionally smart and very lovable." Orr said she keeps a copy of her outline for her Federal Courts class on hand, but finds that sometimes the cases that are most enjoyable are ones in which the subject is least familiar.
"Some of the most interesting, stimulating cases are ones that other people might call boring—ones that are a little bit more under the radar," she said, pointing to cases involving the Employment Retirement Income Security and Federal Arbitration acts. "You just sort of learn as you go and figure out whatever puzzle you happen to have on your plate at the time."
Orr doesn't have plans for after her clerkship, but would ultimately like to teach law. Deciding what to teach is another question: "I loved so much of law school, and with each new class, I found something more I enjoyed," she said. "I love the jurisdictional questions. I love civil procedure and federal courts…I also like First Amendment, and tax, and copyright — it just kind of goes on and on.
"Each year I keep challenging myself to learn more and more. It's a really rewarding experience to push yourself and see how far you can go," she said. "Part of that is surrounding yourself with intelligent, engaging people, and I've lucked out in that category."
Founded in 1819, the University of Virginia School of Law is the second-oldest continuously operating law school in the nation. Consistently ranked among the top law schools, Virginia is a world-renowned training ground for distinguished lawyers and public servants, instilling in them a commitment to leadership, integrity and community service.