Pippins to Chair National Black Law Students Association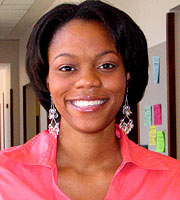 Second-year law student Raqiyyah Pippins will serve as chair of the National Black Law Students Association (NBLSA) for the upcoming year, in a post that represents more than 6,000 BLSA members nationwide.
"It's definitely a shock, but also an honor," Pippins said, crediting the strength of the Law School's BLSA, which was voted chapter of the year in 2003 and 2004. "U.Va. is just a wonderful gateway to all BLSA has to offer."
Pippins was elected chair at NBLSA's national convention, held March 30-April 3 in Denver, and is only the second student in school history to earn the position (Michael Ross '85 last served in 1984-85). She was NBLSA's mid-Atlantic regional director last year, a post that first-year law student Kelly Booker has assumed this year.
Pippins's duties include chairing the national convention next March in Washington, D.C.; fundraising; developing programs of interest to members and the community; increasing membership; and serving as a representative to boards of organizations such as the National Conference of Black Lawyers, the Council on Legal Education Opportunities, the National Bar Association, the American Bar Association Law Student Division, and the Hispanic National Bar Association.
"Our goal next year is to increase BLSA membership even more," she said. Pippins said she looked forward to meeting students across the country and making sure members' needs are being fulfilled. "I hope people will be able to see more about the strength of NBLSA and U.Va. Law as well."
Several Virginia students served as delegates to this year's convention, which attracted more than 400 law students and included moot court and mock trial competitions, career workshops and seminars, and community service colloquiums. Virginia fielded a mock trial team at the convention; first-year law students Archie Alston II, Vida Harvey, Teah Frederick, and Candace Glover competed up to the quarterfinal round after placing second regionally.
Pippins is a peer advisor and a volunteer for Action for a Better Living Environment. She served as student-faculty relations co-chair for the Student Bar Association and is an articles editor for the Virginia Sports & Entertainment Law Journal. Devoting time to so many organizations "keeps me focused," she said.
Pippins split her summer last year working as a research assistant for Professor Larry Walker and for Patten, Wornom, Hatten & Diamonstein. This summer she will work for Covington & Burling in Washington, D.C., while also tending to her NBLSA chair duties. While she doesn't have solid career plans yet, she has a "strong interest in educational policy.
"Community service is a very important part of the National Black Law Students Association," she said. "We're only in law school three years, but we're attorneys forever. We recognize the importance of using our legal knowledge to promote change."
Founded in 1819, the University of Virginia School of Law is the second-oldest continuously operating law school in the nation. Consistently ranked among the top law schools, Virginia is a world-renowned training ground for distinguished lawyers and public servants, instilling in them a commitment to leadership, integrity and community service.