Corporate Governance Must Stress Transparency, Pitt Says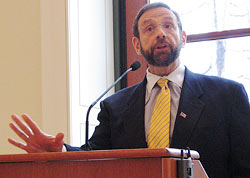 America's business leaders need to emphasize transparency in corporate governance, and honesty and integrity in their management and operations, former Securities and Exchange Commission chairman Harvey Pitt said in a speech at the Law School March 23. Such policies result in prosperity for companies, he said, and should not be seen as goals to be grudgingly acquiesced to in order to comply with federal laws such as the Sarbanes-Oxley Act that passed in response to the wave of business scandals and frauds in recent years. Pitt spoke at the invitation of Professors Anup Malani, Paul Mahoney, and Rajesh Aggarwal. Pitt, who was SEC chairman from 2001 to 2003 when the massive Enron and WorldCom frauds were discovered, is now the CEO of Kalorama Partners, a consulting firm he formed to advise corporations on governance structures that help prevent such debacles.
Pitt said the present business climate is captured in Yogi Berra's observation that "if we don't know where we're headed we're liable to end up someplace else."
Scandals have caused a rapid decline in investor confidence, caused the government to "over-legislate, over — regulate, and over-prosecute," and inspired "state officials whom we need not mention to enter the fray for political advantage, eviscerating regulatory uniformity and certainty."
While he laments that reaction, Pitt laid blame for the scandals on "a widespread abandonment of adherence to ethical obligations" among corporate leaders. Following the widely known frauds of Enron and WorldCom came scandalous discoveries in the mutual and hedge fund industries, sham bidding schemes by insurance companies, and deliberately misleading accounting statements by mortgage giant Fannie Mae. "Is it any wonder investors have doubts over business integrity?" Pitt asked.
The accumulated effect of these behaviors is a crisis of public confidence in corporate America and a demand for greater regulation, he said.
"Even though everything that has been uncovered since Enron's fall was already illegal," Pitt said, the Sarbanes-Oxley law was necessary "to ensure that excuses, oversights, ambiguities, inattentiveness, and venality have even less justification."
Meanwhile, a recent poll shows that 60 percent of CEOs feel accountability measures have gone too far, a stance Pitt characterized as "a lot of grousing and whining." He said he is often asked when the "pendulum will swing back" and business-bashing will cease. "It's real and isn't going away any time soon. A lot of credibility the business community had has been squandered," he said.
He predicted that the adoption of more regulations will continue to be justified by the need to restore public confidence.
Many companies and their lawyers assume the reason they need to improve their governance is to conform to the law, Pitt said. "That's dead wrong. Those that strive to do no more than what the minimum requirements of the law expect risk becoming enmeshed in exactly the same messes that so many other corporate managers found themselves in.
"It's in corporations' self-interest to look beyond the specific regulatory mandates and to think about self-governance and transparency reforms."
Doing business with less transparent companies raise risks of loss, he said. And the more transparent and ethical companies significantly outperform their peers.
"We're seeing a new form of corporate Darwinism where only the fittest companies with the best governance survive and prosper.
"Investors must be confident a company has told them everything they need to know to make an accurate assessment of the company's current performance and future prospects… Effective corporate governance only exists if corporate constituencies can trust what companies say about their financial performance." Such policies also increase the likelihood of attracting capital, partners, and the best CEOs, he added.
SEC influence is growing through Sarbanes-Oxley, Pitt said. The SEC persuaded the New York Stock Exchange to separate the CEO and chairman functions when it reorganized. SEC support for the split role has resulted in 85 percent of boards of Standard and Poor's 500 companies now having a "leading or presiding" board member.
Board members are increasingly aware of their personal liability in governance failures, Pitt said. In a recent Delaware case over an unfair squeeze-out price, the court found a director liable because his background gave him special expertise in such matters. In a current case brought by shareholders, Disney directors could be held personally liable for a $140 million 1996 severance payout to Michael Ovitz if they are found to have not used sound business judgment in making it.
Neither should executives be allowed to profit from faulty earnings statements, Pitt said. New Sarbanes-Oxley standards mean that corporate managers "don't have to be involved in the misconduct. It just has to happen on their watch."
He suggested that a large percentage of CEO salary and bonus payments be set aside until their terms are over and their success is clear. The goal of such policies is to align managers' and stockholders' interests, he said. Pegging incentive payments to increases in earnings-per-share leaves managers with a measure that's far too easy to manipulate. If payments were partially set aside and it ended up that earnings announced under his tenure needed to be restated, or other fraud was discovered, the set-aside payments would instead be applied to the remedy.
Pitt noted that 10 WorldCom directors personally paid $20 million of a $54 million settlement out of their own pockets out of fear that their liability would be assessed higher if the matter was put to a jury.
To avoid personal liability, outside directors should observe the following guidelines, Pitt said:
Stop thinking "it's happening to them" and start thinking "it's happening to us." Every company is affected;
Tone is set at the top. Integrity and transparency only become established at lower levels when they exist at the highest;
Trust can only exist if companies have internal procedures that can prove the reliability of their numbers;
Establishing trust and confidence is an ongoing process that involves setting clear responsibility for corporate data;
Reputation is a company's most valuable asset;
Companies should resist the idea of cutting back on internal controls because they suspect they don't contribute to profits;
See Sarbanes-Oxley as an opportunity to get an advantage;
Fully disclose problems at the earliest possible time;
Transparency is key. Ask what you would want to know if you were a stockholder;
Just because things seems to be going well doesn't mean they are;
CEOs must prepare for crises even though they don't know what they'll be;
Effective boards have managers and directors working collaboratively with a policy of full disclosure between them;
It's important to do the right thing and also important to prove you did the right thing. There is a premium on recordkeeping.
In answers to questions about executive compensation controversies, Pitt vehemently opposed a government role in setting compensation levels. "I don't think they are competent to do it." He added that the reason "we don't get the best people in government service is because the government doesn't pay the way that it should."
In a remark he said would be taken by some as "heresy," Pitt called for American corporate laws to be established uniformly at the federal level. "Fifty states setting laws no longer works. We've transcended the national level and we're into the international. Allowing corporations to license in Delaware is a system whose time has come and gone."
Founded in 1819, the University of Virginia School of Law is the second-oldest continuously operating law school in the nation. Consistently ranked among the top law schools, Virginia is a world-renowned training ground for distinguished lawyers and public servants, instilling in them a commitment to leadership, integrity and community service.