Powell Fellow Plans to Strengthen South Asian Immigrant Legal Aid in Maryland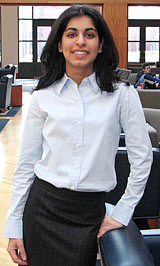 Third-year law student Anishah Cumber noticed a frightening trend during her summer job with Maryland Legal Aid's family law division: female immigrants from South Asian countries like Pakistan and India faced particular hardships because they often didn't know their legal rights and lacked the kind of social support networks that could help.
"There aren't organizations that provide direct legal services and focus on South Asian women specifically," explained Cumber. As this year's Powell Fellowship recipient, Cumber can tackle the problem full-time after graduation. The fellowship provides a $35,000 salary for a graduate entering a public service career, with the expectation of renewal the second year.
Cumber, an Amherst College graduate and Florida native, will follow in the steps of inaugural Powell Fellow Kit Ballenger '02, who also worked in the Riverdale office of Maryland Legal Aid. Riverdale is on the outskirts of Washington, D.C., an area in which an estimated 153,000 South Asians reside-about 66,000 in Maryland alone. Cumber plans to focus on educating this population about the legal system and what it can do for women who are victims of abuse or need family law services. Then, "I'll be able to provide them with direct legal services for any issues that come up."
Many of Cumber's most serious cases this summer involved female legal immigrants.
"I had a client whose husband kicked her out of the home with just the clothes on her back," Cumber recalled. Other cases included spouses hiding assets during nasty divorces, and clients worried about losing their children in custody battles. Some clients didn't know they could receive alimony. Cumber said immigrant cultures may not support interference in such domestic issues, compounding the problem. Talking with local women's rights groups and shelters seemed to confirm that South Asian immigrant women are facing unique problems.
"They don't really know what their legal rights are, so they're hesitant to assert them," she said. Besides India and Pakistan, South Asia includes Bangladesh, Sri Lanka, Nepal, and Bhutan. As a second-generation Pakistani Muslim, Cumber hopes to be able to overcome cultural barriers. "The point of the project is to not just provide them with legal services but to educate them to make more informed decisions for themselves and their families."
Cumber's interest in public service law began in high school when she worked for a local law school's civil law clinic. In college she spent a summer working in a Brooklyn district attorney's office on projects targeting at-risk youths. After her fellowship, Cumber hopes to continue her work in women's rights and nonprofit advocacy work.
The Maryland Legal Aid Office she will join employs about 30 attorneys, and there are 13 such offices in Maryland. Cumber said she would not have been able to return to work there unless there was a job opening, but with the fellowship, "you get to design your dream job, and get paid to do it, which is really nice."
Founded in 1819, the University of Virginia School of Law is the second-oldest continuously operating law school in the nation. Consistently ranked among the top law schools, Virginia is a world-renowned training ground for distinguished lawyers and public servants, instilling in them a commitment to leadership, integrity and community service.