Greene Passes SBA Torch to Hardman
Former Student Bar Association president Adam Greene and new president Hill Hardman took time to reflect on their accomplishments and goals as SBA positions for the upcoming year were finalized.
Adam Greene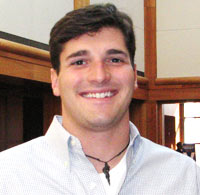 Prior education, major, school: 
U.Va. 2000-Echols Interdisciplinary. Also studied at Keble College, Oxford University in summer 1998.
Future career plans:
Firm job with Moore & Van Allen in Charlotte, NC, in banking.
Favorite law class/why:
O'Connell's Torts. He is one of the most knowledgeable people I will ever meet, he takes time out for his students and he is funny.
Best thing about being SBA president:
Having friends and classmates come to me with ideas and being able to say that the SBA could make their ideas happen. I think we made people happy by organizing programs that brought many of us together to have fun and enjoy being at U.Va. Law.
Words of advice for the new SBA president:
Listen to other peoples' thoughts before you act and enjoy working with your friends.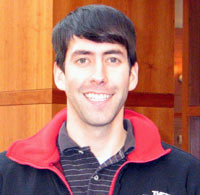 Hill Hardman
Prior education, major, school:
Political Science, Duke University
Future career plans:
Summer 2005-summer associate at King and Spalding and Kilpatrick Stockton in Atlanta.
Favorite law class/why:
Contracts with Kraus and Federal Income Tax with Logue-mainly because of the professors.
What you look forward to as SBA President:
Working with and getting to know everyone, including students, faculty and staff, better.
Goals as SBA president:
Keeping U.Va., U.Va. We have the finest tradition of all law schools and our school is unique. I don't want to change what we have. My main goal is to serve the students and ensure that their three years here are the best that they can possibly be when faced with the rigors and stresses of law school. Specifically, I hope to build upon the great job the previous administration has done by getting more people involved, becoming more efficient in organizing, planning, and dealing with all events or issues that arise throughout the school year, and by communicating more effectively with the student body so that SBA can truly be more of a resource to every student at the school.
Founded in 1819, the University of Virginia School of Law is the second-oldest continuously operating law school in the nation. Consistently ranked among the top law schools, Virginia is a world-renowned training ground for distinguished lawyers and public servants, instilling in them a commitment to leadership, integrity and community service.