International Law Field Full of Opportunities, Theroux Says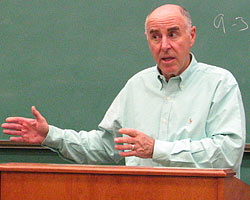 He found the career of a lifetime in private international law, opening his law firm's first offices in China and the former Soviet Union, but Gene Theroux told members of the J.B. Moore Society March 29 that many of the opportunities he found came from interests and activities outside law.
"It's helped to volunteer for things outside the classroom," said Theroux, now senior counsel for Baker & McKenzie. "The things you do outside, by being awake and alert to the things that already interest you…will pay the handsomest dividends."
Theroux, an art school graduate, never considered going to law school until meeting attorneys while serving as president of Young Citizens and Students for Kennedy/Johnson in 1960. That post led him to work as College Director at the Democratic National Committee, where he realized he needed "a different set of tools to make my way in the world." When he told his father he was going to Georgetown's law school, his father replied, "why don't you do something useful instead."
"The perception of lawyers was not high," where Theroux grew up, he said. "[My father] couldn't imagine what a lawyer would do, and I didn't really have much of a clue myself."
One of the few lawyers he met before going to law school was Fidel Castro, whom he encountered during a trip to Cuba in 1959. Castro said he had failed at being a lawyer.
Theroux did not enjoy law school, and was unsure of what to do afterwards because "unless it involved something exotic like international law, it's hard to pay attention," he said. "I didn't realize that law practice could be enjoyable."
Theroux joined Baker & McKenzie, a firm that now has offices in 69 cities in 38 countries. From the start he worked cases that had an international flavor: a Canadian beer company wanted to export a lot of beer-what was the statutory definition of beer in 50 or 60 countries around the world? Another case involved a breach-of-contract dispute between several nations over exploration of sediments in the Red Sea. He later tried his hand at tax law, which only turned him more firmly toward the international stage and away from the watchful management of his more established U.S. office.
Years earlier he had become friends with U.S. Rep. T. Hale Boggs, who asked him to join him on a trip to China in 1972 with Rep. Gerald Ford, as a follow-up to Nixon's path-breaking visit to open the country to the West. Theroux took a sabbatical from his firm to join Boggs's office. The contacts he made proved invaluable and when China needed a lawyer to represent the country in defense of a $41 million lawsuit filed in a northern Alabama district court, they called on Theroux, despite offers from many high-profile attorneys to help. Since then, Theroux has also represented the Soviet Union and Russia in U.S. federal courts.
During his career, Theroux established firm offices in Beijing and Shanghai, and helped start the Moscow office, with his current work focusing on India.
Finding a way to navigate through cultural and language barriers proved to be fascinating and sometimes lighthearted. On his second trip to China in 1973 he ran into two men working for the Ringling Brothers Circus. They wanted to retain his services. "How can you say no to the circus?" Theroux recalled thinking.
Unfortunately, they wanted a performing panda. Not knowing where to start, Theroux contacted a businessman who dealt in animal byproducts, Mr. Ma, who was eager to help because Americans were new to the country. Ma explained through an interpreter that asking for a performing panda was like a Chinese circus in the United States asking for a performing American eagle. He could however, offer a goldfish. Theroux and his clients didn't understand what he meant until after the meeting, when they found out that large carp were the Chinese equivalent of a magician's white rabbit. Theroux eventually was able to help the circus find performers-human jugglers and acrobats.
"Business can be very serious…but it really can be very entertaining, and almost comic."
He recalled clients asking him to use their goods, such as cigarettes, during negotiations with the Chinese to get their product imported into China.
When Pepsi was negotiating to have its soft drink sold in China, the official in charge of food imports told him, "The Chinese people don't need to drink foreign ink." Not long after, Theroux helped Pepsi get Kentucky Fried Chicken into Beijing, where it was so successful its lines were longer than the lines to see Chairman Mao's remains.
The Chinese had been dominated by foreigners in the 19th century, and they were reluctant to let foreign trade in after the Communist Revolution, Theroux explained, so much so that the Ford-Boggs report on China suggested that the nation would never be interested in foreign consumer products. In Chinese antiques stores today you can still find the knives, forks, and spoons from the time when the British hoped to have the Chinese abandon their chopsticks-only the utensils were melted down and sold as other objects.
The Chinese are now so interested in foreign products that Baker & McKenzie has a team of lawyers who chase down counterfeit goods in Hong Kong.
When Theroux began his career as a lawyer, few firms had offices overseas, and language skills were not a priority. Now, few could get a spot in the 200-attorney Hong Kong office without speaking Chinese. "Investing time [to learn a language] now may seem like you're postponing getting into the workforce too long, but maybe not," he said.
Theroux's latest work involves investigating how to set up offices in India. "India, I thought, was a piece of cake," he said, noting that it's a democracy where many speak English. But "it's proven to be very difficult."
By Indian law, lawyers, called "advocates," cannot share remuneration with any person who is not defined as an advocate, making a partnership with a U.S. firm problematic. Partnerships in India are also limited to 18 or 20 partners, unlike the large firms that populate the international legal environment. Several law firms in India are already doing well, but are in so much demand that they won't attach themselves to any particular global firm.
"They're willing to do that if you pay them a king's ransom," Theroux said. "No foreign law firm up to now has been willing to do that."
Cultural barriers also exist. Indian partnerships are usually between family members. "India has some of those traditions that make it hard to establish the kind of partnerships that most global law firms have in mind," he said.
Theroux urged students to consider their interests when choosing a career. "Try to combine the things that interest you outside of law with the things that can be involved in your law practice," he said. "The more that you can combine these things, the more it becomes play, and not work."
Founded in 1819, the University of Virginia School of Law is the second-oldest continuously operating law school in the nation. Consistently ranked among the top law schools, Virginia is a world-renowned training ground for distinguished lawyers and public servants, instilling in them a commitment to leadership, integrity and community service.