Virginia Law Review Puts Contents Online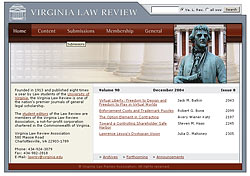 The pages of the venerable Virginia Law Review can now be read online at www.virginialawreview.org, the Review's newly redesigned Web site.
The site contains PDF versions of the full manuscripts, plus abstracts of all articles, essays, notes, and book reviews published since March 2004 (all of Volume 90), according to John O'Keefe, the Review's Book Reviews Editor, who also spearheaded the year-long project to overhaul the site.
"This makes the scholarship in our pages more readily accessible to a broad audience," he said. "A major benefit is that now our content will be searchable by mainstream search engines such as Google, which is coming out with a new academic search engine. The site also has direct links to the manuscripts on third-party sites, including Westlaw, LexisNexis, and HeinOnline."
The Review's editors would like to make the content of earlier volumes available, too, O'Keefe said, but that goal has not been undertaken yet.
"It's now very simple to update the site, which means it won't be neglected in the future," said O'Keefe, who thanked the editors of the Virginia Journal of Law & Technology for introducing him to the web programmers who set up the new functions.
Founded in 1913, the student-edited Review publishes eight issues a year.
Founded in 1819, the University of Virginia School of Law is the second-oldest continuously operating law school in the nation. Consistently ranked among the top law schools, Virginia is a world-renowned training ground for distinguished lawyers and public servants, instilling in them a commitment to leadership, integrity and community service.