Memorial to Celebrate Life of Prof. Edwin S. Cohen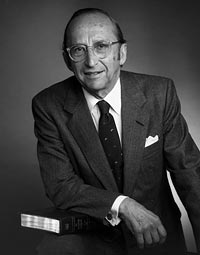 The Law School will hold a memorial celebration for Edwin S. Cohen '36, Joseph Hartfield Professor of Law Emeritus, on Saturday, Feb. 18 at 12:30 in Caplin Pavilion. The ceremony will honor the life of Cohen and focus on his public service in government and as a teacher. Keynote speaker Michael Graetz '69, a former student and protege of Cohen's at the U.S. Department of Treasury, and now Justus S. Hotchkiss Professor of Law at Yale University, will reflect on Cohen's career and professional life.
Additional speakers include:
John C. Jeffries, Jr. '73, Dean of the Law School
Mortimer Caplin '40, former Commissioner of the Internal Revenue Service and founding partner of Caplin & Drysdale, Chartered (D.C.)
Don Schapiro, Cohen's former partner at Root Barrett (NYC) and currently partner at Chadbourne & Park LLP (NYC)
F. David Lake, Jr. '67, special assistant to Cohen at Treasury and currently Senior Counsel (former partner-in-charge of the Tax Department) at Wilmer Cutler Pickering Hale and Dorr LLP (D.C.)
Edwin C. Cohen '67, artist and former Managing Director at General Atlantic Partners (NYC)
Light refreshments will be available from 11:30 am to 12:30 pm, and a buffet reception will be held after the ceremony, at 2 to 3 pm.
For those who would like overnight accommodations, the Law Foundation has reserved 10 rooms at the Darden Executive Center adjacent to the Law School-(434) 243-5000. Please mention the Cohen Memorial event at the Law School when making a reservation.
Other recommended hotels:
Marriott Residence Inn on Millmont Street (434) 923-0300
Courtyard by Marriott, US 29 North (434) 973-7100
Hampton Inn and Suites at the University (434) 923-8600
Founded in 1819, the University of Virginia School of Law is the second-oldest continuously operating law school in the nation. Consistently ranked among the top law schools, Virginia is a world-renowned training ground for distinguished lawyers and public servants, instilling in them a commitment to leadership, integrity and community service.