Data on Racial Profiling Leads to Police Reform, Garrett Says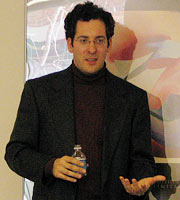 At the time, Johnson's case was one of a string of incidents of police violence against African Americans-police officers shot and killed Amadou Diallo in 1999, and brutally tortured Abner Louima in 1997 — that brought accusations of racial profiling against the New York City police department, as well as calls for reform nationwide. Individual cases succeeded in winning settlements, but class-action lawsuits had little chance of winning, explained Professor Brandon Garrett at a Center for the Study of Race and Law talk Feb. 15. Yet many police, in many states, have nonetheless changed their tactics in the intervening years. Although political pressure, lawsuits, and even the U.S. Department of Justice initiated the statistical tracking of profiling, police also may have discovered something that changed their minds: the data helped them do their job better.
"This whole movement says interesting things about police and their openness to change, but also the circumstances where pressure can lead to something more constructive, even in situations where it seemed like lawsuits were doomed to fail," Garrett said.
"I think it's fair to say that race permeated that encounter" between Johnson and police, said Garrett, who served as Johnson's attorney in a civil lawsuit filed against the police. The officers involved in the incident were members of the elite, aggressive New York City Street Crimes Unit, which stopped tens of thousands of citizens each year to look for guns. The officers initially claimed the teens matched the description of two robbery suspects, and even charged them with robbery and possessing a weapon. "The problem is they didn't see them robbing anyone," Garrett said, and the claim of a string of robberies didn't pan out. The officers also said they saw a "bulge" in the teens' pants when they hiked their pants up to run, but a canvas of the chase path uncovered no guns. Despite the lack of concrete evidence, the officer who shot Johnson clearly believed he was right to pursue him. "He was risking his own life with these bizarre heroics," Garrett said. It took Johnson more than six months to recover from the severe internal injuries.
The officer who shot Johnson was fined $1,000 and sentenced to community service after being convicted of attempted manslaughter. Nevertheless, "no particular long-term change came out of this case." The police found no wrongdoing of their officers, including the supervising lieutenant whose actions after the incident suggested those of a clean-up squad.
Although the targeting of African Americans by police was nothing new, the public during the late 1990s increasingly grew aware of the practice and uncomfortable with it, Garrett explained. "Part of that seemed to be the emergence of statistical evidence for the first time about race." Maryland had recently kept track race in traffic stops, and a case in New Jersey led to the first use of racial profiling statistics in court as well. With those statistics in hand, plaintiffs in civil suits and defendants in criminal cases hoped to show, "this wasn't an accident, this is a larger practice."
New York State Attorney Eliot Spitzer studied the previously unexamined data on who the Street Crime Unit arrested and other reported serious incidents, and found that most of those stopped were young black men. The ACLU and the Center for Constitutional Rights in New York filed a series of lawsuits against the unit. "In some of these lawsuits, the Justice Department actually becomes involved," even bringing injunctions or consent decrees against police departments with rampant racial profiling practices. "There's this critical mass of public pressure," he said. "By 2001, there's national consensus that racial profiling is wrong [but] no one agrees what it means or what to do about it."
Legal avenues didn't offer much help. The Fourth Amendment allows for searches and stops for probable cause, but the Supreme Court allowed stops for "reasonable suspicion" as well. Reasonable suspicion has been defined to include seeing a bulge, a furtive movement, or even spotting someone in a neighborhood in which they appear to be out of place. "Police are allowed to use race as a factor," Garrett said.
So class-action lawsuits instead focused on an equal protection theory, trying to demonstrate that "the statistical pattern was so stark that you should be able to infer that race was a motivating factor," Garrett explained. Even so, making a case when equal protection theories clashed with the Fourth Amendment jurisprudence was difficult. In one case, police stopped all young black men in a mostly white town, looking for cuts on their hands, after an elderly woman was raped by a man matching that description. The Second Circuit Court of Appeals upheld a dismissal of the case because the stop was based not only on race but on sex and age.
Despite legal standards highly tolerant of using race in policing, police began instituting reforms and agreed to Justice Department consent decrees designed to reform targeted departments. "[The collected] data told an important story," Garrett said. For years academics had said race was a bad proxy for crime, and "this data actually showed that, maybe to everyone's surprise."
Only 2.5 percent of the 60,000 who were stopped by the New York Street Crimes Unit had a gun, "and that's just in the reported cases." The unit turned out to be very inefficient, and similar tactics were discarded in New Jersey when a comparable program resulted in a 1-percent arrest rate of those stopped. Furthermore, the practice of profiling had made it difficult to recruit black officers. States began passing laws to require racial data reporting, leading to more general reforms in police behavior. Departments could use the data to flag problem officers, for example.
Another factor in the decline of racial profiling, particularly in New York, was that police shifted their focus to terrorism. "All of a sudden, the cost-benefit calculus changes," Garrett said. "They started becoming much more precise about their policing."
While after 9/11 the federal government detained many suspects on little more evidence than that they were Muslim, in recent years there is evidence investigators have tried to target suspects more precisely, Garrett said, investigating connections to Al Qaeda rather than religion or ethnicity.
In 2003, as part of a settlement with civil rights groups, the New York City police agreed to permanently collect data, and analyze it in conjunction with an independent auditor and with civil rights group at quarterly meetings. "All this is very unusual-the idea that police would be constantly vigilant in their use of race and that they would monitor it and that they would use that to evaluate all the time their practices and policing-race becomes integrated into the everyday process of problem-solving at the NYPD, and it's part of their decision of how they police, and where they police, and what to do," Garrett said. "Groups that were antagonists are all of a sudden starting to draw together to interpret this data and work with it."
While political and practical reasons played a role in limiting racial profiling in New York, the Justice Department's actions have not been limited to large cities-smaller towns in Florida and Ohio have agreed to decrees. While the number of decrees has dropped somewhat under the Bush administration, and the future of racial profiling remedies remains somewhat uncertain, many departments continue to be monitored and continue to collect data without prompting. When that occurs, "race becomes integrated into the day-to-day problem-solving," he said. Women's rights groups have similarly worked together in reviewing data in some cities to urge stronger action on rape cases.
"Most surprising of all, there's collaboration, and who would have expected that there would be collaboration between community groups and the police, over race?" Garrett said. "I think this is an interesting story about how a civil rights movement changed, about how police problem-solving itself changed."
Founded in 1819, the University of Virginia School of Law is the second-oldest continuously operating law school in the nation. Consistently ranked among the top law schools, Virginia is a world-renowned training ground for distinguished lawyers and public servants, instilling in them a commitment to leadership, integrity and community service.