Earl Washington Case Shows Reforms to Death Penalty, Criminal Cases Needed, Neufeld Says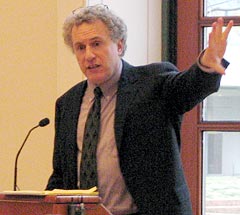 On June 4, 1982, a young housewife named Linda Williams, three small children in tow, returned to her Culpeper apartment after an evening errand to 7-Eleven. She didn't lock the front door behind her. A strange man entered the house and attacked Williams, stabbing her repeatedly, dragging her to a bedroom and raping her, and then stabbing her again before fleeing the scene.
Mortally wounded, Williams staggered outside her apartment where neighbors and the police soon arrived. Before slipping into a coma and succumbing to her injuries, Williams's last words were of the lone, black, bearded stranger who had attacked her.
This was only the opening act of a harrowing account of a high-profile "heater case" that attracted media attention and resulted in the conviction of Earl Washington Jr., as told by Peter Neufeld, co-director of the Innocence Project, during a talk at the Law School Feb. 2. The nonprofit organization, founded in 1992, advocates for postconviction DNA testing to exonerate the wrongfully convicted as well as for other reforms that might prevent future wrongful convictions.
Washington's long and arduous case, spanning almost a decade, was crucial for Neufeld and his Innocence Project, and an important landmark for the practice of postconviction DNA testing.
"He became the first man, the only man actually, to be exonerated off of Virginia's death row ¦since they brought back the death penalty in the 1970s," Neufeld said. "So it became a very important case because people had to realize for the first time that the system was somewhat vulnerable." Washington also became one of 175 individuals to be exonerated through postconviction DNA testing. Since his exoneration, Virginia legislators have considered a number of reforms to how it handles death penalty cases and criminal defense.
After Linda Williams was murdered, "the investigation stumbled along for a number of months," Neufeld said, continuing the story of Washington's conviction. "There were some leads but nothing very useful."
It was only after 11 months that the unsolved case was reopened with the entrance of Washington, a Fauquier County resident. After an argument with his brother over a woman they were both interested in, Washington broke into his neighbor's house to steal her gun. "Mrs. Weeks tried to stop him, and so he hit Mrs. Weeks with a chair, threw her to the ground, then ran out of the house with that gun, went back to his own house and shot his brother in the foot," Neufeld said.
When the police found Washington, he was in the woods near his house crying. Washington was subsequently arrested for the assault on both his brother and his neighbor, Mrs. Weeks. Washington, mildly retarded, readily admitted his culpability and soon the police began to ask him questions about the Williams murder.
"Initially the police thought that because the assault on Mrs. Weeks involved a woman, that perhaps there was a sexual component to it," he said. "And these police officers recalled that there were two or three others rapes or attempted rapes in Fauquier County that had gone unsolved."
After continued interrogation, Washington confessed to these other crimes and subsequently the Williams murder as well. Washington's interrogation, at the hands of a Culpeper police officer and a Virginia state trooper, went undocumented and unrecorded. The officers stated that Washington answered open-ended questions about the case with specific details that only the perpetrator would know.
At trial, what sealed Washington's fate was semen recovered from the body and from the blanket. Before DNA testing became commonplace, all officials could do was blood, or ABO, testing. The stains types were found inconsistent with both Washington and the victim. "But none of that was brought out by the defense at trial," Neufeld said. "And they never had an expert to help them."
His poorly organized, court-appointed defense lawyers argued that Washington didn't really confess but was instead trying to be compliant with law enforcement. Yet since his initials were at the bottom of his statements (which, oddly enough, he couldn't read), "his fate was closed."
After a three-day trial, Washington was convicted of the murder of Williams. After a half-hour penalty phase, he was sentenced to death.
"In 1993, DNA testing was just starting to take off as a phenomenon in this country," Neufeld said. "The lawyers who had been working on Washington's case contacted us at the Innocence Project, which at that time had been in existence for about two years, and we offered to help. Through a series of negotiations... [Gov. Douglas Wilder] agreed to do DNA testing."
The results were termed "compelling but not positive" evidence of Washington's innocence. However, the results were enough for the governor to agree to commute Washington's sentence to life imprisonment, provided no further action was taken on his behalf.
DNA testing technology continued to progress throughout the 1990s and eventually the Innocence Project asked then-Gov. Jim Gilmore for more assuredly accurate DNA testing. When Gilmore denied the requests, the Project went to the press with the story. When Ted Koppel and his "Nightline" program took up Washington's case, Gilmore relented and allowed for new DNA testing.
"The semen stains on the blanket matched those of a convicted serial rapist who was a black man, who had a beard, who fit the description given by the victim, [and] who was serving life in Virginia prisons," Neufeld said. "And so under those circumstances, Gov. Gilmore said 'I have no choice, but I have to pardon this man.'"
The efforts of the Innocence Project also led to audits placed on 31 other cases, in which two more wrongfully convicted individuals were exonerated. Gov. Mark Warner became the first U.S. governor to require DNA testing in 300 old cases.
Neufeld sees wrongful convictions as an epidemic currently facing the legal system in America. "We think that the number of wrongful convictions is certainly much higher than 175 [cases]," he said. "We're getting numbers from the FBI that are indicating the problem is much more serious…Certainly a lot of people who have been tried before the advent of DNA testing were convicted based on eyewitness testimony, were convicted based on confessions, were convicted based on jailhouse informants. And so if we can go back and look at those cases, we have a chance to exonerate some of those people."
Suggesting reforms and pressuring officials to adopt them is an important goal of the Innocence Project. "What lessons can [we] learn from these exonerations?" Neufeld asked. "In other words, why are these people getting convicted in the first place if they're innocent? And if we can figure out and identify what those causes are, maybe we can come up with consensus remedies, reforms, ways of changing the criminal justice system that would reduce the danger of innocent people being convicted."
Some reform ideas Neufeld highlighted included making the identification and confessional process less susceptible to human error. Eyewitnesses should view suspects one by one instead of in line-ups, where they often choose the person who most looks like the suspect in comparison to others in the line-up. It was later suspected that Washington was fed details during his interrogation; Neufeld suggested that the entire interrogation process should be videotaped, "not just the climax.
"[There should be] an objective, neutral record of what transpired," he said.
Bad forensic science also needs to be addressed. Currently, no controls exist over crime labs. "Let's start treating forensic science the way we do clinical science in the U.S.," said Neufeld.
Ultimately, Neufeld sees his Innocence Project as a crucial instrument in the promotion and protection of human rights. "[It's] a burgeoning civil rights movement," he said. "As we make the system more scientific, more reliable, we make it more just."
Neufeld's lecture is the first of the Law School's Criminal Law Colloquium Series and was co-sponsored by the Student Legal Forum and the Virginia Innocence Project Student Group.
Founded in 1819, the University of Virginia School of Law is the second-oldest continuously operating law school in the nation. Consistently ranked among the top law schools, Virginia is a world-renowned training ground for distinguished lawyers and public servants, instilling in them a commitment to leadership, integrity and community service.