Meet Your New SBA President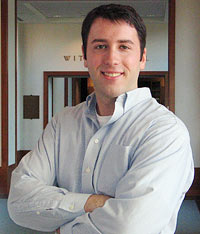 Adam Wolk takes office as Student Bar Association president March 1, following in the footsteps of third-year law student Hill Hardman.
Prior education: B.A. in Economics from the University of Vermont, 2002
Future career plans: This summer I'll be a summer associate at Gunderson Dettmer Stough Villeneuve Franklin & Hachigian, LLP in Boston, and my hope is to work for them as a corporate attorney after law school.
Favorite law class or subject/why: I would say I have two favorites. The first is Contracts with Bob Scott. He is an amazing professor at the top of his field, and I am lucky to have taken such an important course with him. The second is Professional Sports & Law with Donald Dell, which I am currently taking. Dell has a vast amount of experience and connections in the sports industry and uses real-life stories to illuminate the important cases and show the class how the industry really works.
What you look forward to as SBA President: I most look forward to getting to know the Law School's administrators and working with them to address student concerns. Students have great ideas about how to make this law school a better place, and I hope to bring those ideas to administrators' attention, encouraging them to implement changes where possible.
Goals as SBA president: My primary goals as president are to make sure SBA is effective and visible. For effectiveness, I hope to improve the way SBA operates behind the scenes. Though I think we are a very strong organization, we could always be stronger, and I hope to integrally involve SBA class representatives and committee chairs in accomplishing that. For visibility, I feel it is important that SBA's effectiveness be seen. I want law students to know that we are working hard to improve their experience here and to come to us with ideas for ways to make it even better. SBA helps to set the tone at this law school and maintain the spirit of congeniality, and being more visible can help us accomplish that. We can also show that tone and spirit to admitted students during admissions events, which is why SBA's visibility is most important at those times.
What do you want classmates to know about you: I am here to answer your questions and listen to your concerns. If you think something needs to be changed, I want to hear about it, and I will do what I can to make it happen. SBA is here to help you have the best experience you can at U.Va., and I want to hear from you how we can do that.
Founded in 1819, the University of Virginia School of Law is the second-oldest continuously operating law school in the nation. Consistently ranked among the top law schools, Virginia is a world-renowned training ground for distinguished lawyers and public servants, instilling in them a commitment to leadership, integrity and community service.