Institutional Activism Positive for Shareholders, Panelists Say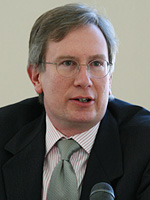 Institutional shareholders are increasingly taking an activist approach to investing by trying to influence how corporations govern themselves, but panelists at a business law symposium Feb. 16 agreed that more involvement by such groups will pay off for shareholders in the end. Representatives from institutional investor groups responded to scholars who spoke on the phenomenon during a Virginia Law & Business Review and Virginia Law and Business Society symposium, "Corporate Governance: The Impact of Institutional Investors," held in Caplin Pavilion.  
Michael S. Miller '77, managing director of The Vanguard Group; Michael Bills, president of Bluestem Asset Management; Bill Carmichael '68, chairman of the board of trustees of the Columbia Nations Funds; and Paul Stevens '78, president of the Investment Company Institute, served as panelists. Virginia law professor Paul Mahoney moderated. 
About 60 percent of all listed corporate stock in the United States is held by mutual funds, private equity groups, pension funds, and hedge funds. The largest 100 money managers control over half of all U.S. equity. As a result, these institutional investors can have a significant effect on U.S. corporations and the global economy. Recently, many of these groups have taken an active approach to investing by pushing for specific changes within individual corporations, such as proposing resolutions that would change the way directors are elected to the board or allow institutional investors access to a company's proxy statement.
In the intricate world of institutional investing, even defining "activist investor" or "corporate governance" proves to be an arduous task because individuals and companies have different opinions, Miller said.
"When you talk about shareholder activism and institutional investors, I guess it's all in the eye of the beholder and how you define activism," he said.  "If there was one sentence that would describe corporate governance at Vanguard it would be to maximize the return to our investors in our funds."
Maximizing returns for investors at Vanguard means paying attention to the composition of the board of directors, ensuring the independence of its auditors, and compensating executives based on their performance. The company also publishes its proxy voting guidelines on its Web site as well as maintains a dialogue with management. "We want them to understand what we care about at the end of the day," he noted.
Depending on the type of investments the panelists dealt with or their company's philosophy, each panelist offered a different perspective on the role of activist shareholders on corporate governance. 
Bills placed the role of governance responsibility in part on the shareholders.  "I can think of nothing [that is] more irresponsible and deleterious behavior than to passively own shares in a company without acting like it is your company…passivity—not activism—is the cause of poor governance," he said. 
He voiced a concern about some companies' tendency to "stiff-arm" significant shareholders, a lesson he learned through personal experience serving on the boards of three different companies.  "They ignore the suggestions [activist shareholders] have for how these companies can be more responsible and maximize value to shareholders. I don't get it. These are smart investors giving their time for free, with ideas."
Carmichael agreed that institutional investor activism is constructive.  "I'm in the camp of saying it's a good thing, it's causing boards to really step back and say maybe we're better off being sold… they're not being forced to do enough unless they have an activist director or really activist shareholder."
But the most influential group to a board of directors isn't necessarily hedge fund activists, as some at the symposium suggested, he said.  He pointed to a recent survey conducted by Corporate Board Magazine and Price Waterhouse Coopers, which asked 1,300 corporate directors which group they believed influenced their board the most. The most influential group, with 51 percent of the vote, was institutional investors. Only 3 percent cited activist hedge funds.  "Yet that's the topic today, as though [activist hedge funds] are the most vocal," he said. 
Stevens offered another perspective.  "People invest in mutual funds to make money," he said. Therefore, when the board of directors and its committees consider how they will vote at the annual meeting they are aiming to maximize the value of the investment for the shareholder.  If a company does not deliver on maximizing the returns, shareholders can sell their shares and invest in a company that will deliver.  Likewise, mutual funds whose portfolios are diverse often need to sell their shares in a poorly performing company because it is not prudent for them to try to fix the company's problems. "That's not true with respect to other institutional investors," he said.  "Hedge funds tend to grow much smaller.  The returns to them can be more compelling," making them more likely to promote change.     
The objective of every activist shareholder is not necessarily maximizing returns for shareholders, Stevens explained.  Labor unions, for example, could care instead about attaining better bargaining power on behalf of union workers.  Such conflicts of interest could be identified if companies began to require institutional investors to disclose how they will vote at the annual meeting.  "I really do think as institutional investing increases it would be a good discipline for all of us to be held to that same standard of accountability and transparency."
Founded in 1819, the University of Virginia School of Law is the second-oldest continuously operating law school in the nation. Consistently ranked among the top law schools, Virginia is a world-renowned training ground for distinguished lawyers and public servants, instilling in them a commitment to leadership, integrity and community service.