Greenburg Uncovers Inner Workings of Supreme Court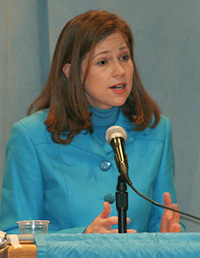 The struggle for control of the Supreme Court in recent years has been defined by how justices interact with and react to each other as much as their differing legal philosophies, said ABC News correspondent Jan Crawford Greenburg during the ninth annual Henry J. Abraham Distinguished Lectureship March 16 in Caplin Auditorium. Greenburg, author of this year's critically praised "Supreme Conflict: The Inside Story of the Struggle for Control of the U.S. Supreme Court," said that with Chief Justice John Roberts and Justice Samuel Alito, the president may have finally found the formula to turn the court affirmatively to the right—something his father had failed to do. Greenburg's talk was sponsored by the Thomas Jefferson Center for the Protection of Free Expression.
Greenburg broke news in her book when she uncovered that Chief Justice William H. Rehnquist, sick with thyroid cancer and widely expected to retire, told Justice Sandra  Day O'Connor in the spring of 2005 that he wanted to serve one more year. Rehnquist also believed that there should not be two vacancies on the court. O'Connor, whose husband has Alzheimer's disease, chose not to serve two more years and instead stepped down first, to everyone's surprise.
"Years earlier, Rehnquist had vowed not to linger at the court, that no man was bigger than the institution he served," Greenburg read from her book. But "Rehnquist wasn't ready to leave a job that had defined his life."
On the final day of the court's session that year, the media gathered, expecting an announcement. "Instead the gavel banged and Rehnquist slowly rose," she said. Even some of his fellow justices looked confused.
Then, with O'Connor's retirement, "George Bush had a historic moment to change the direction of the court." Conservatives had long been disappointed by Republican presidents' recent appointments, including O'Connor and especially Justice David Souter. Even Justice Anthony Kennedy did not consistently please conservatives.
"This court took a more liberal path and more often than not that path was dictated by Justice O'Connor by a vote of five to four," Greenburg said.
Although the justices have different styles, from their legal philosophies to the appearance of their offices, "they very much define themselves in relation to one another. So when a new justice comes on the court, it's a new court."
O'Connor's turn from a conservative to more centered voter can be traced back to the appointment of Justice Clarence Thomas, who replaced Thurgood Marshall, Greenburg said. Before that, Justice William J. Brennan's strong liberal perspective kept O'Connor on the right. Brennan was replaced by Souter a year before Thomas's appointment.
Many underestimate Thomas as a lackey of Justice Antonin Scalia, she explained. 
In Thomas's first conference, he found himself casting the final, unanimous vote on a case involving keeping a defendant in a mental institution; after further consideration he changed his mind and sided with the defendant. Rehnquist suggested he circulate a dissent, which then prompted a response from Scalia: "You've persuaded me. I'm changing my vote," he wrote. Rehnquist and Kennedy followed as well.
"[Thomas] was completely independent and forceful from the beginning," Greenburg said. Although he was well-liked, "the forcefulness of his views caused Justice O'Connor to move to the left.
"These group dynamics can have a profound effect on the Supreme Court as an institution."
When the Bush administration had the chance to move the court to the right again, White House lawyers set out to find a nominee who would not only be a solid conservative, but collegial and congenial—someone who could persuade.
"They knew they had to get it right," Greenburg said. George W. Bush was "seared" by his father's appointment of Souter, Bush's advisers told Greenburg. Bush tapped John Roberts, a former Rehnquist clerk who just weeks later would serve as the chief justice's pallbearer. Bush called O'Connor from Air Force One to tell her he needed her to serve until he found a replacement.
Bush "believed that his dad had gotten really bad advice [about Souter]," Greenburg explained. This time, the White House lawyers, told to look for female or minority candidates, "looked far and wide and they came up short." Much of the pool of judges was populated with Clinton appointees. Republican judges were older, or not seen as conservative enough; some had ethical issues that might prove problematic during a heated confirmation.
George Bush knew Harriet Miers would not change her views once appointed, and "he got no pushback on it." The only person who raised doubts about her nomination was Alberto Gonzales, who was at first reluctant to come forward because he had long been considered a candidate himself. (Conservatives believed Gonzales was "Spanish for Souter," effectively killing his chances.)
"Just as Gonzales predicted, conservatives went crazy" over Miers's nomination, Greenburg said, and Democrats who were ready to wage war instead "held their fire" while the nomination floundered on its own. From past nominees, Congress had come to expect that Supreme Court candidates be able to discuss complex constitutional topics. After meeting with Miers, even the president's loyal supporters had serious doubts. "Those stories were of course circulating around the Hill," Greenburg said.
Preparation with the Justice Department for the confirmation also proceeded poorly. As one lawyer vetting Miers told Greenburg, "they came to feel like [they were] trying to teach French to someone in three or four weeks and then expecting them to pass a fluency exam."
When then-White House Chief of Staff Andy Card visited Miers to encourage her to withdraw, "She didn't pick up on his message at all." The following morning Miers's own deputy made the case for her to bow out, but it took one more visit from Card until she realized the president wanted her withdrawal as well.
When Bush followed Miers by nominating Alito, "the conservatives were thrilled, the liberals were outraged." Miers, who had been dubious about Roberts's conservatism at first, strongly supported Alito. "She very much liked his qualities, and Bush did as well."
Democrats were primed to fight Alito because he was "clearly conservative." In the end, "Alito himself was really so effective in his testimony that the Democrats were unable to get any traction."
With Alito and Roberts, Bush appointed two well-liked judges who are likely to be able to promote discussion and build bridges, Greenburg said. The only question mark is Kennedy, another swing voter who could turn out to be the new O'Connor. Greenburg doubted this theory, since Kennedy is more conservative.
Furthermore, Roberts has already announced he wants more unanimity and more narrow opinions, which could rein in Kennedy. "I believe that one thing that [Roberts] does not want to happen is [to be] presiding over the Kennedy Court like his predecessor presided over the O'Connor Court."
 
With cases on partial birth abortion and voluntary school desegregation now before the court, conservatives may have something to celebrate soon. "It does appear that the court this term is going to turn now—on abortion and on race—in a more conservative direction. If O'Connor was still on the court it is clear that those cases would have gone the other way."
Founded in 1819, the University of Virginia School of Law is the second-oldest continuously operating law school in the nation. Consistently ranked among the top law schools, Virginia is a world-renowned training ground for distinguished lawyers and public servants, instilling in them a commitment to leadership, integrity and community service.