Virginia's Freedom Fighter: The Law School Honors Oliver W. Hill Sr.
The late Oliver W. Hill Sr., esteemed civil rights attorney, was honored for his integral role in the civil rights movement at a Law School event Sept. 13 in Caplin Pavilion.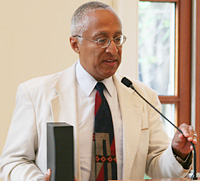 Tomiko Brown-Nagin, professor of law and history at the University, moderated a panel discussion that celebrated Hill's achievements and called upon students to continue his legacy of fighting for equal justice.
Panelist Robert M. O'Neil, former president of the University and emeritus professor of law, quoted Gov. Timothy Kaine: "No Virginian in the past hundred years has had such an impact on the life of our Commonwealth as Oliver Hill," he said. "He moved America from the darkness of the 19th century to the promise of the 21st."
Hill, a Richmond native, became a civil rights attorney in the era of Jim Crow laws, literacy tests, and legalized lynching. He was a 1933 graduate of Howard University's law school at a time when most African Americans were denied admission to higher education, solely on the basis of race. He would go on to serve as counsel in granting pay equity for black and white teachers in Alston v. School Board of Norfolk, Va., his first civil rights case to go to the U.S. Supreme Court. 
Hill then became a lawyer for the NAACP and began attacking Virginia's segregated schools. He would also play an important role in integrating higher education. Hill filed a suit on behalf of students in Farmville, Virginia, that would later be incorporated into Brown v. Board of Education, the 1954 landmark case that made public school segregation unconstitutional. Despite the ruling in Brown, public schools across Virginia, including those in Charlottesville, remained segregated for years afterward. Hill continued to practice civil rights law until 1998 and received over 90 awards for his commitment to social justice.
Panelist Claudrena Harold, assistant professor of history and African-American studies at the University, spoke of Hill's legacy: "Over the course of his public life, Hill labored earnestly to dismantle America's system of racial apartheid." Harold said he was being honored for, "his and others' perpetual criticism, because of his courageous activities, and because of his unfailing commitment to American democracy."
Panelist Henry L. Marsh III, Virginia state senator and Hill's former legal partner, said that Hill's leadership was so effective because he used the law rather than violence to correct discrimination. 
O'Neil also spoke of Hill's use of the law, as well as his passion for social justice: "This [was] not only an extraordinary, creative, and committed attorney who has guided so many civil rights principles through the courts, this [was] a person of patience, of perseverance, sensitivity, and above all, of confidence and courage in persevering to do what he knew was not only right, but inevitable." 
Hill played a crucial role in the integration of both undergraduate and higher education; Marsh and Harold emphasized that University students should continue his commitment to equal justice. "If we are to give meaning to Mr. Hill's life, we have to examine the environment here at the University of Virginia and what steps we can take to make Mr. Hill's dream of equality a reality for everyone," Marsh said.
Harold called upon the University's prospective lawyers to fulfill that dream and emphasized Hill's significance in integrating higher education: "I think it's important to us to understand that for Oliver Hill the fight for integration was not just simply the fight for integration for integration's sake. There was a reason, there was social purpose behind integrating graduate and professional schools. It was just simply not about expanding the number of black bourgeoisie, but also the development of a professional class that would be of service to the human liberation struggle." 
The Center for the Study of Race and Law presented the inaugural Oliver W. Hill Sr. Lifetime Achievement Award at the event, which will be given yearly to a civil rights activist that embodies Hill's ideals and commitment to equality. The first recipient was Oliver Hill Sr., Oliver Hill Jr. accepted the award on his father's behalf. 
The event was sponsored by the Black Law Students Association, the Center for the Study of Race and Law, the Office of the Vice President and Chief Officer for Diversity and Equity, the Carter G. Woodson Institute for Afro-American and African Studies, the Office of the Vice President, and Chief Student Affairs Officer.
Founded in 1819, the University of Virginia School of Law is the second-oldest continuously operating law school in the nation. Consistently ranked among the top law schools, Virginia is a world-renowned training ground for distinguished lawyers and public servants, instilling in them a commitment to leadership, integrity and community service.