DNA Testing Marks Beginning of a New Civil Rights Movement, Garrett Says
Professor Brandon Garrett spoke about his groundbreaking research on DNA testing to prove wrongful convictions and the U.S. criminal justice system's faulty appeals process at a Sept. 24 event at the Law School.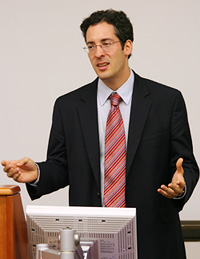 Garrett studied 200 post-conviction exoneration victims who were incarcerated and later proven innocent using DNA technology. According to his study, egregious errors were made by police during investigations, by courts that wrongfully convicted and appellate courts that failed to exonerate in the appeals process. 
"DNA has led to the creation of a new kind of civil rights movement around the issues and causes that contributed to these wrongful convictions. A movement has grown around trying to find [those wrongfully convicted] and trying to use DNA to secure their release. People like me are trying figure out how in the world this happened and how we can explain these cases and what we can do to prevent them from happening again," Garrett said.
Garrett's study was particularly significant because he found that 71 percent of those wrongfully convicted were racial minorities, proving a clear racial bias in the criminal justice system. The vast majority of convictions were for sexual assaults for which DNA testing is one of the most useful tools to prove innocence because biological evidence is usually involved.
Most of the 200 people Garrett studied were convicted before 1989 when DNA technology was not used in criminal investigations. While studying the cases, it was apparent that prosecutors often used unreliable evidence, such as hair testing. Garrett said that this technology can't prove guilt beyond a reasonable doubt because many people have the same hair type.
His study also showed blatant scientific fraud in many of the cases where medical examiners and alleged experts made up forensic evidence to aid in the defendants' wrongful convictions. Police investigators also coerced false confessions in 16 percent of those studied. Additionally, unreliable informant testimony and eyewitness identification were used in the majority of cases.
"It's not typical that you can look back on certain decisions and determine that the judicial decision was wrong," said Garret. His study also addressed trends in the faulty appeals process for the exonerees. The appellate courts recognized that a third of the wrongfully convicted had unfair trials, but that the errors had not affected their guilt.
According to Garrett, 86 percent of the wrongfully convicted were not exonerated in the appeals process until DNA evidence was used. He added that many did not have access to DNA testing and that in some cases, biological evidence was destroyed. Despite some of the exonerees presenting DNA evidence in the appeals process that proved their innocence, 12 percent were still not exonerated.
There are many things that can be done to prevent wrongful convictions in the future, Garrett explained. "These are serious civil rights cases. As a result there has been pressure on police departments to adopt reforms," Garrett noted. He said that double-blind line ups can be used so that a victim does not identify the wrong suspect and that confessions can be videotaped to prevent police coercion. Crime labs can also be audited to detect false forensic evidence.
"Through the use of post conviction DNA testing we can find out years later that someone who was innocent was convicted," Garrett said. "However, there needs to be systemic reform to prevent these miscarriages from occurring…The appellate process is clearly not good at judging innocence."
The event was sponsored by the Center for the Study of Race and Law and the Human Rights Program. It was the first event in a year-long series, "Human Rights at Home: Race, Rights and the U.N. Race Convention."
Founded in 1819, the University of Virginia School of Law is the second-oldest continuously operating law school in the nation. Consistently ranked among the top law schools, Virginia is a world-renowned training ground for distinguished lawyers and public servants, instilling in them a commitment to leadership, integrity and community service.