Prosecutorial Injustice Commonplace, Says Duke Lacrosse Rape Case Attorney
A year ago this month, James P. Cooney III '82 was in the middle of a jury trial, defending a hospital in a wrongful death action, when an old friend called to ask him to take on another case. "You will never have a more innocent client," Cooney recalls being told by Joseph Cheshire.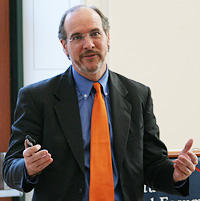 Cheshire, who had worked with Cooney to free a man from death row a few years earlier, wanted Cooney to represent Reade Seligmann, one of the three college lacrosse players falsely accused in the now-infamous Duke rape case. Cooney took the case after a trip to New Jersey and a few days with the Seligmann's convinced him that Cheshire wasn't kidding: The cases against all three suspects were shaky, but Seligmann's was especially weak—the 20-year-old had a solid alibi.
Two months later, after assembling a raft of electronic evidence showing that Seligmann was elsewhere at the time of the alleged crime, Cooney had his first face-to-face meeting with former Durham District Attorney Mike Nifong, whom he asked to drop the weakening case. 
Nifong brusquely dismissed the request—"There is no such thing as an airtight alibi," he told him—and said the case would go forward. As is well known by now, Nifong's bluster was misplaced and the case never went to trial. It crumbled over the next several weeks, a result owed in no small part to the vigorous advocacy of Cooney, 50, who visited the Law School last week and retraced in meticulous detail his dissection of the State's case against his client. 
Cooney's presentation, aided by Power Point slides and given to a packed room in Caplin Pavilion, was a tutorial that stressed the importance of aggressive and exhaustive pretrial discovery by defense attorneys. It was also a warning about the dangers of imperious prosecutors by a lawyer who has dedicated his career to protecting the due process rights of the accused. 
A good defense attorney is "going to have to work up a sweat" during the discovery part of trial, said Cooney, because built-in informational advantages accrue to the government in criminal cases. "But you've got to make the criminal justice system work. And you can't assume that [prosecutors are] going to be fair." 
Nifong, who has since been disbarred, had not been fair. Cooney gave a devastating and methodical rundown of the prosecutor's many errors: His single-minded focus on shoring up inconsistencies in the accuser's story, his withholding of seemingly exculpatory DNA evidence, and his intimidation of witnesses favorable to the accused. 
Cooney spent much of his speech explaining how he and other members of the defense team forced the production of evidence that rendered the accuser's story implausible—evidence that the prosecution had little intention of sharing. 
"This case could have gone terribly wrong," said Cooney, who insists that competent lawyers and open discovery laws, which require prosecutors to share with defense attorneys everything in their files, are crucial to the proper functioning of the criminal justice system.  
North Carolina passed an open discovery law in 2004, a development that Cooney and Cheshire played key roles in bringing about. In 2000, the two men began working on the case of Alan Gell, who was convicted of murder and was awaiting execution. It was soon discovered that prosecutors had failed to turn over to the defense statements from 10 people that blew up the State's timeline of the murder and provided Gell with an ironclad alibi. 
The outcry provoked by Gell's case led to the passage of the Open File Discovery Law in the North Carolina legislature. "If it wasn't for that law, we'd be in the middle of a jury trial in Durham right now because there is no way Mr. Nifong would have given us evidence showing our clients were innocent," Cooney said. "There is no way he would have shared the weaknesses of his files."
The most important evidence that Nifong withheld were results of lab tests that found no DNA of any players on the accuser but that did find traces of four unidentified men's DNA on her. No attempt was made to identify the four men.
Nifong gave the defense lawyers a truncated report of the tests that made no mention of the unidentified DNA traces. The defense team filed a motion to compel discovery, asking that the full results be turned over. While deriding the discovery request as a "witch hunt," Nifong complied with a court order and turned over nearly 2,000 pages of technical documents from the DNA lab. After weeks of decoding the data, Brad Bannon, a colleague of Cooney, discovered the shortcomings of the report Nifong had turned over to the defense. 
"The DNA is really what broke the case open for us … [and] cost Mr. Nifong his license," Cooney said. Subsequent discovery showed that Nifong had colluded with the DNA lab director to keep the full results out of the report. 
Prosecutors are obligated to turn over evidence that could exculpate suspects, but Nifong continues to make a creative argument in defending his decision to withhold the DNA evidence. Responding to a complaint to the State Bar Grievance Committee, Nifong wrote that he "looked at [the DNA results] as non-inculpatory … rather than as specifically exculpatory." 
Cooney quipped in a telephone interview that he "must have missed the class in Criminal Procedure" that justified Nifong's creative evidentiary theory. 
While the DNA was important in demonstrating Nifong's bad faith, Cooney's intensive work to "tighten up the timeline" of the alleged rape was what really cast doubt on his client's guilt.  
"All of you in here are of a different generation than I am," Cooney told the group of students. "You people travel in an electronic net; I've never seen a generation that leaves so many footprints behind. As you move through time and space you're texting, you're making cell phone calls, you're getting emails and responding to them, and you can basically track your movements all over the place, which makes alibis very simple in the electronic age. And that's what we did: we gathered up the electronic data."
The electronic "tracks" left by the four involved parties, the alleged victim and the three accused, cast serious doubt on the suspect's timeline. Cooney and his colleagues were able to isolate a two-minute span when all three accused players were in the same room at the same time. The accuser claimed the assault had taken 30 minutes.
Cooney closed his presentation by exhorting students to remember that the prosecutorial unfairness displayed in the Duke case was unfortunately commonplace.
"It happens a lot," he said. "It happens to people of color, it happens to the poor, it happens across the country. And the narrative of this case has to be that you have got to fight for justice minute-by-minute sometimes, and certainly motion-by-motion because there are a lot of people of color and a lot of poor people who are in jail who didn't have attorneys to sift through the evidence, who were convicted on weaker evidence, and lying witnesses and witnesses who made deals with the prosecutors, and a prosecutor who didn't care. We need to do a heck of a lot better. We need to get it right, and we are not getting right."
"This is just one example," Cooney said. "When you go out and you start dealing with the presumption of innocence … remember this case and what it really stands for, and the justice you've got to fight for on a daily basis in order for the system to get it right."
The event was sponsored by the Student Legal Forum.
Founded in 1819, the University of Virginia School of Law is the second-oldest continuously operating law school in the nation. Consistently ranked among the top law schools, Virginia is a world-renowned training ground for distinguished lawyers and public servants, instilling in them a commitment to leadership, integrity and community service.