Two Alumni Join Admissions to Look for the Next Great Law Class
When new admissions officials Jason Dugas and Courtenay Seabring Ebel talk to prospective law students about what life is like at Virginia, they're speaking from personal experience. As alumni and accomplished attorneys, Seabring Ebel '03 and Dugas '01 can provide a first-hand account that speaks to their own love for their alma mater and the success Virginia graduates enjoy.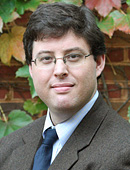 "The easiest part of our job is talking about what makes UVA so distinctive," said Seabring Ebel, who joined the Admissions Office this summer as director of admissions for recruitment. "It takes no effort to wax poetic about the Law School. I truly envy incoming students the three years they have ahead of them. And I feel privileged to be able to give back to the Law School by working to bring in the best and the brightest."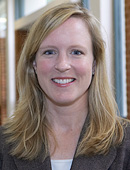 Two weeks ago Seabring Ebel finished a sweep of the West Coast, capping a fall recruiting season that took her, Dugas, and Associate Dean of Admissions Susan Palmer to dozens of colleges and universities around the country. At each stop they met with prospective students to answer questions about the law school admissions process.
While some visits dealt more with disseminating general admissions information, the most productive sessions were panel discussions involving three or four other admissions officers from peer schools.
"These give prospective students insight on what admissions officers are looking for in an application," said Dugas, who joined the Law School as director of admissions for communications and outreach this fall. "The mock admissions committee meetings include members of the panel providing feedback on composite applications from prior years."
Following the recruiting season, the Admissions Office handles a constant stream of e-mail and phone questions from prospective students. At the same time all three are involved in the daunting task of reading the mountain of applications, which totaled more than 5,000 last year. Today's prospective law students typically send applications to 12 law schools, Seabring Ebel explained. Once admitted, prospects are encouraged to make a personal visit.
"Getting admitted students on Grounds to talk to current students and to see first hand the environment, the energy, and how much people enjoy being here is our most effective recruiting tool," she said.
Dean of Admissions Palmer said her new staff have already made an impact in recruiting.
"As recent graduates of the Law School, Courtenay and Jason have enormous credibility with prospective students," explained Palmer. "They can talk about the academic experience, the Law School community, and the transition to professional life from personal experience. They are superb representatives of our Virginia Law alumni, and they have already added so much creativity and enthusiasm to our admissions efforts."
Both directors see themselves as not that far removed from their own days of law school applications. They believe they can effectively tell applicants what to expect once a student starts down the law school path. Seabring Ebel tells potential law students to "have some sense of what you want on the other end because you are usually incurring a significant amount of debt." But, she also reminds them, every step doesn't have to be planned.
"Life can intervene and your path can veer a lot, but often in wonderful ways, so it's important to be open to unexpected opportunities," she said, speaking from her own experience.
After finishing her undergraduate degree at Princeton, Seabring Ebel worked in publishing and taught abroad before attending the Law School. Following graduation, she worked for four years in intellectual property law at a firm in New York City. After getting married last year she was delighted to move back to the Charlottesville area, where her husband teaches at nearby Woodberry Forest School.
Dugas received his undergraduate degree from the University of North Carolina and worked for several years as a tax consultant before attending the Law School. He returned to North Carolina to clerk following graduation. Then, after marrying another Virginia Law graduate, he and his wife moved to Dallas, where he found work in labor employment law. Through another series of career moves the couple ended up in Washington, D.C., and, finally, he returned to the Law School where they began.
For both directors, coming back to the area has let them rediscover the things they liked about living here as students. "My husband and I like doing things outside — hiking, tennis, golf — and taking advantage of everything that makes Charlottesville unique — music at the Pavilion, UVA games, Vinegar Hill Theater," Seabring Ebel said.
Even though Dugas and his wife have their hands full with seven-month-old twins, they enjoy touring the vineyards of Central Virginia. And, despite being a lifelong Tar Heel, Dugas said he finds himself attending UVA athletic events cheering on the Cavs — unless, of course, they're playing Carolina.
While both have found many rewards in their work, Dugas spoke with anticipation about "the first day of 1L orientation, when we see all the bright and interesting people that we've assembled as the UVA Law Class of 2011, and know how much effort by so many people went into making that happen."
Founded in 1819, the University of Virginia School of Law is the second-oldest continuously operating law school in the nation. Consistently ranked among the top law schools, Virginia is a world-renowned training ground for distinguished lawyers and public servants, instilling in them a commitment to leadership, integrity and community service.