Law School to Host Entrepreneurial Boot Camp Schedule
The Law School will host an Entrepreneurial Boot Camp program Friday, October 12 in Withers-Brown Hall's Purcell Reading Room, featuring members of the Alumni Business Advisory Council.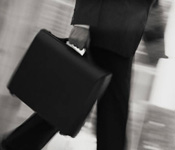 Starting and building a business is one of the most challenging and rewarding initiatives an individual can undertake. Among other things, it requires courage, determination, optimism, leadership and — financing. This year's Business Advisory Council Program profiles the talent for creating opportunities, the ability to develop those opportunities into profit-making businesses and the intersection of law and business.
The following panels are open to the public.
FRIDAY, OCTOBER 12
9-10:15 am
Turning Ideas into Value: the Entrepreneur's View, Purcell Reading Room

Panelists:

Mary Porter '94, founder and CEO of Curiosity Zone
John Muleta '93, founder and CEO of M2Z Networks, Inc.
Matt O'Connell '79, CEO, President and Director of GeoEye

Moderator: Fred Hutchison '75, Partner, Hutchison Law Group

10:30-11:45 am
Investors and Bankers: Getting to Market, Purcell Reading Room

Panelists:

Charles "Chuck" Cory '82, Chairman, Global Technology Banking, Morgan Stanley
David Burke '93, Principal, Makena Capital
Dick Crawford '75, Chairman, Virginia Investment Capital Group and Managing Director, Virginia Active Angel Network

Moderator: Mike Lincoln '91, Partner, Cooley Godward Kronish

1:30-2:30 pm
Law & Business Program Session, Purcell Reading Room

Panelists:

Peter Hursh '77, Managing Director, ECG Advisors, Inc.
Jack Esterhay '06, Associate, McKinsey & Company
Rich Hynes, Nicholas E. Chimicles Research Professor in Business Law and Regulation

Moderator: Rob Masri '96
Founded in 1819, the University of Virginia School of Law is the second-oldest continuously operating law school in the nation. Consistently ranked among the top law schools, Virginia is a world-renowned training ground for distinguished lawyers and public servants, instilling in them a commitment to leadership, integrity and community service.