First Diversity Reception Allows Students to Explore Law Firms
The Law School chapter of the Black Law Student Association (BLSA) hosted its first Diversity Reception Dec. 5 in Caplin Pavilion, providing students with an opportunity to network with private law firms that have shown a commitment to recruiting diverse groups of lawyers.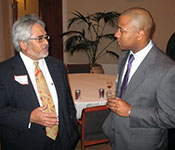 The event was designed to provide law students with "an opportunity to meet with attorneys in private practice and learn about what private practice entails," said co-organizer Jennifer Jessie, a second-year law student. "It was also an opportunity for students to gain first-hand knowledge about the firms in attendance and discover what these firms are doing to promote diversity in the workplace."
First-year students submitted resumes to firms in attendance, including Skadden Arps, Covington & Burling, Baker Botts, Patton Boggs, and Williams Mullen.
Among the groups that attended the event were the Asian Pacific American Law Students Association, the Lambda Law Alliance, the Latin American Law Organization, Women of Color, the Islamic Legal Exchange, and the Native American Law Students Association.
To prepare students for the event, BLSA and the Law School Career Services Office organized a networking workshop. "It was [the Diversity Reception Committee's] plan to provide these students with the necessary information so that they network successfully at this event and any other law firm receptions they choose to attend," said Jessie.
Due to the event's success and the unique opportunities it provided students, Jessie said, "We anticipate that this will become an annual event and are looking into the possibility of a second reception in the spring."
Founded in 1819, the University of Virginia School of Law is the second-oldest continuously operating law school in the nation. Consistently ranked among the top law schools, Virginia is a world-renowned training ground for distinguished lawyers and public servants, instilling in them a commitment to leadership, integrity and community service.