Speakers Explore Environmental Pressures of Land Development in Virginia
With growth in Virginia booming, state officials and environmental advocates are increasingly turning their attention to its effect on the environment. Representatives from the Charlottesville-based Southern Environmental Law Center (SELC) and the Virginia Department of Environmental Quality (DEQ) spoke about the consequences of rapid development during a Virginia Environmental Law Forum event Oct. 29.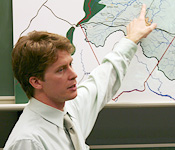 Morgan Butler '02 heads the SELC's Charlottesville-Albemarle Project, which studies local environmental issues and, through advocacy, urges local planners to adopt what he called "smarter growth practices." Butler pointed out that the Charlottesville area has been and will continue to be the target of substantial growth in the future. The area's natural attractions, cultural qualities, and small-town attributes have resulted in brisk regional growth. "Our secret's out," he said.
Butler displayed charts revealing Virginia's overall growth rate to be higher than the national average in the 1990s. The state will add an estimated 2.75 million people by 2030. "In the five years between 1992 and 1997 we developed nearly 350,000 acres of land and nearly a third of that was farmland," he explained. To put that figure into perspective Butler noted that Virginia will develop as much land in the next 40 years as it has in the first 400 years.
According to Butler, statistics show that people in Virginia drove over 78 million miles in 2004, that an average Virginian's commute is 26.5 minutes (the seventh-highest in the nation), and that the average family makes eight to 10 trips away from their homes per day. This level of increased vehicle traffic has caused a sharp rise in the state's output of carbon dioxide. Butler said that all of these statistics bring into focus the need for better planning. "The model we're trying to promote is one of compact communities closer to the city with a decrease in the number of subdivisions."
Butler showed how cascading events can result in the deterioration of the environment. He explained that the creation of more and longer roads mean less open space and more air pollution; that run-off from roads affects our water resources and increases erosion. Sediment that gets released by erosion settles in the stream beds and smothers aquatic habitats. "With as little as 10 percent impervious cover in the watershed we begin to see water-quality impairment," he said.
The SELC's Charlottesville-Albemarle Project advocates a change in community design as a way to offset complications that come with growth.
"Instead of the traditional cul-de-sac development, which is a dispersed community, SELC recommends a more compact 'town center' or mixed-use development that allows families to take more of their daily trips by alternative means, bicycle or walking for instance, because things are closer together and there's less traffic," he said.
Butler showed how the SELC worked with a local developer and the Albemarle County Board of Supervisors to change the developer's original plans to include some of the concepts of the mixed-use town center approach to development.
Butler also talked about the advantage of a municipality having control over its own water resources. "There's more incentive to be more responsible for what goes into an area's water supply," he said. Citing recent efforts to expand the area's available water supply, Butler noted that instead of taking the most expedient solution they worked with other environmental organizations and found a solution that allowed continued local control.
Amy Owens, director for the DEQ's Valley Regional Office, explained that regulators don't do the planning; instead, they deal with the consequences of planning. "We're always trying to balance the needs of agriculture, the needs of industry, and the needs of the environment. We're protecting resources while being pragmatic about resource allocation," she said.
As an example of the kinds of work in which the DEQ is involved, Owens related the mystery of large-scale fish kills over the last few years in the Shenandoah River. In order to properly study the phenomenon they would need large amounts of federal and state funding, but severe cut-backs at both levels have made that impossible. Undeterred, a consortium of interested parties was organized, called the Shenandoah River Fish Kill Task Force, which included people from several federal and state agencies, university researchers, nongovernmental organizations, and individuals, virtually all working on a volunteer basis. The minimal amount of funding that has been allocated has gone to laboratory sample testing.
Owens explained that there are several sources of environmental stress that may be causing the fish kills, including increased population and run-off from agricultural operations and housing developments. "What we've been trying to do is study what those point sources are, what those non-point sources are, what our atmospheric pathways are, and what combination of nutrients, contaminants, and maybe pathogens are causing this," she said.
Owens welcomed the participation of public-interest groups. "The bottom line is we couldn't do our work without public-interest groups always pushing for the right thing," she said.
Founded in 1819, the University of Virginia School of Law is the second-oldest continuously operating law school in the nation. Consistently ranked among the top law schools, Virginia is a world-renowned training ground for distinguished lawyers and public servants, instilling in them a commitment to leadership, integrity and community service.