Department of Homeland Security Official Discusses Asylum, Refugee Laws in Post-Sept. 11 World
Manpreet Dhanjal, from the Department of Homeland Security Office of Refugee, Asylum and International Operations, spoke to students Oct. 23 in Caplin Pavilion about the various issues in asylum and refugee law in the post-Sept. 11 world.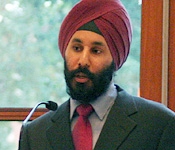 Dhanjal prefaced his discussion by reading a disclaimer stating that any opinions he voiced during his talk would not "in any way represent the views of the Department of Homeland Security or the United States government," and would in fact be his own personal opinions.
According to Dhanjal, "today refugee international law remains one of the most politically contested issues in our modern time." When the office of the U.N. High Commissioner of Refugees (UNHCR) was created in 1950, it was believed that it would fulfill its mission within three years, dealing with European refugees after World War II, Dhanjal said. Then suddenly "other issues and other conflicts happened in the world and today, nearly 60 years later, UNHCR is responsible for nearly 20 million displaced people."
The United States has a long history of providing a safe haven to refugees, Dhanjal said, however "as one human rights organization recently wrote, thousands of vulnerable refugees have been prevented from receiving protection in the U.S. due to overly broad immigration law definitions, the Patriot Act and the Real ID Act of 2005."
The law potentially bars, from asylum or resettlement, any individual who has provided material support for terrorist organizations. More specifically, Dhanjal explained, "the law focuses on anyone who has engaged in terrorist activity by providing material support for the commission of a terrorist activity to an individual who the actor knows or should have known, has committed or plans to commit a terrorist activity."
Dhanjal explained that there are three categories of terrorist organizations: Tier I, Tier II, and Tier III. Within Tier I are individuals in foreign terrorist organizations designated by the secretary of state under the Immigration and Nationality Act, such as Al-Qaeda, Hamas, and The Shining Path. Tier II consists of organizations from the terrorist exclusion list also designated by the secretary of state in 2004, including The Lord's Resistance Army, and The Communist Party of Nepal. Within Tier III are undesignated terrorist organizations where a group of two or more individuals engage in terrorist activity.
Dhanjal defined terrorist activities as "any activity which is unlawful under the laws of the place where it is committed and which, if it had been committed in the U.S., would be unlawful under the laws of the U.S. or any state." Dhanjal added that this can involve any of the following: hijacking, kidnapping, seizing or detaining, violent attack upon an internationally protected person, an assassination, the use of any biological agent, chemical agent, nuclear weapon, or any explosive, firearm or other weapon with the intent to endanger the safety of one or more individuals or to cause substantial property damage.
Dhanjal described engaging in a terrorist activity as being a member of a terrorist organization, committing or inciting to commit a terrorist activity, preparing or planning a terrorist activity, gathering information about potential targets, soliciting funds for any of the three tiers, soliciting any individual to join one of the three tiers, or providing material support.
Dhanjal said this definition can also be broadly interpreted and can bar individuals who would otherwise seem like perfect candidates for asylum or refugee status. As an example, he cited the case of a doctor who saved a patient that he knew to be a member of the FARC, and as a result has not yet been granted asylum. He added that even performing household chores for a family member who is a terrorist could result in being barred from asylum or refugee status.
There is a material support exemption that is available; to date nine group based organizations have been identified where duress is not a factor. These groups include Karen National Union, Tibetan Mustangs, and the FARC, he said.
According to Dhanjal, individuals claiming to have been under duress must either have had their life or liberty threatened, or did not know they were participating in or supporting a terrorist activity. Individuals who were possibly under duress are judged on case by case basis.
Dhanjal informed students that "if change is going to happen in this system, it's either going to come from members of Congress adjusting the law and narrowing the scope of the law, or the judiciary [branch] saying Congress was overly broad in their determinations."
Dhanjal concluded his talk by urging students to take on pro bono cases in the future, regardless of what type of law they are interested in, as a way to "fight the fight, whether it be an asylum or refugee issue or a civil liberty issue."
The talk was sponsored by the Immigration Law Program and Public Service Center.
Founded in 1819, the University of Virginia School of Law is the second-oldest continuously operating law school in the nation. Consistently ranked among the top law schools, Virginia is a world-renowned training ground for distinguished lawyers and public servants, instilling in them a commitment to leadership, integrity and community service.