International Tribunals Fail to Deter War Crimes, Drumbl's Book Charges
The international tribunals formed in response to crimes in Rwanda and the former Yugoslavia have failed to effectively deter war crimes and punish perpetrators, said Washington and Lee law professor Mark Drumbl during a talk at the Law School Nov. 1. Drumbl recently penned a book on the subject, "Atrocity, Punishment, and International Law," which aims to reveal the weaknesses in the current international criminal tribunals and offer more effective strategies to prosecute those who commit mass atrocities such as genocide.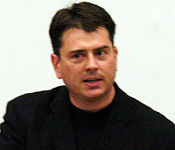 "War crimes target everyone," Drumbl said. "We are all victims. We need to set up a system in these states where oppressors bear personal burdens for crimes."
After the Rwandan genocide and the conflict in the former Yugoslavia in the 1990s, the United Nations established two international criminal tribunals to prosecute those who participated in genocide, crimes against humanity, and war crimes in each of the conflicts. Drumbl explained that the tribunals had two goals: to hold individuals accountable for participating in mass atrocities, and to deter others from committing similar crimes in the future by demonstrating that they would be prosecuted. Both tribunals are still prosecuting individuals for the crimes.
Drumbl said that in "Atrocity, Punishment, and International Law," he wanted to explain "how, why, and through what method should we prosecute crime such as genocide." His book also criticizes the current international criminal tribunals for only having jurisdiction to prosecute individuals rather than governments or organizations. Additionally, Drumbl said that the tribunals fail to deter war crimes because they have been unable to adequately convict and punish criminals.
"Punishments for extraordinary international crimes are much less than the crime. You can get punished longer for selling crack on the street corner," said Drumbl. Many convicted war criminals from the Rwanda and Yugoslavia tribunals have only received prison sentences of a few years, despite participating in genocide. Convicts also reside in prison facilities that feature better living conditions than victims of the crimes enjoy, such as running water and guaranteed health care. For these reasons, he argued that the victims of the crimes in Rwanda and the former Yugoslavia should get some sort of retribution.
"Atrocity" criticizes the international criminal tribunals for lacking the resources to prosecute anyone other than high-profile criminals.
"International sanctions don't reach 'normal' people that committed most of the crimes and allowed them to reach mass atrocity," said Drumbl. As a result, ordinary citizens will not be deterred from committing war crimes if it is unlikely they will be held accountable.
Drumbl proposed several solutions to make international criminal tribunals more effective. Vertical reforms, where individuals are prosecuted and convicted in local rather than international courts, would allow more people to be indicted and convicted. There must be "polycentric approaches to these punishments. A uniform approach will not be effective." Local courts should employ local methods of severe punishment, Drumbl added, which would act as a more effective deterrent for those who are more familiar with local practices.
Drumbl further suggested that sanctions must be sought against the "acquiescent masses" that allow atrocious crimes like those in Rwanda and the former Yugoslavian to occur, as "these populations have the opportunity to stop [these crimes] early, and they don't."
Drumbl's lecture was sponsored by the J.B. Moore Society of International Law.
Founded in 1819, the University of Virginia School of Law is the second-oldest continuously operating law school in the nation. Consistently ranked among the top law schools, Virginia is a world-renowned training ground for distinguished lawyers and public servants, instilling in them a commitment to leadership, integrity and community service.