Dean John Jeffries to Step Down Next Year
John C. Jeffries Jr. will step down as dean of the Law School in July 2008, concluding seven years of service in which he strengthened the school's financial standing, improved the quality of the student body, and enhanced curricular and public service programs. Following a sabbatical, Jeffries will return to teach full time at Virginia.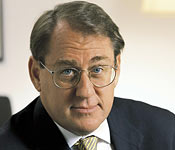 "Serving as dean has been a great honor — and a great pleasure," Jeffries said. "I look forward to the coming year with complete enthusiasm. After that, I'll return to the classroom, which has always been my first love."
Jeffries, a civil rights and federal courts scholar, joined the Law School in 1975 and became dean in 2001. He has co-written casebooks on civil rights, federal courts, and criminal law, and has published a variety of articles in those fields. He also wrote a biography of Justice Lewis F. Powell Jr.
"John Jeffries has been a remarkably innovative and insightful dean, one of the two or three best I have known over the course of a generation," said University President John T. Casteen III. "A skilled communicator and fund-raiser, he has built the Law School's endowment and enriched the school's reputation nationally and internationally. We are fortunate that Mr. Jeffries will continue his exemplary teaching career at the University after stepping down as dean, and grateful to him for many gestures of selfless support for students and faculty members within the Law School and elsewhere in the University."
Jeffries's tenure as dean so far has been marked by major accomplishments. He negotiated and carried out an agreement with the University that allows the Law School greater flexibility to set tuition and manage its finances in exchange for relinquishing dwindling state funding. The last two annual giving campaigns — in which more than 50 percent of alumni made gifts to the Law School — have set school and national records for the level of alumni participation. Jeffries is currently leading a capital campaign, planned to conclude December 31, 2011, in which 53 percent of the $150 million goal has already been raised.
"John Jeffries has been a delight to work with. He is the rare person who can promote the best of his school and the University at the same time — that's 200 percent effort," said University Executive Vice President and Provost Arthur Garson Jr.
On the academic front, Jeffries spearheaded the Law & Business Program, a curricular innovation designed to give students the accounting and finance skills needed to hit the ground running in business law careers. Other curricular programs created during his tenure include those focusing on human rights, health law, and immigration law. In 2003 the dean oversaw the creation of the Center for the Study of Race and Law, which coordinates and promotes a variety of programs and courses on race and law.
In addition to improving the school's finances and curriculum, Jeffries has also overseen marked improvement in the academic credentials of Virginia students. The applicant pool has grown by more than 35 percent since 2001, and the median LSAT scores and grade point averages have also risen significantly. Most important, the amount of financial aid provided to students has nearly tripled.
Jeffries has overseen a significant shift in personnel, hiring more than 25 full-time entry-level and tenured faculty members over the years while increasing the number of female and minority faculty. Several key administrative faculty members have been hired, including new deans for admissions, student affairs, and academic services.
Jeffries' support for public service has fostered an increase in funding for students pursuing public interest careers. Under the dean's guidance, the Law School has expanded the Virginia Loan Forgiveness Program, which allows graduates to pursue careers in public interest without the burden of law school debt. Several targeted pro bono programs — from the Hunton & Williams Pro Bono Partnership, which aids victims of domestic violence and asylum seekers, to the Child Health Advocacy Program, which recently received a $1 million endowment — have been established under the dean's watch.
Former Law School Dean Richard Merrill, Daniel Caplin Professor of Law Emeritus, praised Jeffries for the curricular and financial strides he has made in serving the student body and strengthening the reputation of the school.
"In addition to the new initiatives John conceived and undertook, he led by example," Merrill said. "A superlative teacher throughout this career, John continued to challenge and inspire students throughout his tenure as dean. And he continued to enjoy a national reputation as a scholar of the Supreme Court and the federal court system."
"John Jeffries has been an extraordinary dean," said Elizabeth Magill, Joseph Weintraub-Bank of America Distinguished Professor of Law and Horace W. Goldsmith Research Professor. Magill is chair of the search committee for the dean's replacement.
"We have all benefited from his singular combination of vision and judgment. For the last seven years, John has focused on achieving what is in the long-term interest of the Law School. He's succeeded, and he will be a tough act to follow.
"We will search for a dean who is a first-rate scholar and teacher, as well as an imaginative and skillful leader," Magill said. "All members of the Law School community will be involved in the process."
Founded in 1819, the University of Virginia School of Law is the second-oldest continuously operating law school in the nation. Consistently ranked among the top law schools, Virginia is a world-renowned training ground for distinguished lawyers and public servants, instilling in them a commitment to leadership, integrity and community service.