Lovelace '06 Rallies New Race and Law Executive Board
With one year as assistant director of the Center for the Study of Race and Law under his belt, Tim Lovelace '06 has begun to realize the goals he set out to accomplish in his role. As he rallies his newly elected executive board for the school year, the Center is ramping up for a busy year of speaking engagements, conferences, and race and law related scholarship intended to enhance the image of the Center and promote interdisciplinary partnerships.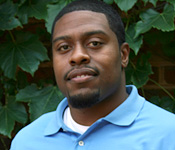 "I look forward to really engaging the student community in a way that the Center hasn't engaged before," Lovelace said. "We plan to have in-depth explorations of thematic areas such as race and human rights and will examine how students and practitioners can blend contemporary Supreme Court practice with race and law scholarship."
This year's applicants for the executive board came from a wider pool than in years past. Yemi Abayomi, Mai-Linh Hong, Eric Gerard, Jared Boyd, Ashaki Holmes, Andrew Duncan, Dana Weekes, Frankie Jones, Tameka Phillips, JB Billings-Kang, Katie Burke, Nicole Flatow, and Najah Farley will serve on the Center's six committees, which coordinate and support the resident faculty speaker series, outside faculty speaker series, cross-grounds events, the fall event, the Conference on Public Service & the Law, and student scholarship. Law professors Darryl Brown, Tomiko Brown-Nagin, and Brandon Garrett also serve on the Center's executive board.
"This year's committees have really been driven by student input. For example, the race and law scholarly paper competition was a student idea," Lovelace said. "We partnered with the Virginia Journal of Social Policy & the Law and have received a number of papers for which we will award prizes. It's exciting to watch our students initiate a project and help them bring their ideas to fruition."
The Center's interdisciplinary focus makes it unique, but Lovelace wants to do more. "The plan is to ultimately elevate the status of the Center and guard our reputation for race and law related scholarship. We are well positioned to do so because of the enormous talent presented in our student board and faculty coupled with the fact that Virginia is a frontrunner in establishing a center committed to this important area of study. This year, we're really trying to improve the quality of programming while increasing our programmatic endeavors."
As a law student, Lovelace volunteered regularly at the Center and Professor Kim Forde-Mazrui, the Center's director, is pleased that Lovelace has joined the program as a staff member. "His experience as a student leader, intricate knowledge of the University, and scholarly commitment to race studies make him exceptionally well-qualified to serve as the Center's assistant director," Forde-Mazrui said. "In his role, Tim will support the Center's existing programs, including its short courses, guest lectures, panel discussions, faculty workshops, and symposia, and will develop new initiatives aimed at producing interdisciplinary scholarly analysis and research on issues of race and law."
A recipient of the Thomas Marshal Miller Prize at graduation, an award given by the faculty to an outstanding and deserving student, Lovelace has earned recognition throughout his time at the Law School and as an undergraduate student at UVA. He was selected to receive the Oliver Hill Scholarship, when he entered Law School, which provides full tuition to a deserving student who demonstrates leadership ability and potential. Lovelace also served as the Black Law Students Association President, was a member of the Virginia Sports and Entertainment Law Journal's editorial board and the Raven Society Leadership Council.
"Tim Lovelace has been a leader of the University community since his days as an undergraduate, when he was the student member of the Board of Visitors. He was a wonderful citizen of the Law School community, and we are delighted to be able to retain his constructive engagement and participation in the Center for the Study of Race and Law" said Law School Dean John Jeffries.
Lovelace began work on a Ph.D. in history at UVA when he accepted the position with the Center. He will conduct research on how local social movements shaped the legal framework of the U.N.'s International Convention on the Elimination of All Forms of Racial Discrimination.
Founded in 1819, the University of Virginia School of Law is the second-oldest continuously operating law school in the nation. Consistently ranked among the top law schools, Virginia is a world-renowned training ground for distinguished lawyers and public servants, instilling in them a commitment to leadership, integrity and community service.