"Public Works" Blog Launched by Public Service Center
The Mortimer Caplin Public Service Center has launched Public Works, a blog that aims to increase public service awareness at the University of Virginia School of Law. Maintained by the Public Service Center, the new platform will allow the Center to communicate its public service outreach in a centralized, efficient, and transparent manner.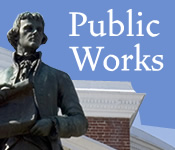 By visiting the blog's Web site or subscribing to its RSS feed, students and alumni can keep up with what's new in public service. The blog features posts on events, fellowships, and job and pro bono opportunities, as well as links to employment resources, the latest public service news, tips on financing public service, and clerkship and public service announcements. Information is organized by categories, such as Financing Your Career or Recent Posts.
Founded in 1819, the University of Virginia School of Law is the second-oldest continuously operating law school in the nation. Consistently ranked among the top law schools, Virginia is a world-renowned training ground for distinguished lawyers and public servants, instilling in them a commitment to leadership, integrity and community service.