Rule of Law Problematic When Reforming Post-Conflict States, Says Rajagopal
Balakrishnan Rajagopal, associate professor of law and development at MIT, criticized the current emphasis on the rule of law as a means to reform post-conflict states at a Law School talk Oct. 4.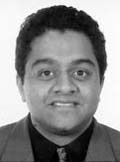 Rule of law is a legal system in which rules are clear and fairly enforced, he explained. These rules include property rights and a judicial system. Forcing failed states to adopt this system should facilitate the respect of human rights and economic development.
But, Rajgoapol explained, it is problematic that the human rights discourse has been replaced by rule of law because citizens can face problems such as a lack of clean water and housing, poor healthcare, and poor education "but they are presented with rule of law every day." States can have legal systems, but those systems do not necessarily give citizens basic rights.
The rule of law is also challenging in the development discourse where it is used to create property rights and a judicial system in failed states. There is evidence that property rights are not necessary for economic development. For example, in China, poverty has dropped and income has risen, but property rights were nonexistent until two months ago. Rajagopol also said that, "the introduction of rigid property rights can have perverse consequences [because they can] exclude the majority and exacerbate tension." Tension is aggravated because the introduction of property rights in many states would lead to taking land away from the majority.
The rule of law also causes problems in development due to the focus on implementing a judicial system to formalize laws. Judiciaries can be biased and could take away rights. However, he said, the biggest problem with rule of law is that the most successful post-conflict states did not follow the rule of law norms of property rights and a judicial system. These governments "formed a state that didn't allow unequal markets and invested heavily in technology." Examples of these states are Taiwan, Japan, and Korea.
Additionally, the problem with rule of law is evident in security policy because states do not always follow the law when staging military interventions. Rajagopol said that states often violate human rights treaties and international organizations like the U.N. Security Council endorse wars that are not legal according to international treaties.
Rajagopol said that rule of law can be useful in some situations, but "there is no uniform policy that can apply to everyone and get agreed on that can prevent human rights violations. It may be that state failure is one reason why human rights violations happen, but to go to rule of law as the medicine isn't the case."
The event was sponsored by the Human Rights Program.
Founded in 1819, the University of Virginia School of Law is the second-oldest continuously operating law school in the nation. Consistently ranked among the top law schools, Virginia is a world-renowned training ground for distinguished lawyers and public servants, instilling in them a commitment to leadership, integrity and community service.