Debi Sanders '78: Twenty Years on the Front Lines of Immigrant Advocacy
Debi Sanders '78, founder of the Capitol Area Immigrants' Rights (CAIR) Coalition, spoke to Law School students about her experiences over the last twenty years on the front lines of immigrant advocacy. Doug Ford, director of the Immigration Law Clinic at the Law School introduced Sanders as "A mother, a grandmother, a lawyer, and an immigration rights activist." Sanders' coalition brings together a wide range of organizations in the metro Washington, D.C., area including law firms, religious charities and human rights advocates.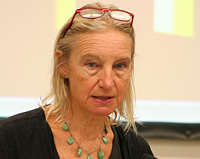 Before she spoke, students viewed a short documentary produced by a student working with CAIR, which featured interviews with detainees at the Hampton Roads Regional Jail by the Department of Homeland Security for a variety of offenses. Some were married to U.S. citizens, some had children whose legal status was assured, and all had previously held jobs. Some had graduated from high school and college and had become the kind of productive citizens politicians love to extol. According to Sanders, their crimes would not be considered significant if they were U.S. citizens, but because they're not, they face deportation and separation from their families.
Sanders said the short, powerful film provokes emotion wherever it is screened. When she showed the film to members of the board of directors at the jail where it was filmed, they were shocked. "Three of the board members came to me later and asked me immigration questions for their own relatives," she said.
"We truly are a nation of immigrants," she added. "But how did we get where we are today?" She explained that in 1986, Congress passed the Immigration Reform and Control Act (IRCA) which granted amnesty to illegal aliens who could prove that they had been in the U.S. since 1982. The Act provided a one year period from May, 1987 to May, 1988 for those seeking amnesty to apply.
"With such a tiny window of opportunity open," Sanders said, "we knew we had to work fast and combine our forces." She sought the help of Washington, D.C., area pro bono attorneys, religious groups and many other volunteers. The result was the CAIR Coalition. Sanders said that in 1986 the political atmosphere in Washington, D.C., was totally different. "There was a spirit within the government that they actually wanted a lot of people to get amnesty."
The coalition was able to get 50,000 people into the amnesty program through litigation. However, "Most of the work we did was done through negotiation," she explained. "You learn that litigation is very slow and sometimes you don't win and sometimes you get bad precedent and then you get all your friends mad at you for bringing the law suit."
Sanders said that immigrant rights are not a partisan issue. She cited legislation from the 1996 Congress, signed by President Clinton, which, "...set up some of the situations we're dealing with today including expedited removal, the cut back on habeas and certain welfare rights." According to Sanders, the political atmosphere today has not improved. "Parallel to the growing number of immigrants and a growing number of anti-immigrant laws you also have a growing U.S. prison industry. County jails are eager to rent bed space to the government and you have a number of new private, for-profit prisons being built," she said.
Over the years the CAIR Coalition has launched many successful projects. One current effort is the "Asylum Project." Immigrants landing at Washington, D.C., area airports and asking for political asylum based on the credible fear of their return to their homeland, are referred to the CAIR Coalition for legal representation. That program was so successful it was later expanded to Atlanta and, with the help of other NGOs, has recently gone nationwide.
Another successful effort is known as "The Detention Project." "When we first started the Detention Project in 2000 the Washington immigration office, which covers D.C., and Virginia, held about 100 people on any given day. Now, on any given day, we have more than 600 people detained by the Washington immigration office." Sanders said their "triage" system, which is set up for use in the jails is being challenged to the limit.
There is work for the CAIR Coalition on the legislative side as well. Coalition members seek support for the Development Relief and Education of Minors (DREAM) Act, which is intended to provide protection to illegal alien minors for their continued education. After passing the Senate Judiciary committee in 2006 the bi-partisan bill has stalled.
Sanders said that people in the coalition are hopeful that one day there will be another push for amnesty, but until that happens, they face rising numbers of detainees, a decreasing number of immigration law judges and stringent sentencing guidelines that limit those judges' ability to use their discretion in hearings. "In the old days an immigration judge would look at two things: 'What was your crime?' and 'Were you rehabilitated or are you a threat?' Now immigration judges can pretty much only look at 'What was your crime?'" she said.
Sanders urged Law School students to participate in the Detention Project outreach program as part of their pro bono work in school. Ford added that there would be a sign-up and training for Law School students with CAIR Coalition attorneys.
Founded in 1819, the University of Virginia School of Law is the second-oldest continuously operating law school in the nation. Consistently ranked among the top law schools, Virginia is a world-renowned training ground for distinguished lawyers and public servants, instilling in them a commitment to leadership, integrity and community service.