Supreme Court Clinic Celebrates First Win with Watson
In Her Own Words: A Student Assesses the Opinion
The Law School's Supreme Court Litigation Clinic registered its first with Watson v. United States in a unanimous opinion released Monday.
"We thought we had the better end of the arguments in the briefs. I thought oral arguments confirmed that," said clinic co-instructor Mark Stancil '99, an attorney with Robbins, Russell, Englert, Orseck, Untereiner & Sauber, in Washington, D.C.
In the case, Louisiana defendant Michael Watson sought to buy a gun from a federal agent, who wanted drugs in return. Watson was busted not only on drug trafficking charges but also for "using a firearm in furtherance of drug trafficking," which resulted in an additional 11 years tacked on to his sentence. Students in the clinic argued that receiving a gun was not "using" a gun, an argument the Fifth Circuit had previously rejected.
Clinic instructors and students co-wrote the Watson cert and merits briefs and helped prepare Watson's counsel, Karl Koch of Baton Rouge, La., for oral arguments.
The case was argued before the Supreme Court in October. Although the clinic students had since graduated, several attended arguments.
"I know that I'll never forget sitting in that courtroom, listening to oral argument and hearing the attorney arguing the case present ideas that we had discussed and debated at length over the preceding months," said former clinic student Lisa Kinney Helvin, now clerking for Judge Diana Gribbon Motz on the 4th U.S. Circuit Court of Appeals. "It's extremely rewarding to know that you can engage in such high-level legal analysis and still make a really significant impact on a person's life."
Helvin credited the victory in part to the efforts of the clinic instructors—Stancil, law professor Dan Ortiz, and New York City practitioner David Goldberg, who continued to work on the case through the summer—as well as Koch's strong oral argument.
"The Roberts Court hasn't issued as many unanimous opinions as many had hoped or thought it might, so it certainly isn't lost on me that we had nine votes in our favor," Helvin said. "That fact just reinforces the incredible insight our professors had in pursuing the case and then framing the issue in a way that would resonate with all of the justices."
The clinic spent much of the brief distinguishing Watson from Smith v. United States, a case in which the Supreme Court ruled that trading a gun to get drugs was indeed "using" a gun. Justice Ruth Bader Ginsburg indicated at oral argument that she was interested in simply overruling Smith, which mildly surprised Stancil.
However, the overall decision wasn't a shock, Stancil said, adding, "Every now and then you have a pretty good sense of what's going to happen."
Watson will be re-sentenced, but still will face a substantial term due to the underlying drug charges.
"We do know for sure [the decision] will shave at least 11 years off his [262-month] sentence," Stancil said.
This year's clinic is involved in Indiana v. Edwards, in which Ahmad Edwards was ruled competent to stand trial for charges against him in an Indiana court, but ruled incompetent to act as his own counsel. The Indiana Supreme Court held the contradictory rulings were unconstitutional. Working on behalf of Edwards, the clinic opposed the state's cert petition, but the Supreme Court agreed to hear the case.
The clinic now will prepare a brief on the merits, arguing against the state's view that a defendant can be competent to stand trial but incompetent to exercise his constitutional right to self-representation. The case will be argued in March.
The clinic also successfully opposed cert in a case involving a due process challenge in the firing of a municipal employee in City of Newport News v. Sciolino. The city's police chief had asked the Fourth Circuit to clarify whether a probationary employee was "entitled to a name-clearing hearing when they place a record of adverse personnel action in [the employee's] file," Stancil said. "The question was whether the action had to actually be published to other people or whether it was likely to be published to other people in order to be sufficient to require a hearing."
Getting the case rejected from a Supreme Court audience, and thus affirming the employee's position "was a great result for the client," Stancil said.
Of the more than 7,000 cert petitions seeking hearings each term, the Supreme Court agrees to review and issue decisions on 100 or fewer cases.
In Her Own Words: A Student Assesses the Opinion
by Lisa Kinney Helvin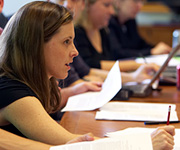 For me, the biggest initial surprise in Watson was which justices authored and joined (or failed to join) the majority and concurring opinions. The Smith dissent, which was authored by Justice Scalia and joined by Justices Stevens and Souter, concluded that "use" in 924(c)(1)(A) had to mean use as a weapon, and not merely a non-weapon use, such as employment as an item of barter. So, I was a little surprised to see that Justice Souter wrote for the majority in Watson . That assignment does make sense, though, as it sends a strong signal that Smith is still very much good law — and that the court is not inclined to reconsider whether "use" in 924(c)(1)(A) should be limited to use as a weapon. Justice Souter himself makes this point very clearly, when he says that " Smith must be respected" and that the disagreement between the majority and the dissent in that case "does not keep the door open for another try at statutory construction." I found that to be a very interesting message about the court's commitment to stare decisis, particularly in the statutory context. As Justice Souter observed, Congress has made no effort to modify the holding of Smith in the 14 years since that case was decided. That fact stands in sharp contrast to the congressional reaction to Bailey; very shortly after that decision, which refused to read the term "use" to encompass mere possession, Congress amended 924(c)(1) to criminalize possession of a firearm in furtherance of a drug transaction.
I was also intrigued that Justices Stevens and Scalia did not join Justice Ginsburg's concurring opinion, in which she stated that she would overrule Smith. At oral argument, Justice Scalia even made a point of noting that the holding in Smith was hotly contested, so I fully expected him to write separately to say that he would overrule it. Again, though, I think the decisions by these justices not to join Justice Ginsburg really speaks to their commitment to stare decisis, particularly given the congressional inaction since Smith .
Finally, I was a little surprised that Justice Souter devoted so little space to the question of whether, and how, Smith and Bailey — the court's two prior cases on the meaning of 924(c)(1)(A) — controlled the outcome in this case. I think we saw Bailey, in particular, as truly requiring our result, and I was somewhat surprised that the court seemed to disagree. Rather than focus on whether Mr. Watson "actively employed" the weapon — the test set forth by Bailey — the opinion instead focused on the "everyday meaning" of language as the primary reason that the term "use" does not encompass receipt in a barter transaction. We made that plain language argument too, of course, but I did find it interesting that the court seemed so dismissive of the Bailey test as applied to this fact pattern.
Founded in 1819, the University of Virginia School of Law is the second-oldest continuously operating law school in the nation. Consistently ranked among the top law schools, Virginia is a world-renowned training ground for distinguished lawyers and public servants, instilling in them a commitment to leadership, integrity and community service.