Criminal Law Expert Darryl Brown Joins Law Faculty
An experienced former public defender and current Class of 1958 Alumni Professor at the Washington and Lee University School of Law will join the Virginia faculty as a professor this fall. Darryl Brown, who visited the Law School during the 2004-2005 school year, teaches criminal law, criminal adjudication, and evidence.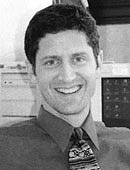 "I have a great fondness for Virginia because it's my alma mater and I had a wonderful visit there two years ago," Brown said. "My family's looking forward to getting back to Charlottesville."
After earning his law degree at Virginia, where he served as executive editor of the Virginia Law Review, Brown clerked for Delores K. Sloviter, Chief Judge of the U.S. Court of Appeals for the Third Circuit. He was an associate at the law firm Kilpatrick & Cody in Atlanta from 1991-92 before working as an assistant public defender in Clarke County, Ga., and as a staff attorney at the University of Georgia School of Law Legal Aid Clinic from 1992-94. After teaching at Mercer University and Rutgers law schools, he became an assistant professor at the University of Dayton School of Law, where he served until joining Washington and Lee in 1999.
Brown received his master's degree in American Studies from the College of William and Mary after earning his B.A. at East Carolina University. Before pursuing graduate work he briefly explored journalism, working as a copy aide at the Washington Post.
After law school and his clerkship, Brown focused on civil litigation work for banks at Kilpatrick. But he couldn't shake the yearning he'd had for criminal law since law school, where professors Michael Klarman and Bill Stuntz (now at Harvard) first stoked his interest in the subject.
"I wanted trial experience — to handle my own cases and to handle trial cases rather than just have small roles in pre-trial litigation," he said.
In the Public Defender's Office of Clarke County in Athens, he also supervised University of Georgia law students and began working as an adjunct professor at Mercer University School of Law.
"Once I started practicing it, I really enjoyed both the scale of the litigation, in the sense that I could handle my own cases, and [that] the cases didn't drag on for months or years, so I could see a lot of cases through," Brown said, "and I liked being a double-check on the government.
"Every now and then you get one of those cases that you feel good about — actually correcting the system and keeping someone from getting wrongfully convicted. Much more often what you're doing is dealing with people who are guilty of something and making sure that the system convicts them appropriately," he added.
The Raleigh, N.C., native was also exposed to a new perspective on the indigent.
"Being in a public defender office, all of our clients were poor. I developed close working relationships with the kind of people I'd largely never met before," he said. "It was an eye-opening experience to see what the lives of a lot of my clients were like."
Brown's research almost exclusively focuses on criminal procedure and substantive criminal law. Recently he's examined the history of substantive criminal law and "how it has expanded in some areas and contracted in others over decades."
Despite popular conception, "there's actually a long history of legislatures repealing criminal law and contracting criminal law," he said. "I want to figure out how our democratic process works to restrict the substantive scope of crimes even while the punishment side of criminal law keeps expanding and getting harsher."
Brown pointed to what were known as "morals and vice crimes," from premarital and non-heterosexual sex to gambling and alcohol prohibition, as examples of crimes that have been decriminalized.
Additionally, "in the 19th century commercial transactions and what we think of as free markets were regulated by criminal law a lot more than they are now," he said. "It was common in the U.S. through the mid-19th century to see criminal law regulating commercial transactions and prevent people from selling goods unless they were in a specified marketplace, for example."
Other laws prohibited speech in publications. "We have a history of criminalizing what we now think of as classic literature — 'Lady Chatterley's Lover' and James Joyce's 'Ulysses.'"
Some criticism of the government also was criminalized, and "there's some variation of that coming back in terrorism laws now."
But for crimes that have stood the test of time, "punishments across the board have increased in almost every area."
Professor Kim Forde-Mazrui, an expert in criminal law and race and law at Virginia, said Brown "has written extensive and highly respected scholarship on issues of criminal procedure, criminal law, and evidence." Forde-Mazrui said he was impressed with a paper Brown presented at the Law School during his visit comparing the inquisitorial system and the adversarial system as a means for processing criminal justice cases. Brown considered the extent to which the American adversarial system has increasingly emphasized trial process over investigative procedures, to the detriment of the factual accuracy of the adjudication process.
"Darryl is a wonderful colleague," said Forde-Mazrui. "I've interacted with him on several occasions when we have each presented our work at our respective law faculties. He has also given me excellent comments on manuscripts I've shared with him. I look forward to him joining our faculty."
Founded in 1819, the University of Virginia School of Law is the second-oldest continuously operating law school in the nation. Consistently ranked among the top law schools, Virginia is a world-renowned training ground for distinguished lawyers and public servants, instilling in them a commitment to leadership, integrity and community service.