Chen's Study of Generic Drug Market Wins ABA Student Writing Award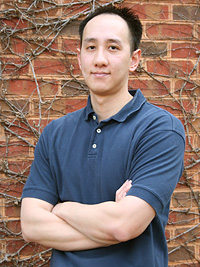 Third-year law student Tom Chen is the recipient of the American Bar Association Section of Antitrust Law's 2006 award for student writing for his article examining the controversial practice in which brand-name drug companies release generic versions of their own drug after their patent is challenged. Chen investigated the issue from an antitrust perspective in his paper, "Authorized Generics: A Prescription for Hatch-Waxman Reform," which will be published in the April issue of the Virginia Law Review.
The ABA award is given annually to encourage law students to write about antitrust law and consumer protection law, according to award coordinator Deborah Douglas. "The award is really to highlight the work of law students and to generate more interest in the field of antitrust among law students," she said. Chen will receive the $2,000 cash prize at the Section's annual spring meeting in mid-April."It's definitely an honor," Chen said. "It's reassuring to know that people, to some extent, agree with my thinking about the topic. I wasn't really sure when I was writing it how well it would be received."
The Hatch-Waxman Act provides a 180-day exclusivity incentive for generic companies to challenge brand-name drug patents, but, Chen explained, the way the current statute defines generics, brand-name generics are allowed on the market. "Obviously the branded companies are saying this is pro-competitive because there are now two drugs on the market during this 180-day window and the generic companies are complaining that this is eating into their profits and its going to deter their incentive to challenge these drug patents in litigation," he said.
Members of Congress have proposed legislation to ban the practice and the Federal Trade Commission recently launched an investigation into the issue and plans to release a study later this year, he added.
Chen was introduced to the controversy while taking Professor Chris Sprigman's Antitrust and Intellectual Property class last year and decided to write about it. "It was a good topic that no one had really written about too much yet and it played into my background," said Chen, who earned his master's degree in biotechnology at Johns Hopkins University and worked as a paralegal at a law firm that specialized in intellectual property issues before coming to law school. Taking Food and Drug Law with Professor Richard Merrill at the same time helped solidify his understanding of the debate.
"I think the paper won for a couple of reasons," Sprigman said. "First, it beautifully describes both the potential pro- and anti-competitive implications of allowing sponsored generics. Second, it proposes an antitrust framework for assessing how these implications are likely to fall out in particular cases."
"Ultimately I think authorized generics are an anticompetitive strategy designed to divide and conquer the generic drug market, in order to insulate drug patents from litigation and deter generic drug competition," Chen said.
Chen's nomination for the award was supported by the Virginia Law Review.
"I guess with all the contests you're always surprised. You don't really expect to win so it was definitely a pleasant surprise."
Chen has served on the articles review board for the Virginia Journal of Law and Technology. After graduation, he will clerk for Judge Alvin Anthony Schall of the U.S. Court of Appeals for the Federal Circuit in Washington, D.C.
Founded in 1819, the University of Virginia School of Law is the second-oldest continuously operating law school in the nation. Consistently ranked among the top law schools, Virginia is a world-renowned training ground for distinguished lawyers and public servants, instilling in them a commitment to leadership, integrity and community service.