New Classrooms, Office Space Completed
The Law School has completed a construction project that offers smaller classrooms and more office space. The new classrooms replace rooms that were designed to seat 150 students. The Kilpatrick Stockton Classroom (WB 102) and Foster Arnett '48 Classroom (WB 104) now respectively seat 80 and 45 students, while extra space was allotted to create an additional seminar room and six offices.
"In the last 10 years, we have made major efforts to reduce the size of our classes," said Law School Dean John C. Jeffries, Jr. "Consequently, we no longer have a huge need for very large classrooms, and they were often vacant."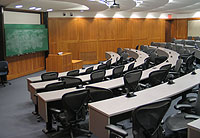 The new facilities include Aeron chairs for students, improved lighting, state-of-the-art audio-visual equipment, and a new flexible podium arrangement. The year-long renovation also produced a small seminar room, WB 102a, and six new offices.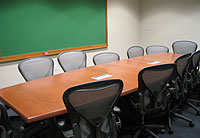 "I am confident our faculty and students will find our two new classrooms to be a noticeable step up from our older classrooms," said Assistant Dean for Administrative Services Bill Bergen, who oversaw the project.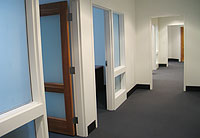 The Law School will begin renovation of the library reference area soon to make librarians' offices more accessible and efficient. The construction, expected to be completed by mid-March, will create a new conference room and two small offices for visiting scholars.
Founded in 1819, the University of Virginia School of Law is the second-oldest continuously operating law school in the nation. Consistently ranked among the top law schools, Virginia is a world-renowned training ground for distinguished lawyers and public servants, instilling in them a commitment to leadership, integrity and community service.