Melany Grout '07: Human Rights "Screamer"
By Melany Grout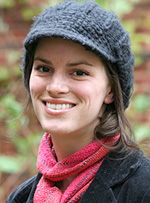 Years ago I read Samantha Power's "A Problem From Hell: America and the Age of Genocide." I recall identifying strongly with a passage that described people Power called "screamers." During each U.S. administration's inaction in the face of a 20th century genocide, "screamers" were those who recognized the importance of advocating, dissenting, or reporting to the world. Power wrote, "Most of them saw opportunity and alternative where others felt trapped by inevitability and 'reality,' a reality they did not probe and therefore ultimately would not alter. They knew that it was individuals who would have to make a difference, which was not the same as believing that they would."
Reading that passage, I recognized a "screamer" in myself. That was before I articulated a commitment to international human rights law and entered law school, but I now acknowledge that characteristic as a force behind my dedication to becoming a lawyer in that field. As I look forward to graduating a week from now, I recognize that my motivation found an excellent outlet at UVA Law, and that being a student here afforded me invaluable and unique experiences that prepared me to be an effective advocate.
Some of my most important experiences would not have been possible without funding from law school organizations. I was fortunate to have both my 1L and 2L summer work funded by either the school's Human Rights Program or the Public Interest Law Association. I spent the summer after my first year working in Ramallah in the West Bank, with a Palestinian human rights [nongovernmental organization]. There, I accompanied an attorney who conducted prison visits, and researched the rights of female Palestinian prisoners under a framework of human rights law and international humanitarian law. Working and living in the West Bank matured my understanding of the human rights field, as I encountered the challenge of applying the legal frameworks I had studied to extremely complex human life.
While in the West Bank, two things struck me in particular: the risk of abuse faced by individuals in detention, and the danger human rights face in situations defined by national security concerns. With those facts in mind, I applied to work with the U.S. Law and Security Program at Human Rights First after my second year of law school. The work I was able to do there was challenging, exciting, and timely, and the experience affirmed my goals as a lawyer-in-training. In addition to other projects, I completed a legal memorandum analyzing the legality of certain interrogation techniques under the Detainee Treatment Act; authored a report on a Fourth Circuit judicial nominee's involvement in formulating interrogation policies and military commission procedures; composed questions used by senators in their questioning of a controversial judicial nominee; and assisted in composing documents used in press statements and provided to Capitol Hill staff and members of Congress. Especially exciting was the opportunity I had to observe the Supreme Court's ruling in the landmark case Hamdan v. Rumsfeld . Human Rights First's office is adjacent to the Supreme Court building, and because much of our work that summer revolved around the outcome of that case, I was in the courtroom when the decision came down. Not only did I gain invaluable experience as a lawyer-in-training that summer, but I was able to witness a bit of history, too.
The value of my summer experiences has been greatly increased by other opportunities I had at UVA Law. For example, as a member of Professor Hurwitz's human rights clinic, I was able to help co-author an amicus brief for Agent Orange litigation in the Second Circuit. All of us involved in that project benefited from the special opportunity to participate in shaping a claim under the Alien Tort Claims Act, a mechanism that any lawyer interested in human rights should be familiar with. For a separate project, I contributed to the defense of Omar Khadr, a juvenile Guantanamo detainee. Working on Omar's claim further familiarized me with issues in international humanitarian law and litigation strategy, and was a moving experience in advocacy.
This spring, I felt things come full circle in some sense, when I was able to meet Omar Khadr's military counsel, Lt. Col. Colby Vokey, in person. I had the honor of inviting Mr. Vokey to the Law School in my capacity as director of the annual symposium for the John Bassett Moore Society of International Law. In that position, I had the privilege of organizing a day-long event on a topic of great concern to me and many others. The experiences I described above have culminated in my interest in national security law and its many intersections with human rights issues, and as symposium director I invited speakers to address those issues head on. Over the course of a day, panelists discussed executive power, international law and the Geneva Conventions; the treatment, interrogation, and rendition of detainees; and the prosecution of terror suspects under the military justice system. The J.B. Moore Society was excited to open the symposium with remarks from the legal advisor to the Department of State, John Bellinger, and to have a keynote address given by former General Counsel to the U.S. Navy Alberto Mora. We also were grateful for participation by William Howard Taft, former legal advisor to the Department of State; Elisa Massimino, Washington director of Human Rights First, and Jack Einwechter, former prosecutor from the Office of Military Commissions at the Department of Defense, among others.
The symposium afforded me the chance to meet Alberto Mora, a man who is a role model to me as a young lawyer, and also allowed me to learn a tremendous amount from experts about a subject I hope to focus my career on. I feel blessed to have been a part of an organization and a school that could bring in these speakers and create such dialogue. It has also been a privilege to attend a law school that is next door to the Judge Advocate General's Legal Center and School. I cannot quantify how much I have benefited from attending and hosting events with JAG participation.
Including my experiences with the J.B. Moore Society, my third year of law school has been entirely affirming and full of amazing opportunities. What stands out to me more than anything is being a Cowan Fellow of the Human Rights Study Project. The HRSP is a student-initiated, student-run effort to advance the study of legal issues surrounding the protection and promotion of human rights throughout the world. Selected as one of eight Cowan Fellows, I pursued academic research over the course of a year and conducted field work abroad. Each of us spent several weeks India this winter, interviewing and meeting with Indian advocates, lawyers, and government figures. Over three weeks, we carried out more than 120 in-country interviews and meetings, and conducted research in 10 cities and towns.
I took the opportunity to research India's anti-terrorism legislation. Because India is a nation facing an extremely serious terrorism threat, I believed that studying its legal approach to countering terrorism would allow me a useful perspective to understand U.S. national security laws. Words can hardly express what I gained from having the chance to speak with and learn from Indian advocates. Among others, I was able to meet with senior Supreme Court advocates and the former chief justice of the High Court of Delhi and former president of the People's Union for Civil Liberties. I know I can speak for the other Cowan Fellows in saying that the experience not only enhanced our ability to research and understand human rights issues, but informed who we are and will become as lawyers. In addition to the generosity we met abroad, we are all grateful to the support given to us by UVA alumnus Cam Cowan and his wife, PJ.
One of the greatest opportunities of my law school career, which has yet to come to fruition, is also due to alumni support. This spring, I was awarded the Monroe Leigh Fellowship in International Law, which will allow me to work post-bar for a period of months with the Robert F. Kennedy Center for Human Rights in Washington, D.C. I am incredibly fortunate to have a grant that makes it possible for me to go straight from law school into a top-notch, highly effective human rights organization that I would not otherwise have been able to learn from or contribute to. Because the Center has a small staff, I will be able to do work that is integral to the development and strategy of human rights projects, and much of it will be tangible, grassroots support of foreign advocates.
A classmate of mine recently told me what was behind her decision to go to law school. She recounted how she previously worked with human rights advocates, many of them whose lives were in danger in their countries. She said that during meetings, they would always first ask who in the room was a lawyer, the same way someone in an emergency asks "is there a doctor in the house?" I came to law school for many reasons, but hearing her story reminded me of why I am so sure about finishing and becoming a lawyer.
An abbreviated version of this essay was published in Inside UVA
Founded in 1819, the University of Virginia School of Law is the second-oldest continuously operating law school in the nation. Consistently ranked among the top law schools, Virginia is a world-renowned training ground for distinguished lawyers and public servants, instilling in them a commitment to leadership, integrity and community service.