Business Law, Bankruptcy Expert Rich Hynes Joins Law School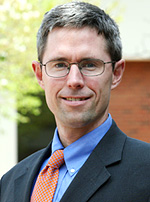 Law and economics expert Rich Hynes will join the Law School faculty this fall, bringing his expertise in law and business issues, with a particular focus on consumer bankruptcy. Hynes, a College of William and Mary law professor, taught Contracts, Bankruptcy (Law & Business), and Corporate Finance during his visit to Virginia this year.
"He is a rising star in bankruptcy scholarship," said Paul Mahoney, David and Mary Harrison Distinguished Professor of Law and co-director of the John M. Olin Program in Law and Economics at the Law School. "He combines a thorough understanding of bankruptcy law with solid economics tools he can use to analyze bankruptcy law and practice. I'm personally quite excited about the hire."
Hynes earned his Ph.D. in economics from the University of Pennsylvania, writing his dissertation on bankruptcy exceptions, and received a J.D. from the University of Chicago. He earned his B.S.F.S. in international economics from Georgetown University's School of Foreign Service.
After starting graduate course work at Pennsylvania with the goal of eventually teaching economics, Hynes soon found his interests evolving.
"The questions I found myself drawn to in the economics department were questions of legal policy, and I decided [my work] would be more effective with a law degree," Hynes said.
He decided to attend Chicago's law school because he considered it to be the premiere law and economics center at the time. Initially focused on public economics, from environmental law issues to taxation, Hynes ultimately settled into his current focus on consumer finance, particularly financial distress.
"What happens to consumers who don't pay their debts and don't file for bankruptcy?" he questioned. "Most people who don't pay their debts don't file for bankruptcy."
In Virginia, the result is a high number of lawsuits and state collection actions. Hynes is studying whether law sets up the right legal mechanisms to deal with individual insolvency.
How consumers resolve their debt is not well known. About half to two-thirds of credit card company accounts deemed non-collectable do not go through bankruptcy, Hynes noted, and smaller debts may be even less likely to go through bankruptcy. Whether the law is serving the best interests of consumers and lenders is an open question.
There were over two million consumer bankruptcies in the United States in 2005, but this number fell sharply in 2006 due to the recent bankruptcy reforms passed by Congress. Hynes hopes to study the extent to which this change in bankruptcy law will affect the prevalence of non-bankruptcy debt collection.
"If the recent reforms decreased the number of bankruptcy filings by denying needed relief to insolvent Americans, we should see a sharp increase in other forms of debt collection," he said. "The preliminary evidence does not show a dramatic increase in debt collection litigation outside of bankruptcy, but it is perhaps too early to tell."
Hynes's attention to an area often ignored by scholars made him stand out, said Mahoney.
"The bulk of what gets written about bankruptcy law and practice is really focused on business corporate bankruptcies and the Chapter 11 bankruptcy process," Mahoney added. "It's much harder to come up with data about consumer bankruptcy than corporate bankruptcy, and I think he's been quite dogged and creative in trying to figure out ways of getting data and getting some information about what's happening in the world of consumer bankruptcy."
Mahoney suggested Hynes also will also be a welcome addition to the Law & Business Program. "He has a good grounding in finance, which means he can show students the connections between corporate finance and bankruptcy," he said.
Hynes worked for law firm Skadden Arps, Slate, Meagher & Flom in Los Angeles after law school, focusing primarily on corporate law and lending deals, and began steadily writing journal articles focusing on bankruptcy starting in 1999. In 2000 he joined William and Mary as an associate professor of law. He and his wife, Laura, have two children.
Founded in 1819, the University of Virginia School of Law is the second-oldest continuously operating law school in the nation. Consistently ranked among the top law schools, Virginia is a world-renowned training ground for distinguished lawyers and public servants, instilling in them a commitment to leadership, integrity and community service.