Kendrick '06 to Clerk for Justice Souter; Will Return to Law School to Teach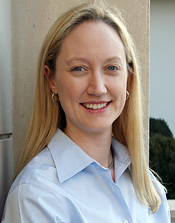 Leslie Kendrick '06 had never set foot in the U.S. Supreme Court until she interviewed with Justice David Souter. Beginning in July, she'll be a daily fixture there after accepting Souter's offer to be one of his clerks. When her term ends, she will begin her career as an associate professor at the Law School.
"There's no doubt it's a dream come true. Beyond that it's a dream that largely seemed like a pipe dream. Most of my time at law school I didn't think at all that I would be in the position to have even a plausible Supreme Court application, much less have one turn out to be successful," Kendrick said.
Currently a clerk for Fourth U.S. Circuit Court of Appeals Judge J. Harvie Wilkinson III '72, Kendrick was working at her desk on an ordinary Friday afternoon when the call from Souter came though. "I wondered if you were still in the market for a clerkship?" she recalled Souter asking. Of course, the answer was yes. "I had been trying not to think about it," she said. "It was completely a surprise."
Kendrick will finish her clerkship with Wilkinson in June. "It's been a fantastic year. The Fourth Circuit has a really interesting and varied docket," she said. She received a great deal of support from Wilkinson and was thrilled to tell him she got the clerkship. "He has been so supportive the whole way through. He's just the most wonderful person you could ever hope to have in your corner." All three of Wilkinson's clerks earned clerkships with the Supreme Court this year—an accomplishment he has achieved three years in a row.
Kendrick also received plenty of support from her alma mater. "I think having the support of the school and professors matters a lot," she said. "It takes at least two hands to count the number of people who personally got involved with the application process." Allison Orr '04, who clerked for Souter during the 2005-2006 court year, also helped Kendrick through the process. "She couldn't have been a greater help," she said. "I think that UVA is pretty singular among top 10 [law] schools for the amount of wholehearted support that it gives to its students."
Despite the nerves and second-guessing that go along with such an important engagement, Kendrick enjoyed her meeting with Souter. "We had a really nice talk. He was incredibly kind and asked lots of questions about my studies before coming to law school.
"The Justice really struck me as an incredibly smart and also an incredibly humane person. I thought, 'wow, no matter what happens I'm so glad that I met him. And, I so hope that I meet him again sometime in life,'" a wish that has now been granted. Kendrick also had the opportunity to meet with some of Souter's current clerks and ask them questions. One of them took her on a tour. "It was really amazing to just be in that building," she recalled.
Kendrick looks forward to gaining the unique perspective on American law and politics that the year-long clerkship offers. "I just want to go in with really open eyes and try to absorb as much as possible about how things work there. I hope I will obtain some insight that would then inform my own research and teaching in the law. That would be great."
Kendrick doesn't know what kind of exposure she'll get at the Court. Each justice manages their chambers a little differently, she explained. "People say 'expect to be busy,' so I'm just going to expect to be busy." She looks forward to the opportunity to work with First Amendment cases, which she believes is likely. But, she said, "no matter what, I think it will be good learning experience. I hope that it will expand my teaching abilities and expand the number of courses I could teach, and also, add new insights to various research projects that I'd be willing to do."
Around the time she was interviewing with Souter, she also was interviewing at the Law School for a faculty position.
"It was really neat to be in conversation with the faculty here on the level of a colleague," she said. "The smaller interview sessions were just a great chance to talk with some faculty that I did already know and meet some that I didn't and just have a nice conversation about substantive issues and about living in Charlottesville and what it's like to work here."
First Amendment and torts are on her research agenda, but she's not sure what she'll be teaching when she joins the faculty in the fall of 2008.
Before coming to the Law School, Kendrick was a Rhodes Scholar at Oxford University, where she received her Ph.D. in English literature. "It was a huge de-skilling process to come to law school. I was starting from the ground up again after having done English for so long. I just felt so awkward all the time and I still, most days, feel like the law fits me like an awkward garment and it's not quite tailored to me."
As awkward as she feels, Kendrick wears the law like a glove. As a student, she received the Margaret G. Hyde Award, the highest honor given to a graduating student by the faculty, and was an Olin Scholar and Hardy Cross Dillard Scholar. She was the recipient of the Virginia State Bar Family Law Book Award and served as the essays development and book reviews editor for the Virginia Law Review. While still a student, Kendrick published "A Test for Criminally Instructional Speech" in the Virginia Law Review, a paper that won her the Law School Alumni Association Best Note Award and the 2006 Brown Award for Excellence in Legal Writing, a $10,000 national prize for excellence in student legal writing.
"I think it will be a lot of fun to have a good excuse to hang out with people that I always enjoyed and thought as a student it would be cool to hang out with. I'm looking forward to that. Charlottesville is really about the right size and pace for me. I love that it is such a great university town—a quintessential university town."
Founded in 1819, the University of Virginia School of Law is the second-oldest continuously operating law school in the nation. Consistently ranked among the top law schools, Virginia is a world-renowned training ground for distinguished lawyers and public servants, instilling in them a commitment to leadership, integrity and community service.