Kingdon '98 Named Director of Virginia Law & Business Program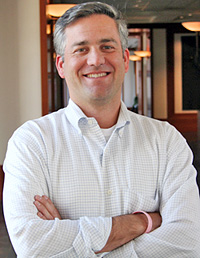 The Law School has named Musictoday executive vice president Jim Kingdon director of its Law & Business Program. Kingdon, who received both his J.D. and M.B.A. from Virginia in 1998, has extensive experience in issues at the intersection of law and business, from raising and managing a private equity fund to managing corporate strategy for a company that has logged $150 million in gross transactions.
"Our Law & Business Program is the most important curricular innovation in the history of the Law School, and it deserves great leadership," said Dean John C. Jeffries, Jr. "Jim Kingdon brings to that task exceptional talent and directly relevant business experience. We're delighted to have him here."
Launched in 2003 in response to feedback from alumni, the Law & Business Program is designed to offer students training in business practices and culture so they may better communicate with and advise corporate clients. The program's curriculum features several elements that are unique to the Law School. Students first take courses in accounting and finance that are taught by business professors. This foundation allows law instructors to teach advanced core offerings such as Securities Regulation and Corporations at a faster pace. As part of the program, the Law School also hosts distinguished corporate executives and lawyers, who teach intensive short courses that put legal and business analysis into real-world settings. Each year about 125 students enroll in the accounting and finance courses recommended to start the program.
"Students who participate in the program have a tremendous opportunity to enhance their future careers in private practice, through a traditional law firm or as in-house counsel or in other positions in business," Kingdon said.
"Most of law school is focused on cases and legal reasoning," said third-year law student Alex Patterson, who is taking several Law & Business Program courses. "But many students are also interested in business. The Law & Business Program is a great opportunity to learn about transactional practice and the way the financial world works more generally. I came to law school to understand how law structures society, and this is an important part of that."
Second-year U.Va. law student Benjamin Paul used the knowledge gained in the foundational accounting and finance courses in internships at Jones Day and Hughes & Luce law firms in Texas during the summer after his first year of law school. "It was just easier to understand how the deals were being structured because I understood what the terms being used meant," said Paul, who had consulting experience before law school and wanted more business training, but didn't want to spend time getting an M.B.A. "The big draw for me to Virginia was really the Law & Business Program."
Kingdon called the program an "essential alternative" to J.D.-M.B.A. joint-degree programs, which usually take four years to complete.
"There will always be a cohort of students for whom the fully immersed J.D.-M.B.A. program is particularly relevant and meaningful," he said. But business schools rely heavily on students' ability to contribute in the classroom based on their prior work experience and assemble their student bodies accordingly.
"The challenge for law school students isn't that they can't digest and master the material in the M.B.A. program; it's just that they don't have the experience to gain access to it. The Law & Business Program enables law school students to acquire academic training that will make them exceptionally valuable contributors in their workplace, particularly if they are pursuing transactional practice."
Kingdon realized early in his career the importance of relating law and business. After graduating with degrees in applied mathematics and political science from Northwestern, he worked as a financial analyst for real estate investment and advisory company LaSalle Partners and as an associate with management consulting firm A.T. Kearney.
He recalled working on a project involving the merger of transportation companies in which the merged company needed to understand its options for workforce reduction while respecting the labor agreement forged with affected unions. At the time, he had to coordinate and work with outside counsel to understand those issues.
"As a management consultant on that project and several others like it, I realized my desire to strategically consider the legal aspects of business decisions," he said. "It was clear that dual legal and business expertise would be exceedingly practical and intellectually gratifying."
After law school and business school, Kingdon founded and served as in-house counsel for Kestrel Ventures, a private equity fund that invested in platform businesses in targeted industries. While there he negotiated the acquisition of another business and formed BroadWing, a regional book distribution and third-party fulfillment company, where he directed finance and operations.
"Both of my degrees were critical in each aspect of the work I did," he said. But after several years in Denver, Kingdon and his wife, Marion, moved back to Charlottesville in 2002 when an opportunity opened at Musictoday. During law school "we both fell in love with Charlottesville and the lifestyle it affords," he said. The city also is close to his native Washington, D.C.
For Kingdon, working at Musictoday, where he often negotiates music and merchandising rights for artists, reinforces the lessons of understanding both business and legal concerns.
"My J.D. background doesn't prepare me to understand perfectly the nuances and complexities of the legal landscape of the music industry, but it certainly has prepared me to engage in that subject matter without trepidation," he said. "If an entertainment lawyer introduces legalese into a conversation in an attempt to confuse the underlying issue, I can very easily halt that process."
Kingdon said the foundational courses offered in the Law & Business Program — accounting and finance — are critical for law students, many of whom come from liberal arts backgrounds and have not taken accounting classes before.
"Being able to calculate a net present value, being able to understand a client's alternatives in negotiation and the expected value of those alternatives, and being able to understand the underlying accounting principles that can determine not just the legal issue of liability but the scope of that liability — if a law school graduate is trained in some of the finance and accounting principles that drive those calculations, he or she can be a much more meaningful asset to his or her client."
Kingdon hopes his entrepreneurial experience will prove valuable to the program.
"One of the things I find most exciting about this program is that there are a lot of different directions it can take," said Kingdon, who accepted the director position because of the challenges entailed. "In venture capital terms it's moved beyond the proof of concept stage, thanks to the successful efforts of the dean, [Professor] Paul Mahoney, [former director] April Triantis, and Lu Alvarez, [executive vice president and chief development officer of the Foundation]."
Translating that success into a distinctive asset for Virginia Law students means "we need to go out and communicate what's meaningful about our program" to alumni and practitioners.
Kingdon said he will engage students, alumni, faculty, and practitioners over the coming months in generating ideas and a plan to further grow the program.
Ultimately Kingdon wants the Law & Business Program to offer students "real help in launching them into an effective and fulfilling career."
Founded in 1819, the University of Virginia School of Law is the second-oldest continuously operating law school in the nation. Consistently ranked among the top law schools, Virginia is a world-renowned training ground for distinguished lawyers and public servants, instilling in them a commitment to leadership, integrity and community service.