Olin Program, McIntire School to Sponsor Law & Finance Conference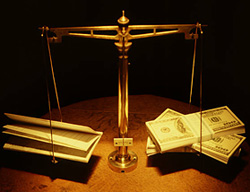 The Law School will host a conference exploring the connections between law and finance Friday and Saturday, March 23-24 in Withers-Brown Hall room 126. Sponsored by the John M. Olin Program in Law and Economics and the University of Virginia's McIntire School of Commerce, the conference brings together leading scholars to discuss cutting-edge topics in the fields of law and finance.
Recent advances in economic theory, as well as a growing body of empirical evidence, have strengthened the ties between law and finance. Today's financial economists rely heavily on the characteristics of legal institutions and contracts to explain the behavior of corporations and markets, while today's scholars in law and economics draw on financial theories and data to critically examine the organization and structure of law. It is becoming increasingly common for law and finance scholars to work together in pursuing their research endeavors.
Topics at the conference include contracts and contract theory, hedge funds and bonds, the rise of independent directors, product market competition, price manipulation, corporate governance, the production of financial market information, and CEO salaries. Legal and business experts will comment on each others' scholarship. Featured law scholars include Mike Klausner (Stanford), Reinier Kraakman (Harvard), Marcel Kahan (NYU), Paul Mahoney (Virginia), Jeff Gordon (Columbia), and Bernie Black (Texas). Finance scholars include Albert Kyle (Maryland), Bill Wilhelm (McIntire School of Commerce), Leeat Yariv (Caltech), and Francesco Perez (Columbia).
The conference is open to the public.
Founded in 1819, the University of Virginia School of Law is the second-oldest continuously operating law school in the nation. Consistently ranked among the top law schools, Virginia is a world-renowned training ground for distinguished lawyers and public servants, instilling in them a commitment to leadership, integrity and community service.