McDonnell Announces Plans to Run for Governor, Calls for Return to Federalist Principles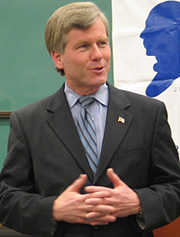 Virginia Attorney General Bob McDonnell confirmed what had been an open secret during an address before the Federalist Society Thursday — his plan to run for governor of Virginia in 2009. While touching on topics from immigration to last year's state budget crisis, McDonnell spent much of his talk discussing the federalist principles he holds dear and denouncing the federal government's encroaching role in criminal justice and education — areas that remain the domain of the state under the U.S. Constitution, McDonnell argued.
The federal government has about 40,000 different criminal statutes — a fact that state attorney generals from all political stripes complained about at a recent annual meeting with the U.S. attorney general and members of Congress.
"The federal government's intrusion into the state's province, particular in the area of criminal law, is pervasive and just needs to stop," McDonnell said. Congress has long used its power to regulate interstate commerce to interfere with state powers, he explained. "They can do whatever they want as long as the United States Supreme Court agrees.
"The Ninth and 10th Amendments are on life support now," he said. "There needs to be a good national dialogue on where are we going to draw the line."
Congress also uses a carrot-and-stick approach to get states to comply with federal goals, such as withholding highway funds for states that wouldn't agree to set the DUI blood-alcohol limit at .08. "Because they attached it to federal funds, everyone got with the program," he said, noting that, at the time, Virginia had already adopted the standard.
McDonnell pointed out that even U.S. congressional Republicans have started to turn against the president's No Child Left Behind legislation, which attached federal funding of schools to mandated testing and other requirements. "We don't want the federal government to run our schools in Virginia."
On the other hand, in an area where the federal government is supposed to regulate — immigration — leadership and enforcement has been lacking, McDonnell complained. Reforms passed in 1986 offered amnesty but did little to enforce immigration laws, he said. "Let's welcome [immigrants] here, but let's do it legally."
McDonnell said his office aimed to enter a memorandum of agreement with the federal government that would allow Virginia Department of Corrections and Department of Motor Vehicles officers to act as Immigration and Customs Enforcement agents in a limited capacity under certain circumstances, but "the governor has not agreed with me and we're not able to enter into that agreement at the state level." He noted that the governor can't prevent localities, like Herndon, Va., from receiving the training, however. Herndon is the smallest town in the nation to enter such an agreement.
McDonnell also described his efforts to combat Internet crimes, including child pornography, sexual predation, and identity theft. Because AOL is headquartered in northern Virginia, 60 percent of U.S. Internet traffic goes through Virginia. "We feel like we've got a real duty to make sure the Internet is safe and secure, particularly with kids," he said. McDonnell's office has increased punishment for child porn purveyors and online predators, and is planning an outreach program to teach parents about the Internet and how to protect their children.
His office also was involved in revising the electrical utility regulation bill to help keep costs down and protect consumers. The deregulation undertaken over the past eight years failed, McDonnell said, because competing providers failed to appear.
In response to the Supreme Court's Kelo v. City of New London decision (2005) confirming a local government's right to buy homes with "just compensation" in order to permit construction of a revenue-building pharmaceutical plant, McDonnell helped pass a bill to define the term "public use." Under the new Virginia law, the government can no longer take property to increase tax revenues or improve employment rates, or for private financial gain. The legislation also limited taking property for "blight."
"I think it's a victory for property rights. I think it's a victory for what our Founders really meant by taking for 'public use,'" he said.
McDonnell also plans to spend the next several years looking at the state's 24,000 pages of regulations to find ways to cut down on bureaucracy.
Asked about the 2006 Virginia state budget crisis, McDonnell explained that writing an opinion on whether the governor has the authority to "keep the lights on" when legislators can't agree on a budget was difficult.
"I would not want to have a collapse on my watch [if I were governor]," he said. But the Virginia constitution was clear. "Only the General Assembly has the ability to appropriate and direct the spending of money."
The governor has the power to keep the government running under the Emergency Powers Statute, but examples of emergencies under the law included pandemic and terrorist attacks — not squabbling legislators. "It didn't seem to me that that would trigger his powers."
McDonnell said he normally doesn't offer advice when interpreting the law in an opinion, but in this case he took an "extraordinary step" in suggesting to legislators that they produce a budget, or expect a constitutional crisis. He also recommended passing a continuing resolution that would allow the governor to spend money to continue government services. But the budget standoff ended just days before the deadline.
"Sometimes you don't like the practical ramifications of what the law may be," he said. "I tried to give them a road map to fix the problem."
Founded in 1819, the University of Virginia School of Law is the second-oldest continuously operating law school in the nation. Consistently ranked among the top law schools, Virginia is a world-renowned training ground for distinguished lawyers and public servants, instilling in them a commitment to leadership, integrity and community service.