Madden, Scott Win Lile Moot Court Competition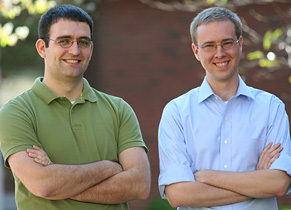 In addition to the rigors of preparing for the 78th annual William Minor Lile Moot Court Competition, teammates Michael Scott and Matt Madden continued to live their lives as law students. They still had to go to class, they still had papers to write, and they still had to balance their work with their personal lives. Four days before the competition, Madden's wife, Trish, gave birth to their first child. The juggling act leading up to the final round on Saturday, March 31, made the announcement of their win feel even more real, the third-year law students said.
"Just as in real life people are arguing cases and preparing cases, life continues outside of work. Anyone doing appellate advocacy at a law firm is going to have family things going on. It was sort of a real-world experience to figure out how to get everything done and still enjoy the birth of a child at the same time," Madden said. "Or make it to class," Scott joked.
Scott and Madden argued on behalf of a fictional defendant in a case that dealt with federal criminal sentencing, specifically the penalties imposed for crimes involving firearms, and how to correctly interpret related statutes. The Supreme Court recently granted cert on a similar case that Madden and the Law School's Supreme Court Litigation Clinic petitioned for earlier in the school year. The other team, Christopher Jackson and Magdalena Grossman, argued on behalf of the government. Jackson won the Stephen Pierre Traynor Award, which recognizes the best oral advocate and furnishes a monetary prize. It was both teams' second shot at arguing the case before a panel of judges since they were given the same problem from the semifinals.
More than 120 students entered the Moot Court Competition during their second year. The pool was winnowed down to two teams through the quarterfinal, semifinal, and final rounds, which are held during the students' third year.
"My question asked whether the use of a gun includes the receipt of a gun in a drug trafficking crime. So, does the receipt of a gun as a payment constitute the use of that gun? I argued that it didn't, and it's basically a plain language argument," Scott said.
Madden's question challenged him to examine whether the defendants' two prior convictions for felony driving while intoxicated (DWI) counted as violent felonies. "It was a hard question because only a few circuits have considered the question, but they all found in the government's favor that felony DWI is a violent felony," he said. "It was an interesting question because I got to argue statutory interpretation. What did Congress intend in passing the statute? How do these facts and circumstances fit within that language and intent?"
U.S. Court of Appeals for the D.C. Circuit judges Douglas Ginsburg, Thomas Griffith '85, and Brett Kavanaugh presided over the competition. Arguing before the judges was meaningful for both Scott and Madden.
"I can say I've argued in front of a panel of judges from the D.C. Circuit. It's pretty incredible," Scott said. "Most practicing attorneys don't get to argue before the D.C. Circuit, so to be able to do so as a law student was just something really special," Madden added. The judges praised the competition questions, written by 3Ls Jeremy Graves and Colby Slaughter, for their thoughtfulness and thoroughness.
When the winners were announced, the pair shot a glance at each other and had to contain their excitement until the judges finished their remarks. "You had to sit there respectfully while the judges explained their decision-making process. In the meantime we were jumping out of our skins," Madden said.
"You just try to smile modestly and nod," Scott added.
Both were happy with their performances, but knew the judgment could have gone either way. "We were obviously very happy, maybe even a little surprised, because really the other team's brief and arguments were great as well. We knew that before the judges came back that their decision could have been either way," Madden said.
After winning the competition, the pair returned to their normal lives and the reality of having a big paper due a few days after the competition for Scott, and Madden's new role as father to a 4-day-old son. Scott will join the law firm Jones Day in San Francisco after graduation and Madden will clerk for Judge Stephen Williams on the D.C. Circuit Court of Appeals. "It was nice to have an all-D.C. Circuit panel," Madden said. "These are people that my judge will be sitting with next year. If I see them in the hallways I'll be able to say hello, so it was an added bonus."
Founded in 1819, the University of Virginia School of Law is the second-oldest continuously operating law school in the nation. Consistently ranked among the top law schools, Virginia is a world-renowned training ground for distinguished lawyers and public servants, instilling in them a commitment to leadership, integrity and community service.