Prof. Nachbar Serves in JAG Corps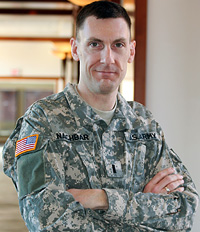 The Law School community may see a familiar face wearing an unfamiliar uniform this month. Law professor Tom Nachbar will be performing his annual training for the Judge Advocate General's Corps starting this week, which requires him to don the Army's camouflage fatigues. Nachbar, an intellectual property and trade regulation scholar, joined the U.S. Army Reserve as a first lieutenant in November 2005.
"People constantly ask me why I joined and I don't have any answer better than that I love my country and I wanted to find a way to serve at a time when so many others are being called upon to make such great sacrifices," Nachbar said. "I'm doing nothing compared to those who have had to leave their families for year-plus deployments."
As a member of the 151st Legal Support Organization, which is based in Alexandria, Va., Nachbar serves two days every month, plus two weeks of annual training per year. His work has included revising briefing materials for line officers, both in Alexandria and at the JAG Legal Center and School in Charlottesville. He has also helped organize continuing legal education briefings for JAG Corps officers.
"I've spent the first year studying more than anything else," said Nachbar, who took advantage of the Army's web-based courses on military law to complete his military legal training.
Although the day-to-day job of non-deployed reservists is to train, in the JAG Corps that training primarily takes the form of actually doing legal work for clients. "You actually to do the same work that active-duty officers do," Nachbar explained. The JAG Corps has approximately 1,500 active-duty members and 3,000 reserve officers. "It gives me the chance to go out and do more practical work that's not directly related to my scholarship."
For his annual training this year he will work on editing a practitioner's handbook for rule of law operations published by the Center for Law and Military Operations at the JAG School.
"The role of law in the conduct of military operations has probably never been more relevant than it is today," Nachbar said. "In addition to the normal issues regarding the law of war, we have as a nation undertaken major campaigns that have at their core the objective of bringing Western ideas of the rule of law to new peoples and countries."
Nachbar is pleased that his involvement has helped the Law School develop closer ties to the neighboring JAG School. "The more I've gotten to know the JAG Corps and the more I've gotten involved in it, the more impressed I've been with what they do, what they see their mission as, and how they do it."
At the same time, Nachbar is aware of the price of joining the military for his wife, Claire, and their three children. "My joining the reserves has imposed as much of a burden on her as it has on me. The same kind of family support and institutional structure that the Army has in place for active-duty families doesn't always exist for families of reserve soldiers.
"She recognizes the importance of the broader purpose of service and of having the obligations of service spread across different social groups," he added. He pointed out that several reserve officers he knows, including a U.S. attorney, have successful and demanding careers outside the reserves.
Nachbar could be activated and deployed, either to an Army facility in the states or abroad. In fact, this past fall the Army activated 20 members in his unit, sending some to Texas and others to Iraq.
"If we keep up the pace of current military operations overseas, they're going to reach deeper and deeper into the reserves. No one is exempt," he said.
According to Nachbar, Army lawyers are frequently deployed forward with combat troops and need to have the same basic skills as all soldiers. "The JAG Corps' motto is: 'Soldiers First, Lawyers Always,'" he said. In fact, "in a reserve unit full of lawyers, a lot of the leg work ends up being done by officers." One weekend Nachbar might be training with weapons and the next learning how to drive an ammunition van. "We need to be able to carry out the common soldiering tasks ourselves" as opposed to relying on other soldiers.
"We work together like lawyers with regard to how we execute most tasks," he said. "It's entirely common for a captain to have to point out a problem to a colonel and to have a true back-and-forth about the law or even operations. That's true not only among JAG officers but between JAG officers and superior line officers," he said. "Line officers rely on us not only for legal expertise but for our analytical skills."
The JAG Corps unit he serves in also offered Nachbar a great deal of flexibility in scheduling his service weekends and annual training. This year he's taking some extra annual training time in order to better fulfill the book project he's working on, but he's doing so in Charlottesville, which is major benefit to him. "Most people don't get to do annual training not just in the same town but literally across the parking lot from their civilian jobs," he said. "I'm really incredibly fortunate to be able to do that. I'll be working at the JAG School, but I'll still be able to maintain a presence at the Law School — attending lunches, workshops, and other functions."
His membership in the reserves has added new dimensions to his work at the Law School and his role as a member of the Law School community. "I've received nothing but the full support and encouragement of my colleagues here," he explained.
Nachbar said the Army demands that new officers fundamentally change the way they think and approach problems, and that teamwork, which lawyers don't emphasize, is everything. Overall, "it's been a great educational experience, both legally and in other ways," says Nachbar. "One day I would study some of the fascinating legal issues the Army faces, on another I learned just how flat I could get to the ground while crawling toward an enemy position. It's a very different experience being in a job that has such a major physical component."
Founded in 1819, the University of Virginia School of Law is the second-oldest continuously operating law school in the nation. Consistently ranked among the top law schools, Virginia is a world-renowned training ground for distinguished lawyers and public servants, instilling in them a commitment to leadership, integrity and community service.