Former UVA President Robert O'Neil to Retire
Although law professor Robert M. O'Neil is retiring this spring, he won't be slowing down. The former University of Virginia president will continue to work full time as the director of the Thomas Jefferson Center for the Protection of Free Expression and director of the Ford Foundation's "Difficult Dialogues" program. The only difference between his working life and retirement will be the teaching load; now he'll only teach the First Amendment Clinic at the Law School. His choices in retirement may come as no surprise to those who know O'Neil's distinguished career as a university administrator and teacher.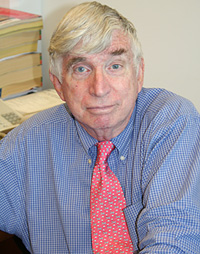 "As teacher, he has earned the deep gratitude of his students. As scholar, he has earned a place as one of the nation's most influential voices in interpreting First Amendment law and in promoting the values of free expression and the open society. As one experienced in the highest reaches of university administration, he has helped shaped national education policy. As a colleague, he is congenial and unfailingly generous with his time and ideas," Virginia law professor A.E. Dick Howard said.
O'Neil's staunch advocacy for the protection of the First Amendment made him a leading authority on the subject. He has testified before state legislatures and congressional committees throughout his career and authored hundreds of articles, op-eds, and several books, including "Free Speech: Responsible Communication Under Law," "The Rights of Public Employees," "Classrooms in the Crossfire," "Free Speech in the College Community," and "The First Amendment and Civil Liability." Over the years he has taught courses on the constitutional law of free speech and the press, and church and state. O'Neil is also a University Professor at Virginia, a prestigious rank awarded to a limited number of faculty by the university president.
Despite the key posts as a university administrator he held over the years, O'Neil never gave up on teaching.
"I've taught at least one course every semester since [1956] with the exception of the year that I was a Supreme Court clerk," O'Neil said. "Every other year, including my 20 years as a full-time university administrator, I always taught as least one course, which I found extremely useful; not only did it keep me in touch with my own subjects, but it gave me a group of students with whom I had a relationship that you just don't have as an administrator."
O'Neil earned both his bachelor's and master's degrees in American history at Harvard University. Many of his classmates went on to law school immediately, and since he was not ready to commit to being a professional historian, O'Neil went to law school, too, and received his LL.B. at Harvard. While earning his master's and law degrees, O'Neil headed up the speech program at Tufts, coached the debate team, and taught various speech courses before becoming a teaching fellow in Harvard's history department.
He was interested in the First Amendment long before he clerked for Justice William J. Brennan in 1962, but that experience strengthened his zeal for the subject. O'Neil's clerkship happened to fall on a "profoundly important" year, he explained. The court was suddenly able to put together a predictable working majority when Justice Felix Frankfurter retired and Justice Arthur Goldberg was appointed.
"Things changed dramatically between the end of the '61 term and the start of the '62 term simply for that reason. It was a different world." One morning at one of their meetings over coffee Brennan asked his clerks how many times they thought he had dissented. To the astonishment of the clerks who had come up with much larger numbers, Brennan held up four fingers. For O'Neil, that was the most memorable moment of the term.
Professor Howard clerked for Justice Hugo Black at the same time O'Neil clerked for Brennan. "Anyone who has clerked at the Supreme Court knows how brittle and competitive such a bright group of highly credentialed young lawyers can be. No one in that group of clerks had a better mind or sharper legal skills than Bob O'Neil. He was, in many ways, the star of the class," Howard said. "Yet I soon came to appreciate how, notwithstanding his powerful mind, what a warm and decent human being he is. Others may be tempted to preen; Bob is simply content to let his uncommon accomplishments speak for themselves."
O'Neil's is one of five families to have two generations of Supreme Court law clerks. One of his sons clerked for Justice Ruth Bader Ginsburg five years ago.
Immediately following his clerkship, O'Neil received an offer from Berkeley to begin teaching law. "It seemed the most logical, natural, comfortable thing to do, [to] start teaching then. One of the consequences of doing so was that you tend to have students who are older than you. I once had class at Berkeley where no fewer than five of my students were M.D.s. By definition, since they had all been through medical school, they were older than I was."
O'Neil's passion for the administrative side of academia was ignited while he was teaching at Berkeley. The chancellor approached him to provide legal advice on some constitutional issues and when the chancellor left for the State University of New York, he took O'Neil with him as his executive assistant. After a two-year stint in Buffalo, O'Neil returned to Berkeley for a few years and was called upon by the University of Cincinnati to serve as provost. Next he was chancellor of Indiana University and then president of the University of Wisconsin. The lure of the University of Virginia presidency brought him to Charlottesville in 1985.
"I have a somewhat unusual profile because I was the first person who served in three different roles as the head of a flagship campus in a research university," he said. "Since that time, two other people have done it."
After serving a five-year term as UVA's sixth president, O'Neil settled into a faculty position at the Law School. In addition to teaching, O'Neil became director of the Thomas Jefferson Center for the Protection of Free Expression, a position he's held for the last 17 years. "I faced the question: After 20 years in full-time university administration, did I want to recruit somebody else to take over the leadership of the Center or was I ready to make a change myself? With the prospect of at least 15 years back in my discipline, that seemed very appealing, so I then became the first and thus far the only director of the Center."
Every April the Center awards Jefferson Muzzles to those who have not upheld Thomas Jefferson's ideal that free speech "cannot be limited without being lost." The award draws national attention to the Center and the dozen or so winners who receive the award every year. The Center also recently filed its 50th Supreme Court amicus brief.
"To this day, I think we, as a result of this scrupulous process of checking and verifying and inviting people to respond, have developed a reputation for being tough, critical, and also for going at both sides," O'Neil said.
O'Neil has had to keep pace with a fast-growing field; First Amendment doctrine has rapidly expanded since he began his career. "Here is one way of looking at it: There are 110 cases in my current First Amendment case book; of those, only 18 existed in 1962. So the change in the field has been profound and dramatic. As of the summer of '62 only a small part of what we today consider First Amendment law existed at all."
Recently the Ford Foundation approached O'Neil about starting a program that would focus on cultivating academic freedom by providing a campus environment where sensitive issues can be discussed by those with different viewpoints through curriculum enrichment, faculty development, and student events. In 2005, the program launched with O'Neil at the helm. "I've got 43 programs of 'Difficult Dialogues,' many of which I have not yet been to visit. So next fall I'm hoping to get to some of those," he said. "That is arguably a full-time job. I've done it as a part-time job but there's enough to do there to keep one fully busy." Visiting the "Difficult Dialogues" programs has other fringe benefits for O'Neil. His children and grandchildren live within walking distance of several of the centers.
"[Retirement] gives me a little more flexibility in getting around to visit parts of our family, which range from 15 months to 102 years [old]," he said. He'll also be able to use those trips to promote his Harvard University Press book, "Academic Freedom in a Wired World," which will be released this fall.
If there is one theme that runs throughout O'Neil's career, it would be his care and attention to making the institutions where he worked "more welcome and open" to a variety of under-represented groups. "Here we worked very hard not only on racial and ethnic minority issues but realizing that there was a lot that had to be done in terms of gender equity and still does, but we made some significant progress that I'm happy to say in both areas John Casteen has admirably continued," he said. "We also worked hard on issues like handicapped access and just in general trying to make this a more welcoming community for those who historically have not been fully accepted or fully involved. And that's a lot about what 'Difficult Dialogues' is all about."
O'Neil is especially proud of pioneering the original dialogue on race-sensitive and minority admissions. He wrote one of the first major articles on the subject, which was published in the Yale Law Journal. He also was one of the original founders of the Council on Legal Education Opportunity and eventually became the chairman.
In retirement, O'Neil looks forward to having "a little more flexibility." He no longer has to worry about getting back to Charlottesville by Sunday evening to prepare for Monday classes. But, he will miss having the regular ongoing contact with students that a teaching position affords and the regular contact with his Law School colleagues.
His students will miss him, too. Almost a half-century after teaching his first law class his career will end with a similar student-teacher bond that he forged with his first class. His students have created a Facebook page to honor his career. Current and former students, colleagues, and friends can post messages to reflect their gratitude, thoughts, and wishes to the professor.
"Bob O'Neil could have spent his professional career on any law faculty in the country or, indeed, in countless other positions in the profession. We at the University of Virginia can count ourselves fortunate that he has chosen, in recent years, to teach and write, to spread enlightened ideas, from Mr. Jefferson's University," Howard said. "I can think of no one in our time who better embodies Mr. Jefferson's aspirations for his University and for the illimitable freedom of the human mind."
Founded in 1819, the University of Virginia School of Law is the second-oldest continuously operating law school in the nation. Consistently ranked among the top law schools, Virginia is a world-renowned training ground for distinguished lawyers and public servants, instilling in them a commitment to leadership, integrity and community service.