PILA Celebrates 25 Years of Public Service Fellowships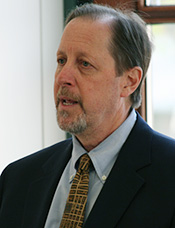 From the initial $25 to $100 pledges from students in 1981 to today's quarter-million dollar fundraising goliath aimed not only at students but at faculty, alumni, and the legal community, the effort to support students pursuing public-interest jobs during the summer has come a long way in its 25-year history at the Law School.
The Public Interest Law Association, which now leads the effort to raise funds and spread awareness about public service at the Law School, celebrated a quarter century of funding summer fellowships during a ceremony in Caplin Pavilion Monday. Law alumnus Jim Hingeley '76, now the public defender for Charlottesville and Albemarle County, and attorney Neil Getnick, who founded a nongovernmental organization that works primarily in Kenya, spoke at the event about their experiences in public service.
PILA has disbursed over $2 million dollars over the years, said incoming PILA president Katie Schleeter. "We are grateful that the UVA Law community has offered its support passionately and without wavering," she said. "To be a part of funding student summer fellowships at UVA is to know the Law School's generosity, and to feel overwhelmingly thankful for it."
This year also marks the first year the Public Interest Law Association will fund every student seeking a fellowship — likely more than 60 (acceptances are due April 21), thanks to additional funds provided by the Law School Foundation, which for the past several years has matched money PILA has raised dollar for dollar.
In 1981, then-law student Kevin Doyle first led the effort to fund summer public interest jobs through an organization sponsored by the Student Bar Association called Student Funded Fellowships (SFF). SFF raised enough money to pay the expenses of six students during the summer of 1982.
"It's something that was afoot at other law schools," said Doyle '82, now a prominent public interest attorney who heads the Capital Defender Office for New York. "There were many students who believed in public interest work but whose personal obligations required more lucrative employment; they became contributors.
"UVA Law School during the Reagan era was not a bastion of left-wing bomb throwers," he added. "But virtually everyone understood that the market doesn't serve all the needs of the adversarial system. These kinds of fellowships were necessary."
In 1991, the SFF broke away from the Student Bar Association and formed a unique organization, the Public Interest Law Association. PILA marked several milestones over the years. The group first broke $100,000 in disbursements in 1996, when the Law School Foundation first matched 50 percent of funds raised; in 2005 the Foundation began matching 100 percent of what PILA raised.
"It's a great thing because it doubles your money, but it's also great to know the Foundation supports the program," PILA President Kelly Voss said. "When we fund more students, we have more man-hours devoted to fundraising so the program can naturally grow." Students receiving fellowships must donate 20 hours to fundraising efforts the following year, for a total of close to 2,500 hours this year.
In the past, Voss noted, students were asked to donate a day's pay from their summer jobs with firms.
"We dropped the student fund drive and we tried to make way for fundraising that's more useful to the community," Voss explained. She pointed to efforts to get firms to donate money saved when students stay with families or friends during an interview visit, which this year raised more than $15,000, and the annual used textbook sale, which raised a record $20,000 this year. For the past several years the annual PILA Auction has set records as well — netting more than $60,000 for the past two years.
In the past couple years PILA has also expanded its mission to include raising awareness about public service opportunities at the Law School and beyond.
To "bring more people into the fold," Voss said, PILA has promoted the idea of splitting summer work between a law firm and a public interest organization, which doesn't qualify for a fellowship.
"It's important to just meet people where they are," she said. "Everybody's coming from a different financial situation. Pro bono can be incorporated into a lot of different lifestyles."
Founded in 1819, the University of Virginia School of Law is the second-oldest continuously operating law school in the nation. Consistently ranked among the top law schools, Virginia is a world-renowned training ground for distinguished lawyers and public servants, instilling in them a commitment to leadership, integrity and community service.