Caplin Public Service Center Volunteers to Receive State Bar Pro Bono Award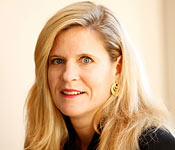 Volunteer attorneys affiliated with the Mortimer Caplin Public Service Center have been named as an institutional recipient of the Virginia State Bar's 2007 Lewis F. Powell Jr. Pro Bono Award. Richmond attorney John M. Oakey Jr. will also receive the award for his contributions since his retirement from law firm McGuireWoods. Honorees will receive their awards May 17 at the University of Richmond T.C. Williams School of Law.
"It was a surprise to be nominated. We're delighted to get it," said Assistant Dean for Pro Bono Kimberly Emery. "We were really just excited to be put in the running."
Instituted in 1991, the Lewis F. Powell Jr. Pro Bono Award is given in honor of Supreme Court Justice Powell to honor Virginia attorneys and attorney groups providing outstanding pro bono legal services that are distinct from their regular compensated work.
This year the Center coordinated pro bono projects with 110 employers nationwide, from work with full-time public interest lawyers to pro bono efforts undertaken by private practitioners. In the last school year more than 300 students logged more than 12,000 pro bono hours on such projects.
Hunton & Williams partner George Hettrick, who leads the firm's pro bono efforts, has worked closely with Emery and the Public Service Center to set up and run a pro bono partnership with the Law School. The Center has "been so supportive of everything we're trying to do up there and it's wonderful," said Hettrick, who wrote a letter to the Virginia State Bar in support of the Center.
The partnership matches attorneys from the Hunton & Williams Richmond office with law school students to represent non-citizens seeking asylum from abuse and torture in their homeland. The partnership has also represented more than 200 victims of domestic violence in the Charlottesville area since September 2005.
"As far as I know, UVA is the only law school in Virginia that has an assistant dean for pro bono and if that hadn't been in place, the partnership wouldn't be there," Hettrick said. "Working with Dean Emery and the Caplin Public Service Center has been a complete joy for us and the Law School's support has been outstanding in every way."
Charlottesville and Albemarle County public defender James Hingeley, whose office has supervised student pro bono volunteers, served as chair of the state bar's subcommittee on awards and nominations. "Typically the Lewis Powell Award is given to an individual rather than an organization," he noted, although two bar associations have received the award in the past as coordinators of pro bono services. But "The Caplin Public Service Center is the model program for public service among law schools in Virginia and probably among law schools in the nation. They just have a tremendous, tremendous program."
The pro bono attorneys' "ability to make contributions is greatly extended by the use of student pro bono volunteers," Hingeley added. "It really produces an enormous amount of pro bono services for people who otherwise might not have access to the legal system."
Other pro bono projects the Center has helped coordinate include:
The Child Health Advocacy Program, which recently received a $1 million endowment. The program is a collaborative effort among the Law School, the University of Virginia Children's Hospital, and the Legal Aid Justice Center. Through the program, caregivers at the Children's Hospital refer families to staff and law students for legal aid with non-medical needs such as landlord, benefit, and child support issues, as well as others identified during the course of their medical care. The program also assists with emergency funds to help families through crises and with referrals to appropriate community service agencies.
A project helping jailed immigrants through coordination with the Capital Area Immigrants' Rights Coalition (CAIR), an organization founded by alumna Debbie Sanders '78. Students offer presentations on immigrants' rights and check for valid asylum claims for immigrants detained prior to deportation in the Piedmont Regional Jail in Farmville and Hampton Roads, Va.
The Legal Outreach Project, in which students conduct client intake at soup kitchens, homeless shelters, and low-income housing projects for the Legal Aid Justice Center.
Hingeley praised Emery's work as director of the Law School's pro bono efforts.
"She just brings a special talent and dedication to this work that has resulted in a very special program," Hingeley said. "Her own personal dedication to pro bono is evident over many, many years. She's an inspiring leader of the program."
Founded in 1819, the University of Virginia School of Law is the second-oldest continuously operating law school in the nation. Consistently ranked among the top law schools, Virginia is a world-renowned training ground for distinguished lawyers and public servants, instilling in them a commitment to leadership, integrity and community service.