Schwartzman '05 Returns to Virginia to Teach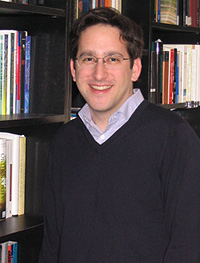 Growing up in a military family, Micah Schwartzman '05 moved often. Charlottesville, the town where he spent his undergraduate years and then came back to for his legal education, is the most familiar place he has known. Schwartzman will again return to Charlottesville in the fall, this time as an associate professor of law.
"It's something of a dream to come back to your alma mater to teach, so having the opportunity is something that you could never really expect but it's wonderful to be able to do."
As a law student, Schwartzman was a Hardy Cross Dillard Scholar, the highest honor awarded to entering students, offering a full merit scholarship. During law school he won the Margaret G. Hyde award, which is the highest graduation award given by the faculty, and the Daniel Rosenbloom Award for providing academic assistance to students. He was articles development editor of the Virginia Law Review and is a member of the Order of the Coif. After graduating, Schwartzman clerked for Judge Paul V. Niemeyer of the U.S. Court of Appeals for the Fourth Circuit in Baltimore and then took a postdoctoral fellowship at Columbia University's Society of Fellows in the Humanities, where he currently teaches.
He began cultivating an interest in academia as an undergraduate government and foreign affairs major. While studying social ethics at the University, he became interested in broader questions of political philosophy. The next stop was the University of Oxford, where he earned a Ph.D. in political philosophy as a Rhodes Scholar.
"It seemed like a fairly natural progression to go to law school after that," Schwartzman said. "When I came to law school I shifted gears a little bit. I put the interest that I had in political philosophy on the back burner for a little while, so I could focus on my legal education and not mix the two entirely in the beginning. I think it's good to get grounded in the law on its own."
Even though he didn't come to law school with the intention of becoming a practicing attorney, he was tempted by his internships to go into practice. "My interest at that point was more in legal theory. But I spent my summers at Latham & Watkins, and I really enjoyed the work there. I thought very hard about going to practice after clerking," he said.
But academia beckoned and he took a position with the Society of Fellows at Columbia University and will begin teaching at Virginia this fall. He hopes that his background in philosophy will enhance his teaching. "I think a philosophical perspective can be useful," he said. "The way you approach the law can be informed by the way you think about the philosophical foundations of the principles that you find in constitutional law."
Professor Vincent Blasi met Schwartzman when Schwartzman interviewed for the Dillard Fellowship. Schwartzman subsequently took many of Blasi's courses.
"I am thrilled that I am going to have him as a colleague," Blasi said. "He's already written pieces as a student that I think have the maturity associated with a scholar in mid-career, and I think his temperament is to be scrupulous and rigorous about argument. I think he will be an excellent teacher because he is such a clear thinker."
Schwartzman is interested in teaching the religion clauses of the First Amendment; liberalism, religion, and the law; and constitutional law. "The subjects that I'm planning to teach are contentious ones, especially the religion clauses that are likely to undergo some changes under the Roberts Court. It will be very interesting to have discussions about the next generation of constitutional cases in this area with students.
"I think the course on liberalism, religion, and the law, which will be in some ways a course on liberalism and its religious critics, is a very timely course — a course about the way that disputes about religion and the liberal ideas that are found in the Constitution have emerged in the last 25 years." Schwartzman taught a similar course at Columbia University to undergraduate political science and philosophy students. "I'm hoping that it will go well with law students. I think that will be a fun class."
Schwartzman's robust research agenda reflects his teaching interests. "I'm interested in the idea of equality as it applies in the context of the Establishment Clause. I'm also interested in principles of adjudication, in the justification for judicial review, and in ethical requirements applied to judges when they make constitutional decisions." He is currently working on a paper that discusses whether judges have a duty to be sincere or candid in their decision-making.
Schwartzman looks forward to his return to Charlottesville as a faculty member. His fiancé, Leslie Kendrick '06, will also join the Law School as an associate professor in fall 2008, after serving as a clerk for Supreme Court Justice David Souter.
"The quality of life in Charlottesville is just terrific and it will nice to be able to be in a smaller town and to have colleagues around, people who don't leave the moment that their classes are finished. The collegiality of the Law School is very well known, so I'm looking forward to that," Schwartzman said. He also looks forward to getting involved with the University as a faculty participant in various organizations. "There's an opportunity to interact with the University and I think it will be nice to be able to be a part of that."
Founded in 1819, the University of Virginia School of Law is the second-oldest continuously operating law school in the nation. Consistently ranked among the top law schools, Virginia is a world-renowned training ground for distinguished lawyers and public servants, instilling in them a commitment to leadership, integrity and community service.