Barrett, Dunn Earn Inaugural South Africa Human Rights Fellowships
First-year law students Germaine Dunn and Dennis Barrett are the inaugural recipients of the Class of 1957 South Africa Human Rights Summer Fellowships, which provide a $7,500 stipend for students working for human rights organizations in South Africa.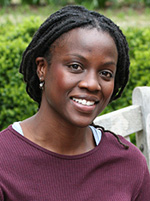 Law School alumnus Leigh Middleditch '57, a vice president with McGuireWoods Consulting and of counsel in the Charlottesville office of McGuireWoods, conceived of and provided initial funding for the fellowships. Middleditch was motivated to establish the fellowships by his involvement, together with Frank Stewart '57, James St. Clair '60, Robert Smith LL.M. '86, and Paul Coetser LL.M. '87, in teaching commercial law to black South Africans.
"I hope to strengthen ties between the Law School and South Africa, including human rights organizations, and to honor the Law School's Class of 1957," Middleditch said. In its first year, the fellowships have already attracted a substantial pool of qualified applicants.
Barrett, who wrote his college senior thesis on human rights in South Africa in the decade after apartheid, will work with the Centre for Applied Legal Studies (CALS) within the Faculty of Law at the University of Witwatersrand in Johannesburg on land and property rights issues. Founded in 1978, CALS was a pioneer in the development of human rights in South Africa during the apartheid years. Its initial primary objective of promoting humans rights through research and education has expanded to include a wide range of public impact litigation and democracy building efforts, including participating in the drafting of South Africa's new constitution.
"Once I saw the announcement for the fellowship, I thought it was right up my alley," said Barrett. "I'm excited and honored to have the opportunity to apply my passion and skills to human rights advocacy in South Africa."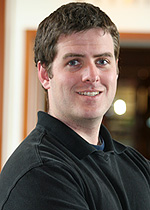 South Africa held its first democratic election just 13 years ago. "Before that, there was so little in the way of property rights for the black majority," Barrett said. Finding ways to integrate traditional indigenous and tribal concepts of property rights and family law with the new constitution has raised thorny legal issues, a subject Barrett will research during his internship.
Barrett has worked for several human rights and public advocacy organizations, including Human Rights Watch, the Children's Defense Fund, the Congressional Hunger Center, and Families USA, all in Washington, D.C. He also worked with the Anti-Predatory Lending Division of Essex-Newark Legal Services as part of the Law School's pro bono project program.
After Barrett wraps up his internship in South Africa he will also be able to work six weeks for a small law firm in New Jersey. "It'll be busy, but I really think it will be worthwhile. I'm excited about it."
Dunn also is no stranger to human rights work. During her senior year in college, she engaged in an in-depth study of race relations in Cuba through an independent study and traveled to Cuba as part of the Witness for Peace organization. Over her recent winter break, Dunn undertook a pro bono project with the Africa Program of Global Rights in Washington, D.C., researching human rights claims filed against U.S. companies under the Alien Tort Statute. The statute, which may play a role in her work in South Africa as well, grants U.S. federal courts jurisdiction in cases in which an alien sues a U.S. company over violations of either international law or a U.S. treaty.
Dunn will spend the summer interning at the Khulumani Support Group in Johannesburg, where she will investigate human rights violations. The Khulumani Support Group was formed in 1995 by survivors and families of victims of the political conflict of South Africa's apartheid past and aims to support survivors of apartheid-era political violence in their efforts to become self-reliant.
"They are working on prosecuting a number of cases for victims of apartheid," Dunn said, including "bringing cases against multinational companies who did business with the country in ways that directly affected certain individuals."
Dunn, whose parents are from Liberia, is looking forward to her first visit to Africa. "I felt really lucky when I was accepted for the fellowship," she said.
Founded in 1819, the University of Virginia School of Law is the second-oldest continuously operating law school in the nation. Consistently ranked among the top law schools, Virginia is a world-renowned training ground for distinguished lawyers and public servants, instilling in them a commitment to leadership, integrity and community service.